The Grammy Award-Winning Ensemble, Los Angeles Guitar Quartet, Records at GSI on Four Antonio de Torres Guitars!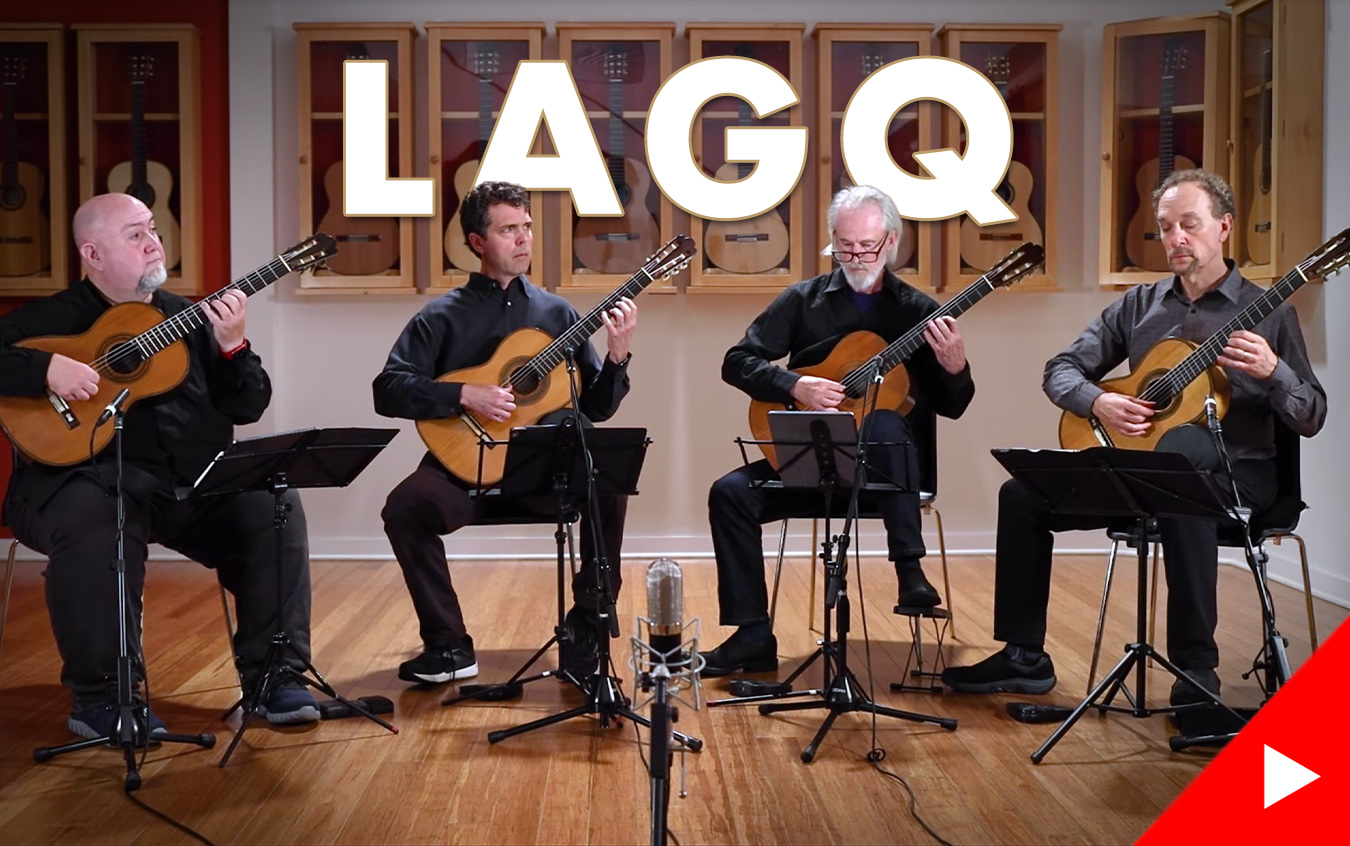 We're proud to announce that we've finally finished publishing all videos recorded by the Grammy Award-winning ensemble, Los Angeles Guitar Quartet (LAGQ).
When we confirmed that all three Francisco Tarrega's Antonio de Torres guitars (FE 17, SE 49, SE 114) are going to arrive in our showroom, we decided not only to photograph them in detail, record videos, but also we wanted to present all of them together in the hands of one of the best classical guitar ensembles in the world – LAGQ.
It was interesting not only to record LAGQ, but also to hear them warming up, as they traded guitars a couple of times to compare sounds. William Kanengiser ended up with the brightest sounding one – an 1864 Antonio de Torres "FE 17" SP/MP (ex Francisco Tarrega, Maria Luisa Anido) which was a perfect match for his part, since he was playing much of the higher-register melodies. John Dearman played an 1888 Antonio de Torres "SE 114" SP/CSAR (ex Francisco Tarrega) which had the deepest basses. For many of the pieces he was tuning the 6th string to "D" so he really got a big bottom end sound. Matthew Grief played Tarrega's second guitar – an 1883 Antonio de Torres "SE 49" SP/MP (ex Francisco Tarrega) which sounds more like the alto on this spectrum – it was the most Hauser-like, balanced, and focused sound. Scott Tennant ended up playing the only guitar in this collection that wasn't previously owned by Tarrega, 1864 Antonio de Torres SP/CSAR. This one had more of the tenor sound. At the end of the warm-up each member of the LAGQ was matched to the guitars they selected so much so that when played Frederic Hand's "Choral" – it felt like listening to a 4-part SATB chorale on a huge pipe organ. Everyone present at GSI was shocked! Our videographer, Felix, called this effect "the richness of the collective frequencies". Hearing those 4 guitars together, in those 4 hands was a magical experience.
LAGQ recorded three quartet pieces in our showroom: Frederic Hand's "Chorale", Georges Bizet's "Habanera", and Manuel de Falla's "Canción del Fuego Fatuo". Watch all these three videos below!
Leave a Comment