1888 Antonio de Torres "SE 114" SP/CSAR (ex Francisco Tárrega)
| | |
| --- | --- |
| Year | 1888 |
| Top | Spruce |
| Back & Sides | CSA Rosewood |
| Scale Length | 650 mm |
| Nut width | 50 mm |
| Finish | French Polish |
| Country | Spain |
| Luthier | Antonio De Torres |
This guitar is no longer available in our inventory. If it interests you, click the "notify me when available button" to be notified in the event that we re-acquire this guitar for re-sale.
Description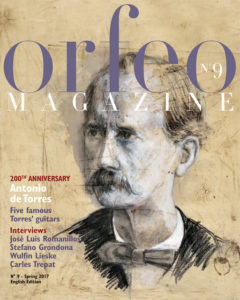 This instrument, built in 1888 and numbered #114 from Torres' "Second epoch", was built for the great Francisco Tárrega and was the 3rd of 3 Torres guitars that Tárrega would own in his lifetime. After Tárrega's death in 1909, "SE 114" would be the second of the 3 Torres to be sold by his family in 1920 when it was purchased by José de Jesús González for his daughter Margarita González García in Cuba. 45 years later, the guitar was sold to Cuban guitarist Elias Barreiro who would keep it in his possession until 2000 when it was sold to its current owner, Sheldon Urlik, who generously loaned the guitar to GSI so it could be re-united with the other two Torres guitars of Tárrega, after over 100 years of separation!
This guitar has been famously captured by a historic photograph (now available as a poster by SONETO) and will be very familiar to many guitar aficionados who have this adorning the walls of their homes, studies or workplaces. The instrument is currently in excellent playing condition, the most recent restoration work carried out by luthier Jeffrey Elliot, who completed the work in 2002, documenting it in both writing and in published plans for the Guild of American Luthiers. His repairs were intended to stabilize and preserve the instrument without altering any of the original elements intended by Torres. We were delighted in particular with its ease of play for both hands and how, with minimal effort, the player can draw out the deep basses, sparkling trebles and singing mids that make this such a spectacular instrument - indeed by the time of Tárrega's passing, this was known to be his favorite guitar.
As with all great Torres, words are simply inadequate in describing just how rich and harmonious the sound is - whether in the beauty of single pitches in a melodic phrase or as the blended fusion of notes in counterpoint or chordal harmony. And there is also the other-worldly sensation of playing the guitar as it vibrates against the players body - a tremendous experience which is only possible with an instrument such as this in ones bosom. This experience is confirmed over and over again with every Torres we see, particularly with something as profound (and historically significant) as this guitar. We are all amazed here to have had it in our showroom here at GSI for the purpose of demonstrating, filming and showcasing it, hoping to do justice to its legacy as one of the foundational instruments in the history of the classical guitar.
Again, special thanks to Sheldon Urlik for loaning it to us, and also to Federico Sheppard for generously taking the time to transport it to our showroom in Santa Monica.
For more information on the life of Antonio de Torres, be sure to read this short biography and this excerpt about the Torres sound from the Jose Romanillos book, "Antonio de Torres". We also have an interview between Pepe Romero and Kenny Hill about the master luthier.
Orfeo Magazine #9 - The 200th Anniversary of Antonio de Torres
Videos
Guitars by Antonio De Torres