1864 Antonio de Torres "FE 17" SP/MP (ex Francisco Tárrega, Maria Luisa Anido)
| | |
| --- | --- |
| Year | 1864 |
| Top | Spruce |
| Back & Sides | Maple |
| Scale Length | 650 mm |
| Nut width | 48 mm |
| Finish | French Polish |
| Country | Spain |
| Luthier | Antonio De Torres |
This guitar is no longer available in our inventory. If it interests you, click the "notify me when available button" to be notified in the event that we re-acquire this guitar for re-sale.
Description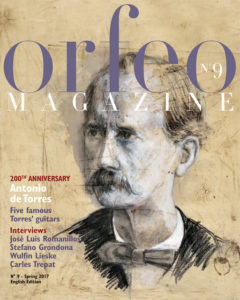 This instrument, built in 1864 and numbered "FE 17" in the Jose Romanillos catalog, was originally built by Torres for himself (who was also a very good player). Five years after building this guitar, Torres would allow a young, seventeen-year old Francisco Tárrega to have the guitar, after being smitten by the young man's talent as an up-and-coming future star, which of course would be fulfilled in Tárrega's lifetime, leaving a legacy that remains to the present day. This instrument would be the first of three Torres instruments owned by Tárrega over the course of his life, and after his death in 1909, "FE 17" would be the first of the 3 Torres to be sold by his family in 1917 to Juan Carlos Anido of Buenos Aires, Argentina for his daughter Maria Luisa Anido, favorite pupil and eventual duo-partner of Miguel Llobet. This instrument was not only highly regarded by Tárrega, but also by many of his contemporaries including Domingo Prat and Emilio Pujol, both of whom had made attempts to become it's next owner, only to be outbid by the Anidos which according to Prat was a "national disgrace"! During its tenure in Argentina, an elegant custom-made case of book-matched, high-grade Cuban mahogany trimmed in CSA rosewood and inlaid with violin purfling was built by one Francisco Voigtlaender from Buenos Aires, and still houses the instrument to this day.
The guitar from its earliest years had required regular maintenance due to its delicate build and intense, regular use by Tárrega. Internally, several repair labels were added over the decades, starting with Enrique Garcia in 1897, and culminating with Luca Waldner in 2005. Curiously missing is a repair label from Ignacio Fleta who did some repairs in 1936, who while in possession of this Torres was inspired to build a gorgeous structural copy (the inlays and aesthetic details strongly connected to the Barcelona school of Garcia and Simplicio) instead. The final round of restoration by Luca Waldner deserves special mention for the meticulous and almost miraculous job he did in "un-doing" some of the more invasive prior repair work and restoring the guitar as closely back to the original as humanly possible. And the "proof is in the pudding" as they say, as the sound of the guitar is currently magnificent to all those who hear it. Its current owner, Jonathan Kellerman remarks in his book "With Strings Attached" that "We will never know how this masterpiece sounded 140 years ago, but my sense is that Waldner has come close - in effect, accomplishing a miracle of time travel."
The instrument is not only sonically beautiful but it has also become an inspiration for countless luthiers over the past century for its elegant and timeless design. The meander pattern, which according to Romanillos, was first introduced by Torres to the world of lutherie is found in the center of the headstock, central back strip and foot, flanked by half-herringbone purflings (full herringbone in the back). It also has a sophisticated and beautifully executed rosette containing a central mosaic of checkerboard pattern with multiple layers of purfling including herringbone and a line of lozenges at the outer layer. The lozenge details also appear in the wings of the bridge where they form rectangular boxes containing dumbbell shaped mother-of-pearl inlays. This is an instrument built with great structural balance and artistic insight only attributable to the genius of this great maker.
Special thanks to Jonathan Kellerman for generously allowing this guitar to be re-united in our showroom with the other two Torres guitars of Tárrega, after over 100 years of separation!
For more information on the life of Antonio de Torres, be sure to read this short biography and this excerpt about the Torres sound from the Jose Romanillos book, "Antonio de Torres". We also have an interview between Pepe Romero and Kenny Hill about the master luthier.
Orfeo Magazine #9 - The 200th Anniversary of Antonio de Torres
Videos
Guitars by Antonio De Torres