The Third "Zen" Guitar is Coming Soon to GSI from Italian Luthier, Valerio Licari!
We have some good news for all fans of crossover guitars: Italian luthier, Valerio Licari, builds his third "Zen" guitar for GSI!
All gigging musicians require amplification, and anyone who wants to find a guitar with a natural nylon sound knows that finding such instruments might be quite difficult. The answer to this problem might be Valerio Licari's nylon-string "Zen" model which is a masterfully designed guitar with a robust, balanced and clear sound as well as many other special features.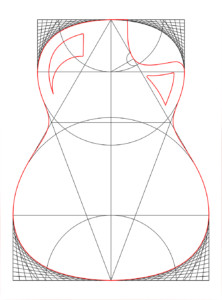 Inspired by Stradivarius violin-making and the Italian style of artisanship, Valerio Licari employs both the use of mathematical, geometric proportions and a simple and minimal design aesthetic for this model. One of the more notable features is the double soundhole system fitted in the upper reaches of the upper bout. The theory behind this design is that the positioning of the soundhole(s) as far as away from the bridge area leaves a larger vibrating surface of soundboard area. Indeed, in the 1920s, Francisco Simplicio made use of this design, as have several contemporary makers for precisely the same reasons. See this article for a photo of Simplicio's 1929 example, as well as what looks like a black and white X-ray rendering (called an interferometric holographic analysis), which demonstrates how vibration does not reach the upper bout area of the soundboard. Valerio's "Zen" guitars sounds excellent either amplified or even played acoustically, in either case they have a balanced sound and a rich sustain.
Valerio's third "Zen" guitar built for GSI is made of a set of flamed maple for the back, sides and neck. For the soundboard, Valerio used a set of seasoned spruce. The guitar has black inlays and black headstock veneer. You can get a sense of the design if you check out the sneak peek gallery below.
We're looking forward to playing this guitar in our showroom once it's finished!
Leave a Comment