U.S. Classic Guitar Presents: Adam Levin's Upcoming Concerts and Masterclasses In Hawaii, Los Angeles, Portland and GSI.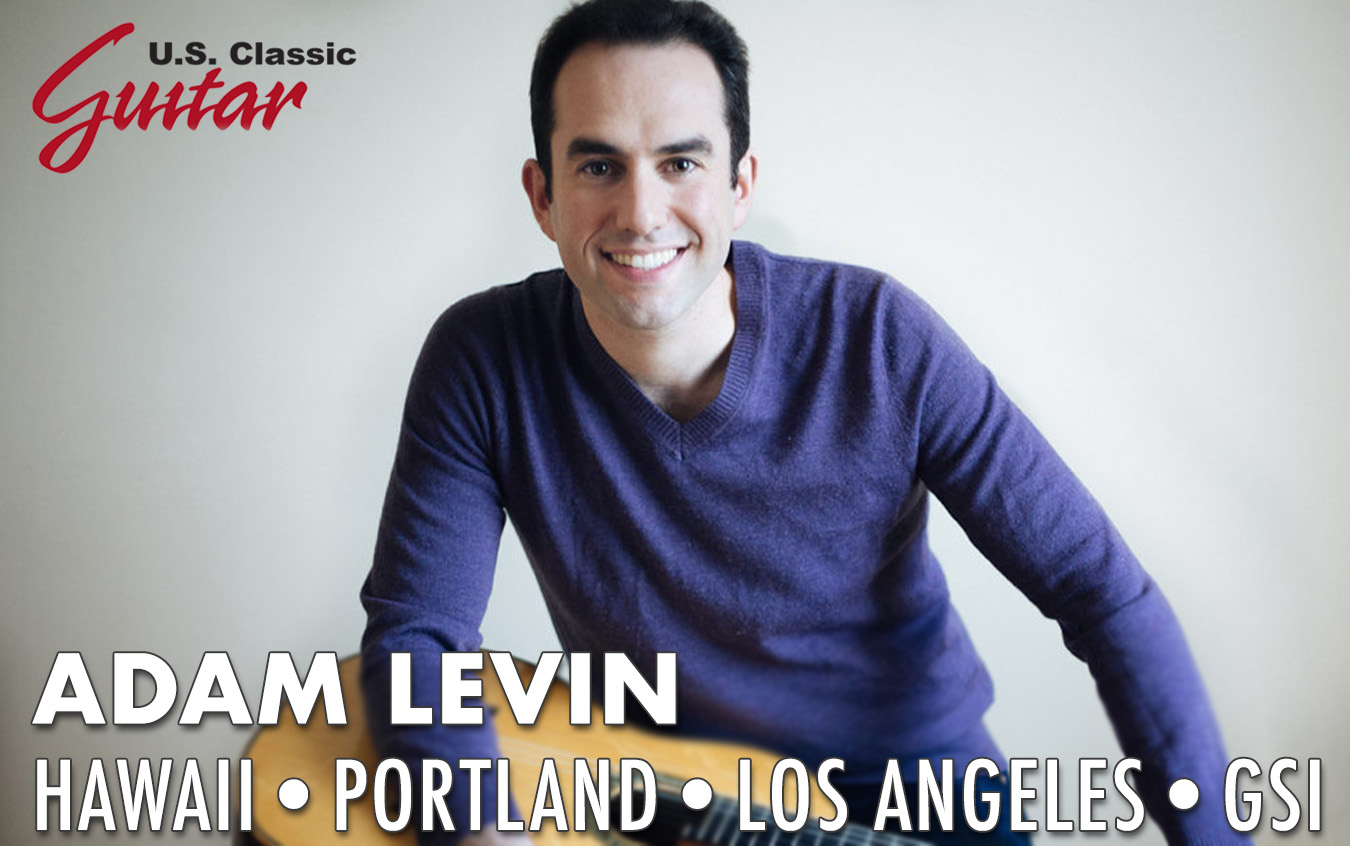 UPDATE: Due to Covid, the LA Adam Levin Master Class and Concert will be presented virtually only at the times listed below:
Adam Levin Virtual Master Class – Saturday, June 11 at 6:30 PM
* The class time has changed to 6:30 PM
*Adam Levin Virtual Concert – Sunday, June 12 at 4 PM Pacific Time
---
U.S. Classic Guitar is excited to present classical guitarist Adam Levin in a solo concert in Hawi, Hawaii on Sunday, June 5 at 4 PM. Praised for his "visceral and imaginative performances" by the Washington Post, prize winning and Billboard top-charting classical guitarist and recording artist Adam Levin has performed on four continents across the globe. Levin has performed extensively across the United States at renowned venues such as Chicago's Pick Staiger, Nichols, and Mayne Stage concert halls as well as at the prestigious Art Institute of Chicago; Boston's Isabella Stewart Gardner Museum, the Museum of Fine Arts, and Jordan Hall; Spivey Hall in Atlanta; repeat appearances at Le Poisson Rouge in New York City; and the Kennedy Center in Washington, DC. In Europe, Levin has performed in some of the finest venues across Spain, Italy, Germany, Switzerland, Israel, China, Brazil, and Columbia. Adam Levin's live performances have been featured nationally numerous times on NPR's Performance Today, the nationally syndicated Classical Guitar Alive, and studio performances on top radio stations including WFMT Chicago, WCRB Boston, and RIPR Rhode Island.
Prior to and during pandemic in the 2019-21 season, Levin toured across the US including appearances at Guitar Foundation of America, Austin Classical Guitar, Philadelphia Classical Guitar Society, Old First Church in San Francisco, Boston Classical Guitar Society, Berklee College of Music, The National Gallery in Washington D.C, and Miami New Music Festival, and Austin Chamber Music. During the 2021-22 concert season Adam will tour his Israeli, Italian and Argentinean program with mandolinist Jacob Reuven (as Duo Mantar), as well as premiere works by Clarice Assad and João Luiz with violinist William Knuth (as Duo Sonidos), perform as soloist with the Vancouver Symphony Orchestra, and make solo appearances in Boston, Portland, Los Angeles, and, for the first time, in Hawaii. His guitar trio, The Great Necks, will perform an all-Spanish program in Virginia and Naples, FL and later in Albuquerque, NM.
The recipient of numerous top prizes, Adam Levin has been recognized by the Society of American Musicians, the Lake Forest Concerto Competition, Minnesota's Schubert Competition, Boston GuitarFest, Concurso Internacional de les Corts para Jóvenes Intérpretes in Barcelona, Concurso Internazionale Di Gargnano, and Certamen Internacional Luys Milan de Guitarra in Valencia. For his promotion, interpretation and performance of Spanish music, he was nominated for the 2011 Trujamán Prize, in which only three guitarists worldwide are selected annually. In 2020, the Community of Valencia, Spain nominated Levin as the Ambassador of Music, to represent the culture and music of that region.
From 2008-2011, Levin was honored as a Fulbright Scholar as well as grant awards from the Program for Cultural Cooperation Fellowship (promoting cultural understanding between Spain and the United States) and the Kate Neal Kinley Fellowship, to research contemporary Spanish guitar repertoire in Madrid, Spain. His three-year residency resulted in a major collaboration with 30 Spanish composers spanning four generations, who each wrote works commissioned by and dedicated to Levin. In 2012, production began on a four volume encyclopedic recording project with Naxos. The first two recordings in the series, 21st Century Spanish Guitar, Volume 1 and Volume 2 have been released by Naxos to rave reviews from Classical Guitar Magazine, Soundboard, American Record Guide, and featured Recording of the Month and Recording of the Year awards from Music-Web International. In November 2017, Naxos released Volume 3 of the series, with six world premieres of solo works dedicated to Levin, including pieces by three of Spain's most renowned composers, Antón García Abril, Leonardo Balada, and Cristobal Halffter, plus three works by rising composers Eduardo Morales-Caso, Laura Vega, and José Luis Greco. Volume four was released on the Frameworks Record Label in August 2021 with works by Morales-Caso, Brotons, Balada, Muñiz, and J.L Turina. It reached no.1 on the Billboard Traditional Classical Albums Chart. Adam Levin as a member of the guitar trio, The Great Necks, released an album on the Frameworks label with original arrangements by Sibelius, Bach, Marquéz, Villa-Lobos, and Scriabin. Adam's latest release (February 2019) was with his duo partner and violinist, William Knuth, called Wild Dance (Naxos Label). This is the first of three volumes of arrangements by guitarist/arranger, Gregg Nestor. Vol. 1 showcases works by Foss, Szymanowski, Gershwin, Ravel, Ponce, and Korngold. Both the trio and duo albums reached the top ten on the Traditional Classical Billboard Chart.
Levin's critically acclaimed discography also includes his debut album, In the Beginning [ALR, 2009], Music from Out of Time [La Communidad de Madrid, 2010], and Fuego de la Luna [Verso, 2011], the latter showcasing the complete guitar works of Spanish-Cuban composer Eduardo Morales-Caso, a composer whose music Levin has championed since the launch of his career.
An avid chamber musician, Levin has performed with orchestra, string quartet, and various instrumental and vocal duo combinations. His chamber ensemble, Duo Sonidos (www.duosonidos.com), has been celebrated for bringing a fresh interpretation of chamber music to wide-ranging audiences across the globe while expanding the repertoire for violin and guitar through new commissions. They will feature newly commissioned works by Brazilian composers Egberto Gismonti, Clarice Assad, and João Luiz in 2022. Adam is also a member of The Great Necks Guitar Trio (www.thegreatnecks.com) with guitarists, Matthew Rohde and Scott Borg. Together they are exploring previously unthinkable orchestral works on three guitars. And, finally, Adam's newest musical partnership is with virtuoso Israeli mandolinist, Jacob Reuven (www.jacobreuven.com/duo-mantar). Together, they explore original and arranged Israeli music. Their album, Music from the Promised Land (Naxos, 2021) reached No.1 on the Billboard Traditional Classical Album Chart. In 2022, they will premiere newly commissioned double concertos by Israeli composers Avner Dorman, Ziv Cojocaru, and Ittai Rosenbaum. They will also be performing world-premiere arrangements of Vivaldi and Piazzolla's Seasons. Duo Mantar and The Great Necks Guitar Trio will team up to perform Beethoven's monumental Violin Concerto for mandolin and guitar trio, followed by a revolutionary and fresh arrangement of Beethoven's Grosse Fuga for three guitars.
Leave a Comment