U.S. Classic Guitar Presents: Sharon Isbin's Upcoming Concerts and Masterclasses In Los Angeles, Portland and GSI.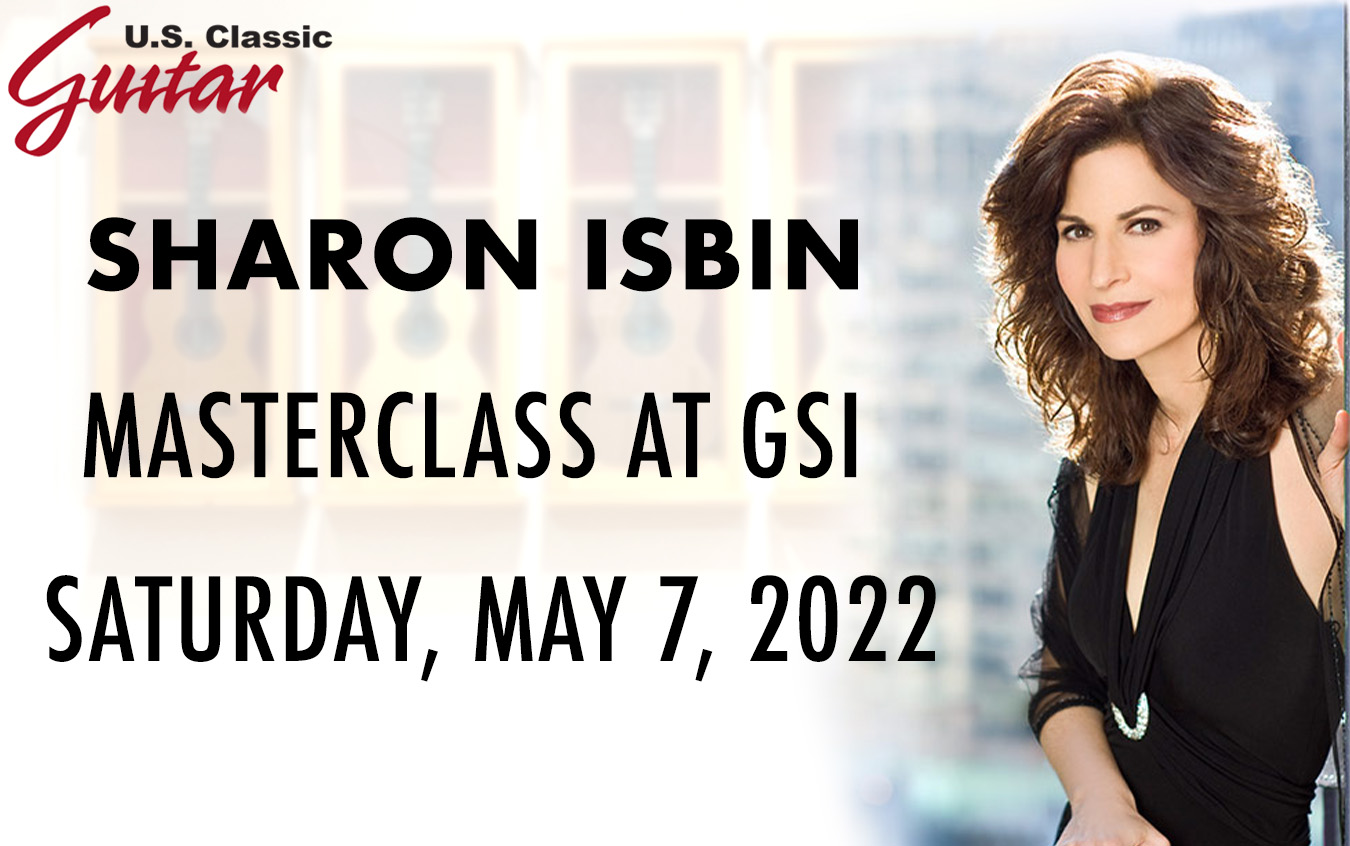 Multiple Grammy Award-winning guitarist Sharon Isbin, recognized as 2020 Instrumentalist of the Year by Musical America, is the next performer for U.S. Classic Guitar. She will appear at the Trinity Episcopal Cathedral located at 147 NW 19th Avenue in Portland, Oregon on Friday, May 6 at 7pm and at the First Congregational Church of Los Angeles located at 540 S Commonwealth Avenue, Los Angeles on Mother's Day, Sunday, May 8 at 4pm as part of the U.S. International Guitar Series. Isbin's program will explore the rich and multifaceted legacy of Spanish and South American solo guitar works as well as music written for her by Cuban composer Leo Brouwer and Tan Dun from China.
Isbin also directs the guitar department at Juilliard School and she will teach two Master Classes with the first on Thursday, May 5 at 6:30pm at Trinity Episcopal Cathedral in Portland and the second master class will be on Saturday, May 7 at 6:30pm at Guitar Salon International, in our showroom located at 1455 19th Street, Santa Monica, CA.
Also, both the Los Angeles concert on Mother's Day - Sunday, May 8 and the Master Class held at Guitar Salon International on Saturday, May 7 will both be streamed live for a pay-per-view audience.
Hailed as "one of the best guitarists in the world" (Boston Globe), Sharon Isbin has received acclaim for her extraordinary lyricism, technique, and versatility. Celebrated as "the pre-eminent guitarist of our time," Isbin has been the soloist with over 200 orchestras. Recent highlights include a 21-city Guitar Passions tour with jazz greats Stanley Jordan and Romero Lubambo, triumphant performances with the Detroit Symphony, Montreal Symphony and National Symphony, as well as sold-out concerts at the Kennedy Center, Kimmel Center, and Carnegie Hall. Her most recent Carnegie Hall appearances included collaborations with Sting, Katy Perry, and Jerry Seinfeld. Upcoming projects include a quintet by Joseph Schwantner for Sharon and the Pacifica Quartet, and a concerto by Missy Mazzoli.
Sharon Isbin, who has been acclaimed for expanding the guitar repertoire with some of the finest new works of our time, has two new world premiere recordings of works written for her. Affinity features multi-faceted and virtuosic works by leading composers from three continents including Chris Brubeck's acclaimed Affinity: Concerto for Guitar & Orchestra. The disc was praised in Gramophone saying, "Isbin's terrific latest recording evinces a wonderful talent for making fully hers what was written for her … Bright, jazzy and energetic … a sparkling, virtuoso account." The other, Strings for Peace is an album steeped in the tradition of ragas and talas of North Indian classical music with sarod master Amjad Ali Khan and his virtuoso sons Amaan and Ayaan Ali Bangash. Both groundbreaking releases vastly enrich major new repertoire for the guitar and were named by SiriusXM, NPR, and multiple media.
Isbin's catalogue of over 35 albums has sold nearly a million copies and reflects her remarkable versatility. Her release with the Pacifica Quartet, Souvenirs of Spain & Italy, debuted at #1 on Amazon and #2 on Billboard. Her historic Alma Española with Isabel Leonard is the first all-Spanish art song album with guitar of its kind in 40 years. Isbin's Grammy-winning Journey to the New World spent 63 consecutive weeks on top Billboard charts and her Rodrigo Aranjuez with the New York Philharmonic, their only recording with guitar, received a Latin Grammy nomination. She has commissioned and premiered over 80 works by some of the world's finest composers and directs guitar departments she created at the Aspen Music Festival and The Juilliard School.
Isbin is the subject of an exciting one-hour documentary presented by American Public Television. Seen by millions on over 200 PBS stations throughout the US, it is also available on DVD/Blu-ray, streaming on Amazon, and won the ASCAP Television Broadcast Award. Sharon Isbin: Troubadour paints the portrait of a trailblazing performer and teacher who over the course of her career has broken through numerous barriers to rise to the top of a traditionally male-dominated field. The following is a dedicated website where you can view the trailer, read rave reviews, and see detailed broadcast dates: www.SharonIsbinTroubadour.com. Her PBS performances also include the Billy Joel Gershwin Prize.
Schedule:
- Sharon Isbin Portland Master Class – Thursday, May 5 at 6:30 PM at the Trinity Episcopal Cathedral
- Sharon Isbin Portland Concert – Friday, May 6 at 7 PM at Trinity Episcopal Cathedral
- Sharon Isbin LA Master Class – Saturday, May 7 at 6:30 PM at Guitar Salon International
- Sharon Isbin LA Concert – Sunday, May 8 at 4 PM at First Congregational Church of Los Angeles Main Sanctuary
LEARN ABOUT OTHER U.S INTERNATIONAL GUITAR SERIES EVENTS
PROGRAM
Spanish Dance #5 - Enrique Granados (1867-1916)
El Decameron Negro (written for Sharon Isbin) - Leo Brouwer (b. 1939)
Capricho Arabe - Francisco Tarrega (1852-1909)
Waltz #3 Natalia - Antonio Lauro (1917-1986)
La Catedral - Agustín Barrios Mangoré
Intermission
Seven Desires for Guitar (2000) - Tan Dun (b. 1957)
Porro (from Suite Colombiana No. 2) - Gentil Montaña (1942-2011)
Julia Florida - Agustín Barrios Mangoré
Waltz #3
Waltz #4
PROGRAM NOTES - By Sharon Isbin
ENRIQUE GRANADOS (1867 - 1916) – Spanish Dance #5 "Andaluza"
Recording: Alma Española (Bridge Records)
Enrìque Granados, born July 27, 1867 in Lérida, received both piano and composition lessons at a young age. In 1887 he went to Paris to study piano with Charles de Bériot and upon his return to Barcelona two years later, gave his first recital. In 1916, after hearing his Goyescas at the Metropolitan Opera House in New York, Granados gave a recital at the White House at the request of President Wilson, causing him to miss his ship to Spain. He instead traveled to England, and in Liverpool boarded the Sussex. The Sussex was torpedoed by a German submarine, and in an attempt to save his drowning wife, Granados dove in from the safety of a lifeboat and they both drowned.
Granados' Danzas Españolas is a collection of 12 dances which fuse elements of Spanish nationalism and romantic piano technique. The guitar is evoked in Dance No. 5, the most famous of the set, through the piquant nature of its melody, and the picking and strumming effects in the bass.
LEO BROUWER (b. 1939) – The Black Decameron (1981)
Recording: Affinity (ZOHO Music)
The Black Decameron was written for Sharon Isbin in 1981. The ballads are inspired by love stories from Africa collected by the German ethnologist Leon Frobenius in the nineteenth century. Afro-Cuban rhythmic and melodic elements, as well as rich programmatic imagery, have a colorful presence in this beautifully evocative music.
In 'Lovers Fleeing through the Valley of the Echoes,' the foreboding opening dramatizes a warrior who has been banished from his tribe because he loves to play the harp. As he and his lover flee, the music invokes a hastening gallop of horses. The opening passage returns briefly, followed by an evocation of tender and nostalgic remembrance. With the fast triplets that intercede, the lovers resume their journey and ride furiously on horseback through the Valley of the Echoes. (Brouwer creates an echo effect with a continuous alternation between forte and piano.)
In 'The Harp of the Warrior,' the banished soldier is summoned by his tribe to return and save them from defeat by an invading army. Energetic rhythmic motives depict the warriors victorious strength, while slow, harp-like interludes evoke his artistic sensibility. Written in rondo form, the third ballad contrasts the gentle sensuality of a beautiful young maiden in love, with episodes of vibrant, passionate energy.
FRANCISCO TÁRREGA (1852 - 1910) – Capricho Arabe
Recording "Capricho Arabe": Alma Española (Bridge Records)
Born in Villareal in 1852, Spanish composer and guitarist Francisco Tárrega paved the way for the rebirth of prominence of the guitar in the modern concert hall. He earned his living by teaching music theory and giving recitals, and by 1877 was hailed as the "Sarasate of the guitar." After performing at the Teatro de la Alhambra, he was invited to play for the queen of Spain, Doña Ysabel and Princess Matilde. Tárrega was a prolific writer for the guitar, with an output of more than 200 original works and transcriptions for guitar.
ANTONIO LAURO (1917 – 1986) – Waltz No. 3 Natalia
Recording: Affinity (ZOHO Music)
Born in Bolivar, Venezuela, Lauro began composing at age eight and soon after became the official guitarist of Caracas Broadcasting. He studied with Vicente Sojo and Raúl Borges, and toured South America performing in vocal-instrumental trios. Considered a "South American Gershwin," he wrote and arranged hundreds of works for guitar, piano, chorus and orchestra. Waltz No. 3 is dedicated to Lauro's daughter Natalia.
TAN DUN (b.1957) -- Seven Desires for Guitar (2002)
Recording: Affinity (ZOHO Music)
Tan Dun was born in China in 1957. He is a graduate of Beijing's Central Conservatory and holds a doctoral degree in Music Arts from Columbia University. Seven Desires for Guitar was written for Sharon Isbin, who gave the work its world premiere in 2002 in New York City's Kaufmann Concert Hall 92Y.
For Tan Dun, one of the most important elements in writing music is "balance and counterpoint": not only note-to-note in a single style and tempo, but also the broader relationship of styles, tempos, timbres, dynamics, structures - even of different ages, of the converging worlds of East and West. Through the Yi-Ching (the Chinese philosophical work Book of Changes, 5th century B.C.), he had become aware that change is continual, that ways of balancing the existing and the potential are unlimited.
The whimsical, multi-movement collage Seven Desires for Guitar is the solo piece spawned from Tan's guitar concerto Yi2, likewise written for, premiered, and recorded by Sharon Isbin (Warner Classics). Conceived as a "counterpoint of styles," Yi2 had blended and contrasted the different traditions, relationships, and characteristics of two plucked instruments - Spain's flamenco guitar and China's pipa (lute). A "cultural counterpoint" developed within the concerto's solo part itself, which was no longer coherent as either flamenco or pipa music; it had been transformed by the mingling and exchange of these distinct cultural traditions. Something entirely new had been created which didn't echo tradition, but nevertheless retained the shadow of its roots.
In Seven Desires, Tan spins this idea into a musical mini-drama: the guitar now "desires" to become a pipa. It emulates the pipa's sound by bending pitches microtonally; it uses a wealth of articulation techniques to sculpt and color individual notes expressively, in a typically Asian manner. Metaphorically, the guitar desires not just to emulate the pipa, but to achieve oneness with it, perhaps even an erotic union.
Since arriving in the West in 1986 from his native China, composer/conductor Tan Dun's career has grown to place him at the center of the international music scene. His music, which unites Chinese shamanistic traditions with Western avant-garde, is performed by leading orchestras and ensembles worldwide. In 1998, he became the youngest winner of the Grawemeyer Award for his opera Marco Polo. Among his compositions are his Oscar-winning film score for Crouching Tiger, Hidden Dragon; Concerto for Water Percussion and Orchestra for the New York Philharmonic, The Map commissioned by the Boston Symphony, and The First Emperor commissioned by the Metropolitan Opera.
© Mary Lou Humphrey
GENTIL MONTAÑA (1942 – 2011) – Porro
Recording: Sharon Isbin & Friends: Guitar Passions (SONY)
Porro is an Afro-Colombian work named after one of the most popular dances of Gentil Montaña's native Colombia.
AGUSTÍN BARRIOS MANGORÉ (1885-1944) – La Catedral; Julia Florida, Waltz 3 & 4
Recording "La Catedral": Sharon Isbin & Friends: Guitar Passions (SONY); "Julia Florida, Waltz 3 & 4": 5 Classic Albums (Warner)
Although Agustín Barrios is known today almost solely to devotees of the guitar, he was one of the most colorful musicians of his age or any other. Born in Paraguay in 1885, this virtuoso performer was for many years the outstanding Latin American guitarist and one of the instrument's modern pioneers. His spirit was ebullient and bohemian. "I am a brother to those medieval troubadours," he once wrote, "who in their glories and despairs suffered such romantic madness." Barrios identified with the Indian culture of Paraguay, from which he was partly descended. He adopted the name Mangoré, after a legendary Guarani chief, and sometimes performed in full Indian costume.
Barrios' compositions, over a hundred in number and all for the guitar evoke three influences: the music of Bach, whom he revered; certain nineteenth-century Romantic composers, particularly Chopin; and Latin American folk music. In La Catedral we hear the influence of Bach, which Barrios describes as his inspiration for the work. The Waltz expresses a Chopinesque style in the arcing melodic line and running figuration of its principal theme.
UPDATE: It was a great pleasure for us to see Sharon Isbin teaching in our showroom. Check out some of the photos from this event below!
Leave a Comment