Virginia Luque, Segovia's last private student visits Los Angeles for concert masterclass and video shoot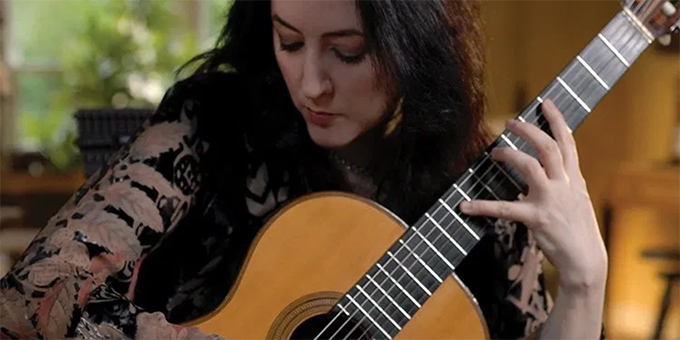 Virginia Luque recently visited Los Angeles, where she kicked off the 2020 U.S. Classic Guitar Concert season in the beautiful Shatto Chapel at the First Congregational Church of Los Angeles. The next day, she gave a masterclass in the Guitar Salon International showroom where she shared a great deal about several topics, including her time studying under the great Andrés Segovia as well as demonstrating her extremely impressive "no nails" right hand technique. Virginia has played extensively on a 1933 Hermann Hauser I guitar for much of her career and was delighted to stick around after the masterclass to record a couple of videos (from the repertoire of the previous evening's concert) on two Hauser I guitars in our showroom – one from 1928, and the other from 1952.
Please check out the videos of Virginia Luque playing Leo Brouwer's "Cantilena de los Bosques" on an early 1928 Hauser "Llobet" model, and Jorge Morel's "Danza Brasilera" on 1952 Hermann Hauser I – a very late guitar, built in the final year of his life.
---

More About Virginia Luque
Born and raised in Algeciras (Cadiz), Spain, Virginia Luque began playing the guitar at the age of four, giving her first concert at the age of seven. After hearing her play, Ms. Luque was invited by the legendary Spanish guitarist Andrés Segovia to study privately with him, indeed she is famously his "last" private student. She completed two Master's degrees – one in Spain, the other from the Juilliard School in New York City, subsequently going on to win several First Prizes at some of the world's most prestigious international competitions. She has performed both in solo recitals and in concerts with many top orchestras from around the world. Her recordings also include solo works and concerti, both as guitarist and as conductor, including a premiere of her own concerto. Ms. Luque's other pursuits have garnered her a First Prize in the International Competition of Poetry based in Puerto Rico and she has also graduated as "Chef" from the French Culinary Institute of New York.