Young Talented Classical Guitarist from Texas, Aytahn Benavi, Visits GSI for the First Time. Check Out His Videos!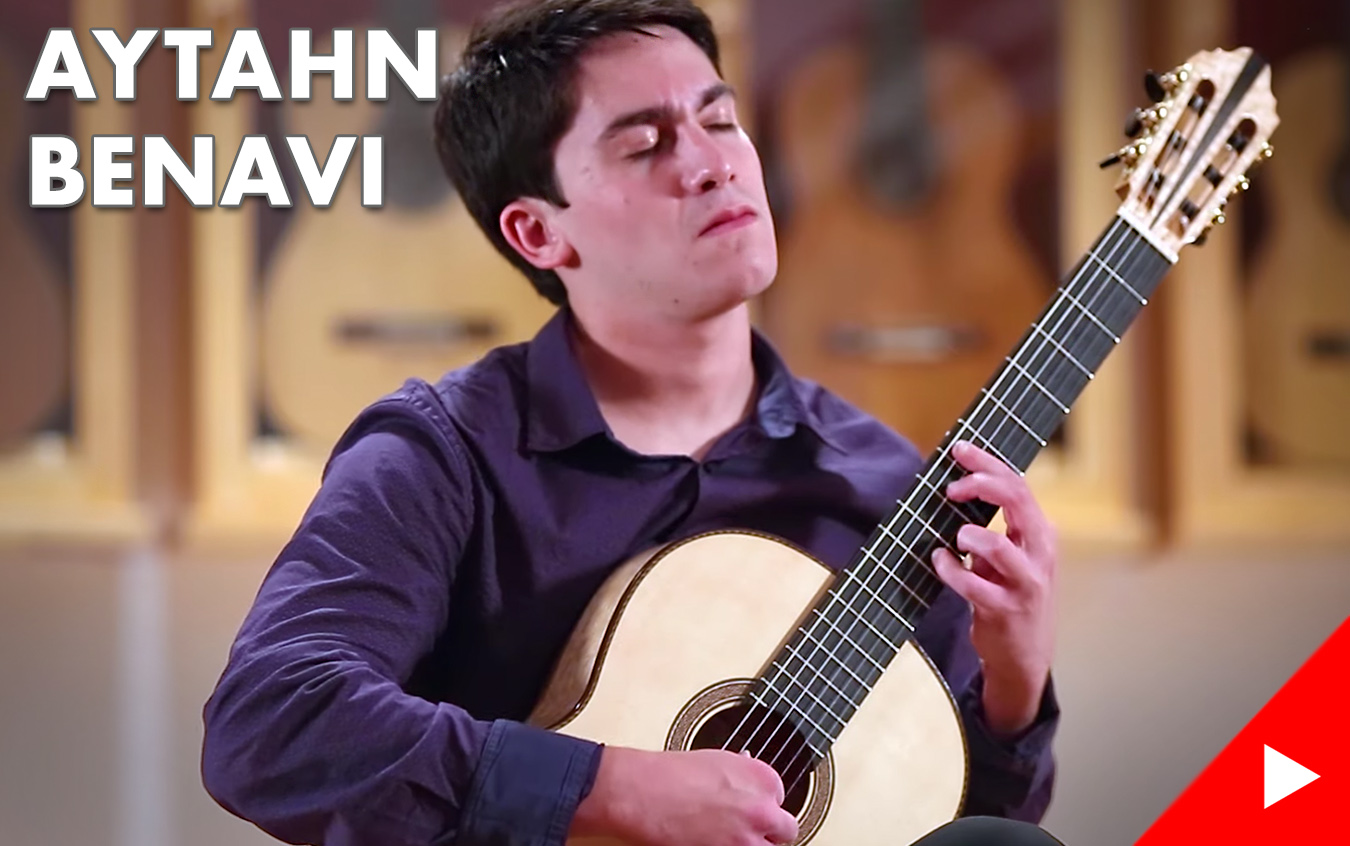 Recently, we had a new guest artist in our showroom. Aytahn Benavi is a young talented classical guitarist from Austin, Texas. Despite, being only 20-years-old, Aytahn has already won the first prize in numerous classical guitar competitions in the United States, including the CSU Guitar Symposium and Competition, Boston GuitarFest Academy, Texas Guitar Competition, Indiana International Guitar Competition, and James Stroud International Classical Guitar Competition. He has also received prizes at the GFA International Youth Competition, Houston Classical Guitar Festival, CSU Guitar Symposium and Competition, and Ex-Aequo International Classical Guitar Competition. Aytahn has also given a premiere of The Joyful Island by Angelo Gilardino.
While at GSI, Aytahn recorded four videos on four different guitars. He started his session with J. S. Bach's "Sonata #2, BWV 1003: Grave" recorded on a 2008 Manuel Contreras II "10th Anniversary Premium Series" CD/CSAR – a true "Concert-grand" instrument and the top model from the Manuel Contreras II workshop. Aytahn has also recorded two movements from Vicente Asencio's "Collectici Intim", "III. La Calma" and "IV. La Gaubança." He performed them respectively on a 2021 Zoran Kuvac SP/MP, and 2018 Kenneth Brogger "Stradivarious" SP/CSAR. Kuvac's guitar is structurally based on Field's design, but features Kuvac's aesthetics. He also used a gorgeous birds-eye maple for the back and sides. Brogger's guitar on the other hand is his "Stradivarius" model. In this model Kenneth decided to use the same inlay pattern of alternating circles and rhombus shapes with genuine mammoth tusk around the border of the soundboard just as Stradivari did. The same motif is clearly visible in the the interior and exterior of the rosette. Aytahn's last piece recorded in our showroom was Angelo Gilardino's composition "Colloquio con Andres Segovia". For this last video, Aytahn picked a 2004 Jean-Noël Rohé "Un des Meilleurs Ouvriers de France" SP/IN – This is the actual guitar that won Jean-Noël Rohé the top prize at the "Un des Meilleurs Ouvriers de France" competition in 2004.
Check out Aytahn's videos below!
Leave a Comment