Andy Culpepper grew up in a musical family with two brothers who are both accomplished musicians. He fell in love with the guitar as a teenager, shifting his focus from playing the Delta blues to playing classical music, and after discovering flamenco, he was hooked on the latter two styles for life.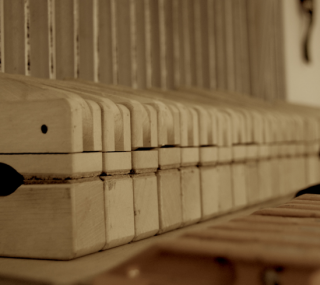 After studying music composition at the University of the Arts and then moving back to the Ithaca area in New York, Andy had a fortuitous encounter with local classical guitar maker Richard Cogger. Originally only interested in making a single guitar for himself for performances, Andy could not resist and found himself once again hooked after this encounter with Cogger; this time, what kept him hooked was the art of lutherie. He spent his first couple of years as an apprentice in Cogger's shop and produced 26 instruments while learning a very scientific and analytical approach to lutherie.
After this apprenticeship, Andy set up his own workshop and currently continues to deliver a large output of classical and flamenco guitars. While well-versed in modern guitar-making theory (due to his lutherie upbringing), Andy prefers to work intuitively by flexing and tapping the wood with his thumbs in order to gauge the potential of the material he's working with to produce optimal tone for his guitars. Working in this way allows him to build a rich sensory memory, which guides him in voicing guitars overall by his choice of materials.