Florian Blochinger (artistically known as Florian David) is a rare breed – he's both an extremely talented concert performer as well as world-class guitar maker. Since birth, Florian has been immersed in the world of the classical and flamenco guitar. Being the son of world-renowned luthier Edmund Blochinger, Florian has not only been around the construction of instruments his entire life, but has also studied the instrument as a player extensively.
Since his childhood, he has regularly attended guitar concerts with his father and together they have spent hours listening to recordings of the great maestros. As an impressionable child, this inspiring environment helped him to fall in love with the instrument and its music.
At the age of 6 he asked his father if there was any chance that he could learn to play the guitar. Fortunately, Klaus Duschl, a well-respected teacher and close friend of Edmund, lived just a few miles away, and weekly lessons ensued. Seeing that he had really taken an interest in playing the guitar, his father built a smaller scale instrument when Florian was 9 years old and since then, he has always had a guitar of his fathers to play.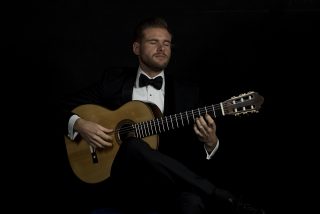 Since the mid-1990's the Blochingers have had a close friendship with the Romero family. When Pepe Sr. first saw young Florian play the guitar, he was impressed and offered to teach him as well. His first lessons with Pepe started in the workshop of his father, and his lessons with Pepe have continued regularly to the present day. Already as a child he won several first prizes in competitions and maintained a regular schedule of performing publicly. In 2008, at the age of 15, he had his first duo performance together with Pepe Romero in Munich and continues to perform in solo and ensemble settings.
Though Florian spent a lot of time in the workshop as a child, admiring the woods and tools, he never felt the desire to build a guitar, feeling that it was too difficult for him and recognizing that he had more fun playing the guitar anyhow. This changed as he aged, and in 2013 at the age of 21, Florian decided to build his first guitar jointly with his father. He completely fell in love with the entire experience from start to finish. He made the decision the day that guitar was completed to become a professional luthier.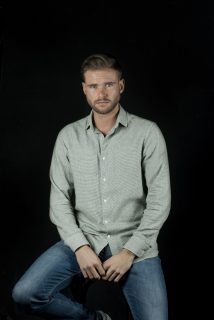 In order to find his own style, Florian spent a considerable amount of time with his close friend, luthier Pepe Romero Jr., learning his approach to guitar making. Additionally, Florian also was able to study the Romero family collection of guitars, which has been monumentally important for him – indeed he was able to intimately inspect and play guitars from the greatest makers of the past, including Antonio de Torres, Hermann Hauser I, Santos Hernandez, Domingo Esteso and Miguel Rodriguez. Upon his return to Germany, Florian apprenticed in a small workshop in Munich and attended the luthier school in Mittenwald, graduating in 2016.
With all of this accumulated knowledge and experience, Florian continues to develop and refine his own model. Although his guitars appear similar to his father's guitars (most noticeably the plantilla and headstock shape), they are actually a blend of his favorite ideas found in instruments by his father Edmund, Pepe Romero Jr., and the guitars of Miguel Rodriguez. The fact that he is not only a guitar maker but also a guitarist helps him to understand what changes in building affect the sound. He works alone in his own private workshop in Dorfen, about 30 miles outside of Munich.
Learn more about Florian by visiting his website at florianguitar.com!