We recently received our second classical guitar from South African luthier Hans van den Berg, and were so impressed with it that we asked him to share his background with us. Read on to hear about his history and philosophy as a guitar maker.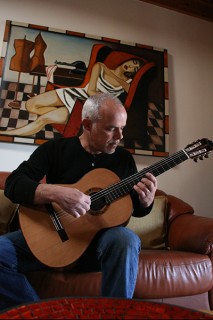 Hans van den Berg was born in Orkney, South Africa on March 1st, 1960. He always loved working with wood, mainly involving furniture, but it wasn't until later in life that his sister, a classical guitar teacher, introduced him to a book about guitar making, which to him seemed the ultimate in woodworking: bringing the material back to life in the form of a musical instrument.
He threw himself into luthiery and built his first guitar in 1996. He studied the work of the masters from books and built various instruments based on the work of Jose Romanillos for his spruce guitars and Daniel Friederich for his cedar guitars, with a focus on improving upon traditional methods. Abri Jordaan, a leading South African guitar teacher, helped him better understand the player's needs in terms of feel and sound.
In 2008, a guitarist commissioned van den Berg to make a double-top classical guitar. Inspired by the recordings of David Russell he took on the challenge and made the first of what would become his most popular model. Van den Berg still makes traditional instruments as well, and uses Spanish construction methods for all of his instruments. The sides of his guitars consist of two layers – each 2mm thick and consisting of Rosewood and Kiaat bent separately and then laminated in a jig under high clamping pressure. This is a feature taken from the Friederich design to improve sustain.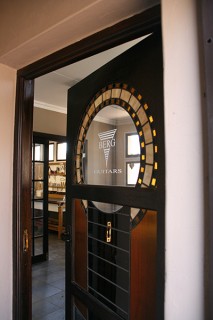 He takes great care when preparing the fingerboard surface and fretwork to ensure ease of playability and clear sound at an easy action. The neck profile has evolved with input from performers to achieve the comfortable profile of his current instruments.
The bridge is very light and utilizes the 12-hole tie method for the strings. This ensures a sharper breaking angle over the saddle which he believes contributes to the clarity of the instrument.
Aesthetically, his guitars are not quite traditional. He uses exotic woods that show off the beauty of creation by doing the inlays in parallel grain rather than intricate end grain inlays.
After making guitars in his spare time for 18 years, the demand for his guitars allowed him to resign his profession as design draughtsman and devote himself completely to making guitars.
In 2007 he built a workshop next to his house in Meyerton, South Africa, where he now works full time.