It's Been 10 Years Since His Last GSI Recording Session. Now, Adam Kossler Is Back With Eight New Videos Recorded At GSI!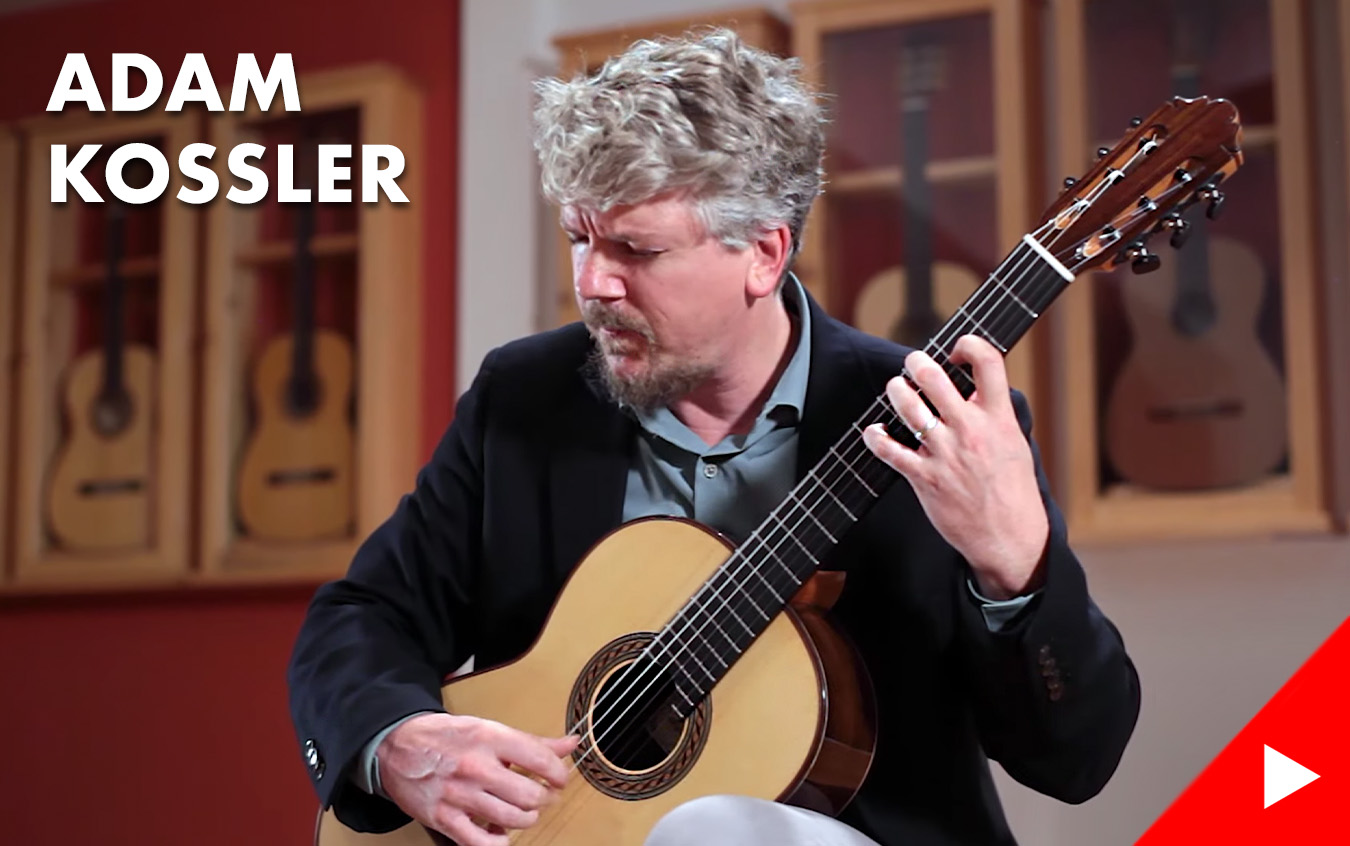 Adam Kossler recently recorded eight videos in our showroom. This was his second session recorded at GSI. The last time we recorded his videos was over 10 years ago, at a time when we were just starting our YouTube channel (learn more).
Adam is known not only as a soloist but also as a member of a guitar duo with his brother, John Kossler. Adam is a prize-winner of many classical guitar competitions including the Boston Guitarfest, Columbus Guitar Symposium, East Carolina Guitar Competition, and many more. Adam has been featured in many concert series. He even performed at the very prestigious Carnegie Hall in New York City, where he premiered a work by Chilean composer, Javier Farias.
Adam earned his Bachelor's degree at East Carolina University where he studied with Elliot Frank, after which he received his Master's degree at Appalachian State University to study with Douglas James. Finally, he earned his doctorate degree at Florida State University where he studied with Bruce Holzman. Adam is currently the guitar program director at Appalachian State University in Boone, North Carolina.
While at GSI, Adam recorded eight videos. He started his session with his brother's arrangement of Dmitri Shostakovich's piano suite, "Dances Of The Dolls". Adam recorded three movements from this suite - He played "I. Lyric Waltz" on a 1965 Daniel Friederich SP/CSAR, "IV. Polka" on a 1987 Miguel Rodriguez SP/HR, and "V. Waltz-Scherzo" on a 1995 Hermann Hauser III SP/IN.
As the fourth piece, Adam played for us the first movement "Moderato" from "Koyunbaba, Op. 19" by Carlo Domeniconi. This piece uses a scordatura tuning which means the use of a different than standard tuning of the instrument. The most common scordatura in this piece indicates tuning the strings as follows - D(6), A(5), D(4), A(3), D(2), and F(1). It's also a common practice among classical guitarists to tune the guitar a half-step lower - C#(6), G#(5), C#(5), G(#), C(#), and E(1), or even a whole step lower than the indicated tuning. Adam decided to tune a 1994 Thomas Humphrey "Millennium" SP/CSAR a whole step lower - C(6), G(5), C(4), G(3), C(2), and E♭(1). This particular example of a scordatura sounds much deeper and more mysterious.
Next, Adam chose a 2000 Paulino Bernabe "Millenium" SP/CSAR and recorded on it his arrangement of "Malagueña" (No. 3 from "Espana", Op. 165) by Isaac Albéniz. It's a beautiful performance and Adam managed to capture the authentic Spanish character of this piece.
In his sixth video, Adam recorded a short "Prelude" by 19th-century composer, Vladimir Morkov. For this piece, he chose a beautiful old-world-sounding guitar - a 1900's Manuel Ramirez "Santos" SP/MH. It's a small-bodied instrument with deep basses, golden and vibrant trebles, and rich textures of sound interwoven with clear, bell-like fundamentals.
Adam also recorded the first movement, "El Arpa Del Guerrero" from "El Decamerón Negro" by Leo Brouwer. The title of this movement translates to "The Harp of the Warrior". Adam played it on a 2022 German Vazquez Rubio "Solista" SP/IN guitar. This instrument is German's most recent concert model to be developed. It features his newest bracing system (which has previously only been used in his top, elite models). This bracing system fattens out the tone particularly in the trebles, giving the guitar an overall warmer sound. Normally for this model, the back and sides are lacquered, however, for this particular guitar, the entire instrument has been French polished.
Adam finished his session with a recording of "Prelude No. 1" by modern classical guitar composer, Rafael Scarfullery. He played it on a 2013 Bernardo Romero #1 SP/IN - the very first instrument built by the youngest "guitar personality" of the great Romero family. Bernardo Romero is the eldest grandson of Pepe Romero Sr.
Leave a Comment