Classical Guitar Student From Florida, David Duong, Records Five Videos at GSI.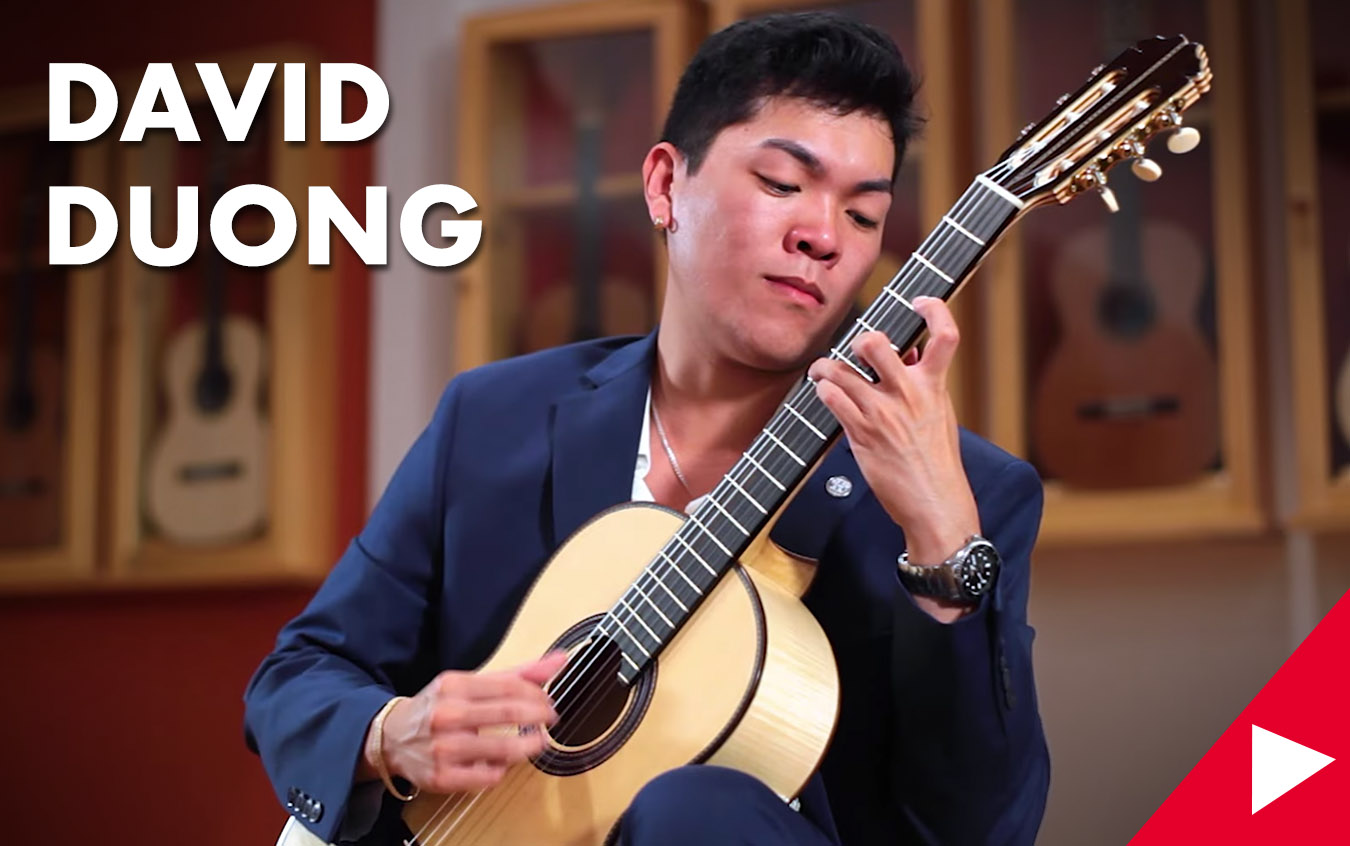 We've recently published five videos recorded by a new guitarist featured on our YouTube channel. David Duong is a classical guitar student from Florida State University (FSU) and he flew across the country to visit our showroom. David took guitar lessons at FSU with the famous professor, Bruce Holzman, who sadly passed away earlier.
David's recording session started with Francisco Tárrega's "Variaciones sobre El Carnaval de Venecia de Paganini". The theme, "The Carnaval of Venice" is based on a Neapolitan folk song, "O Mamma, Mamma Cara, " popularized by one of the greatest violinists of all time, Niccolo Paganini. David recorded this video on a 1995 Miguel Rodriguez "Centenario" CD/CSAR guitar previously owned by Angel Romero.
In the second video, you'll hear David's arrangement of "Cataluña" from Isaac Albéniz's "Suite Española, Op. 47". Originally written for the piano in 1899, this piece became popularized among classical guitarists thanks to Miguel Llobet. For this video, David used a 2023 Pavel Gavryushov SP/AR guitar.
"Invierno Porteño" is a tango from Astor Piazzolla's set "Cuatro Estaciones Porteñas", a.k.a. "The Four Seasons of Buenos Aires" which is a clear reference to the famous work by Antonio Vivaldi. David recorded Sérgio Assad's arrangement of "Invierno" (Winter) on a fantastic guitar, a 2023 Edmund Blöchinger "Llobet" CD/CSAR.
In the fourth video, David plays for us "Mazurka Appassionata" by Agustín Barrios Mangoré. Composed in 1919, this "Passionate Mazurka" is one of Barrios' most beautiful and intimate compositions. David recorded this piece on a 2023 German Vazquez Rubio "Concert 635" SP/MP guitar.
David finished his recording session with the performance of "Francisco Goya y Lucientes, Pintor" from Mario Castelnuovo-Tedesco's "24 Caprichos de Goya, Op. 195". This piece was inspired by the sequence of etchings of eighty Caprichos by the great Spanish painter, Francisco Goya (1746-1828). Castelnuovo-Tedesco picked 24 of Goya's Caprichos and wrote guitar pieces based on them. "Francisco Goya y Lucientes, Pintor" is the first capricho from the set. David decided to record this piece on a 2023 Mario Aracama SP/MP guitar.
Leave a Comment