Classical Guitarist from Connecticut, Jaclyn Jones, Records Her First GSI Videos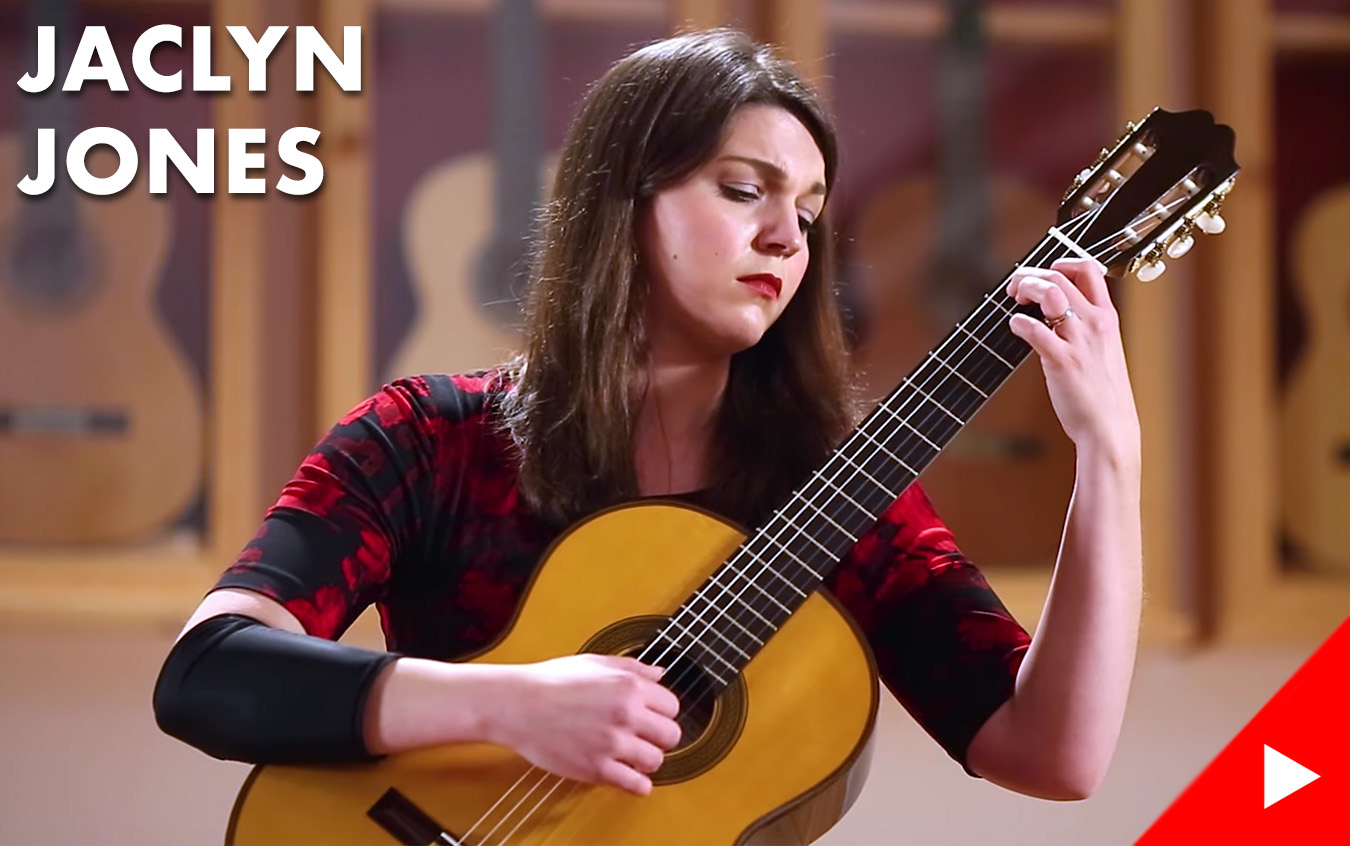 We had the pleasure to record a new guest artist recently. Jaclyn Jones is a classical guitarist and teacher from Connecticut.
Jaclyn plays solo and chamber music. She is one of the artists from the 2020 Fall Guitar Weekend online festival and played multiple concerts for classical guitar societies, for example, the Boston Classical Guitar Society, Philadelphia Guitar Society, NJ Guitar & Mandolin Society, and Connecticut Guitar Society. She earned her Bachelor's degree at the University of Hartford: Hartt School of Music. As an educator, Jaclyn has been featured in GFAtv - an online video series by the Guitar Foundation of America.
While at GSI, Jaclyn recorded five videos on five different guitars. She started with the performance of the first and third movements of Joaquin Rodrigo's "Sonata Giocosa". This is Rodrigo's first sonata for guitar. For the first movement, Allegro moderato, Jaclyn picked a 2008 Robert Ruck CD/IN guitar. Ruck became one of the most recognized names in the USA and has built over a thousand instruments before his passing in 2018. Many great guitarists played his guitars, including Manuel Barrueco. The Allegro finale is a fast and lively zapateado dance. For this performance, Jaclyn chose a 2022 Giancarlo Nannoni "Ambrosia" SP/IN guitar. It's our second instrument from this great Italian maker. Giancarlo has named this guitar "Ambrosia" which is a reference to the food or drink of the Greek gods, often depicted as conferring longevity or immortality upon whoever consumed it. It's a lovely guitar. Next, Jaclyn played Manuel Barrueco's arrangement of Domenico Scarlatti's "Sonata K.208/L.426". This sonata is very often played by classical guitarists, mainly because it works incredibly well on our instrument. Jaclyn chose an excellent guitar for this recording - a 2007 Andrea Tacchi "Omaggio a Robert Bouchet" SP/CSAR. Rather than an exact copy of a Bouchet guitar, we'd call this guitar a "personalized replica" featuring some of Tacchi's own guitar-building ideas. As the fourth piece, Jaclyn played "Romanze" from "Bardenklänge, Op. 13" by Johann Kaspar Mertz. The guitar featured in this video, a 2022 Jake Fuller "Purnell" CD/TW, is quite unique because parts of it were built with wood taken from an old piano dating back to the 1950s. Jaclyn's final video featured Phillip Houghton's "God Of The Northern Forest". This piece was written for Houghton's former teacher, Sebastian Jorgensen. The music is inspired by Jorgensen's Nordic heritage and his experience growing up in the Australian bush at Eltham. For this last piece, Jaclyn chose a 2022 Julia Wenzel CD/PW - a beautiful-looking guitar with striking purplewood used for the back and sides.
Check out Jaclyn's videos below!
Leave a Comment