Coming Soon – Bastien Burlot's "Alkemia" Project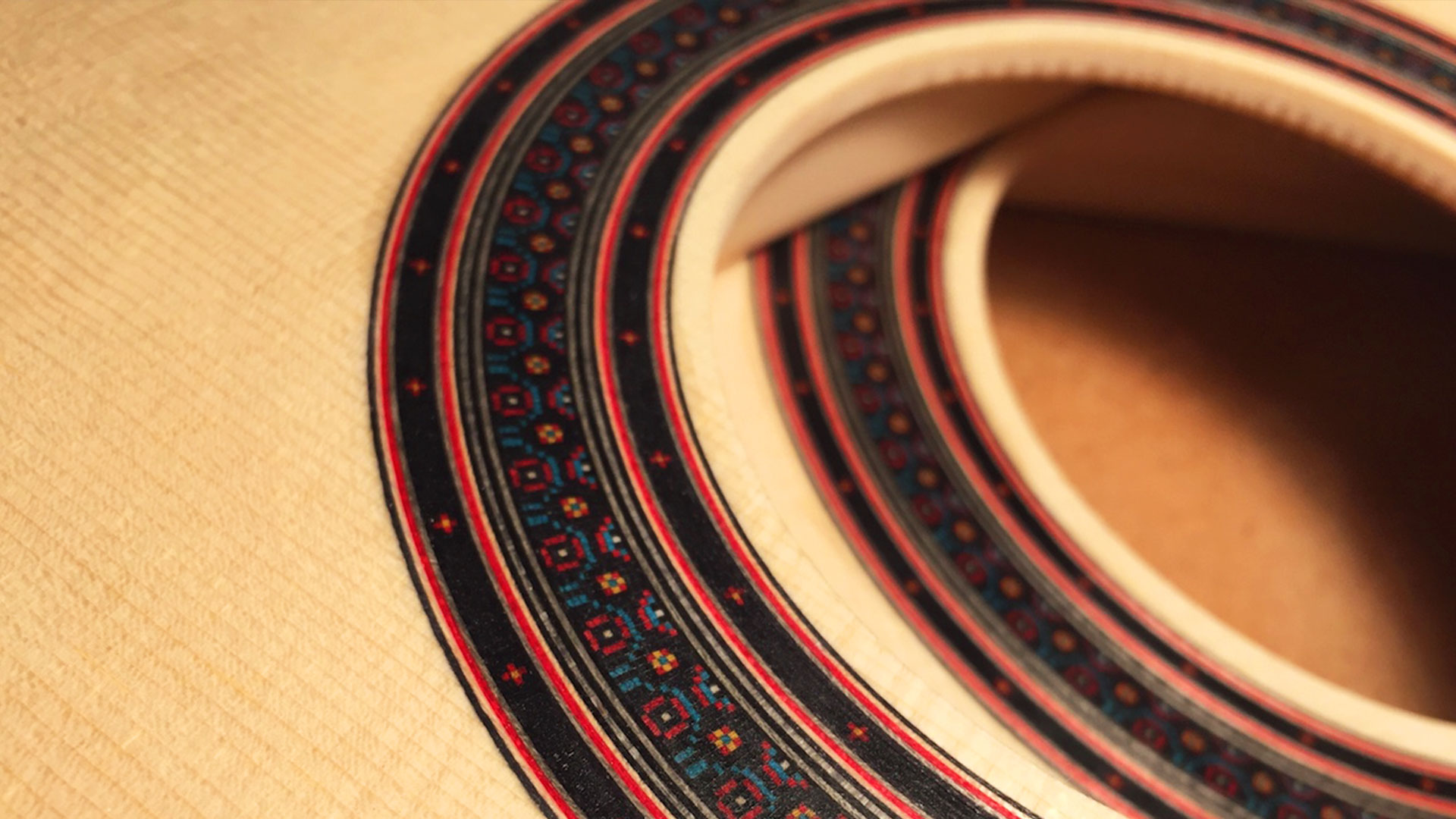 For many years, we have closely followed and admired the work of French luthier Bastien Burlot who has built guitars for the likes of Roland Dyens and Thomas Viloteau. However, his most recent project – which he is calling "Alkemia" – has got us more excited than ever before!
For the "Alkemia" project, Bastien is building a series of guitars with rosettes inspired by the great cathedrals of France. The first instrument he is building for is based off the Chartres Cathedral located about an hour outside Paris by train. As you can see in the photos below, the mosaic designs in the rosette are taken directly from the stained-glass windows of the church itself. In addition, the label has a labyrinth design which comes from the floor of the cathedral's nave, a famous gathering spot of pilgrims from around the world who walk the labyrinth with their heads bowed in prayer.
However, these physical elements of the cathedral merely scratch the surface of Bastien's philosophy for this project. To him, the great cathedrals have incredible significance and act as "bridges between the profane, material world and a more sacred one." It is this ideal that he is bringing into the construction of each one of the "Alkemia" guitars.
In describing the project to us, Bastien provided the following poem:
So, come on, be careful!
Know that when you have crossed the Cathedral's porch,
you will become a real man,
he who is connected to heaven as well as to earth.
Know that you have a magic instrument
and that in the notes that you will play on your mental keyboard
will find a supernatural echo
you will not hear the resonances yourself,
because they will be picked up by attentive ears
as mysterious as the future will be.
You did not know it maybe.
We had all forgotten.
But now, you know:
So passerby, be cautious.
(Anonymous, "The Cathedral")
Bastien has mentioned that the next cathedral on his list for this project is the Strasbourg Cathedral in Eastern France on the border of Germany. We look forward to sharing this and all the other guitars that come from his "Alkemia" project, but for now, enjoy the "Chartres" guitar and stay tuned for recordings from the showroom the minute it arrives here in Santa Monica!