Coming Soon from Italy: Daniele Marrabello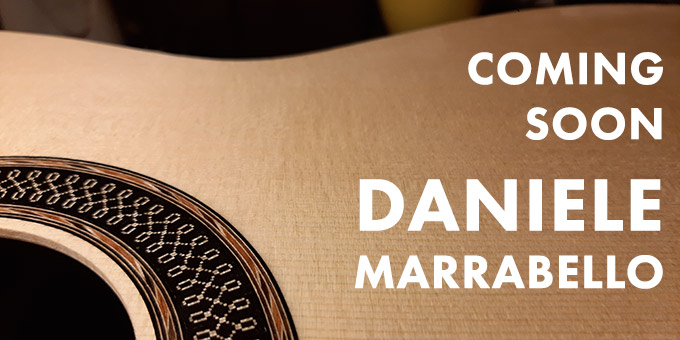 The spruce for the soundboard comes from the Swiss Alps, and Daniele has made the perfect cut on this top – one look at the cross grain "aguas" on this top and you'll see it doesn't get any more quarter-sawn than this! The grain almost takes on the appearance of the swirling storms on Jupiter and Saturn – this is really fantastic and will make for a great sounding guitar. Daniele crafted his own one-a-kind rosette design with half herringbones inlays made of cedrella, maple and rosewood, and then matched the purfling with the same wood.
The Indian rosewood set he chose for the back and sides comes with an interesting story as well: his wood broker told him of how he personally selected the tree in the wild forest in India; this set was selected from a group of trees that were growing from rocks, giving them different features from typical rosewood. As a result, this rosewood set is especially dark in color with deep grains and extra stiffness because of its mineral nourishment from the rocks. Daniele has worked with this combination of tonewoods before and believes they have contributed to making up his best-sounding guitars to date.
We should have this gorgeous instrument sometime in early 2020 – stay tuned!