Coming Soon – Gabriele Lodi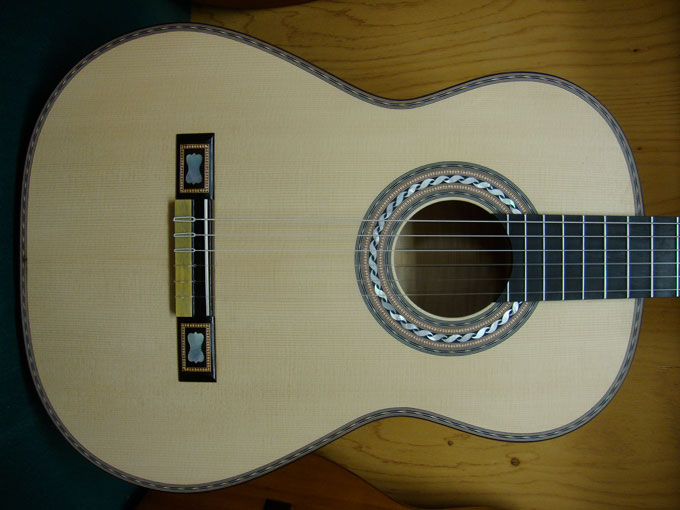 Italian luthier Gabriele Lodi likes to string up his guitars to hear them before applying the French polish, and he sent us some photos of the guitar he is finishing for us now. The good news is that he was very happy with the sound of the guitar. This instrument is his interpretation of a Torres – not exactly a replica but with many elements very much inspired by Torres, as you can see.
In his words:
"This time I really would like to make a guitar that I can call " My Torres Interpretation". It means not a perfect replica but simply my best idea to reproduce the concept of the great master in aesthetics and in sound!
The shape is a large Torres second epoch body, top in spruce and back and sides in flamed maple. The wood selection are very cloose in quality to Torres' instruments. All woods are from the 1970's.
The top has 7 fan struts and a master traverse bar with lateral open windows (see pictures). Ebony fingherboard 650mm scale. Cedrela odorosa neck with nut 50 mm.
Quite ornate Torres style purfiling and rosette with a beautiful mother of pearl design in the centre part, similar to FE02. This mother of pearl rosette was very common in the best spanish maker sin first part of XIX century. I've personally seen some of these guitars, as well as an early Manuel Ramirez. One I love was made by Juan Pages , a great maker who inspired a lot the work of Torres in first epoc.(see picture)
The purfiling design is also featured in the head plate, and I use very nice tuners by Alessi.
The bridge is brazilian rosewood with typical mother of peral decoration in the sides and ivory tower surface.(see picture)
This guitar is really my attempt to give players a real Torres experience!
Body and neck dimension are as in the original, lower than E body resonance with incredibile separation in all frequencies. Very elegant round tone and very good first string result too, in my opinion with no dropouts, which is very difficult in a very light low resonance guitar.
1320 gr. Total weight."