Companion videos for "El Libro de Oro, Volume 2 – Studies and Duets" of Agustin Barrios Mangore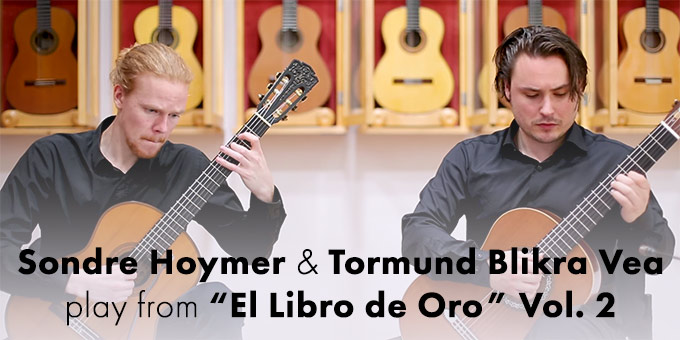 Barrios expert & luthier Federico Sheppard, editor and visionary behind "El Libro de Oro", the new 6-volume edition of the works of Agustín Barrios Mangoré, asked if GSI would be willing to provide the video companion to the first 2 volumes, and of course we said "yes"! Although Barrios is a household name in the classical guitar world, he is largely known for his phenomenal compositions, which have become permanent staples of the classical guitar repertoire. But very little has been known of his teaching materials and method, and we are quite astonished to discover that he was as skilled in arranging as in composing, as these arrangement testify even upon first listening.
In his teaching, Barrios arranged music written by other composers for his students to play, and often composed a second part so he could accompany them. The series of videos that will slowly fill this blog post are all taken from the studies and duets found in Volume 2 of "El Libro de Oro". The performers – Sondre Hoymer and Tormund Blikra Vea – have performed each piece with Barrios' fingerings, exactly as he intended. Additionally, Sondre performs on 2014 Federico Sheppard "1911 Jose Ramirez – ex Barrios" RW/AR and Tormund plays on a 1929 Francisco Simplicio SP/CSAR to recreate the sound that could have been heard in Barrios' own lesson room when these were first performed.