George Sakellariou – The Sound Of Torres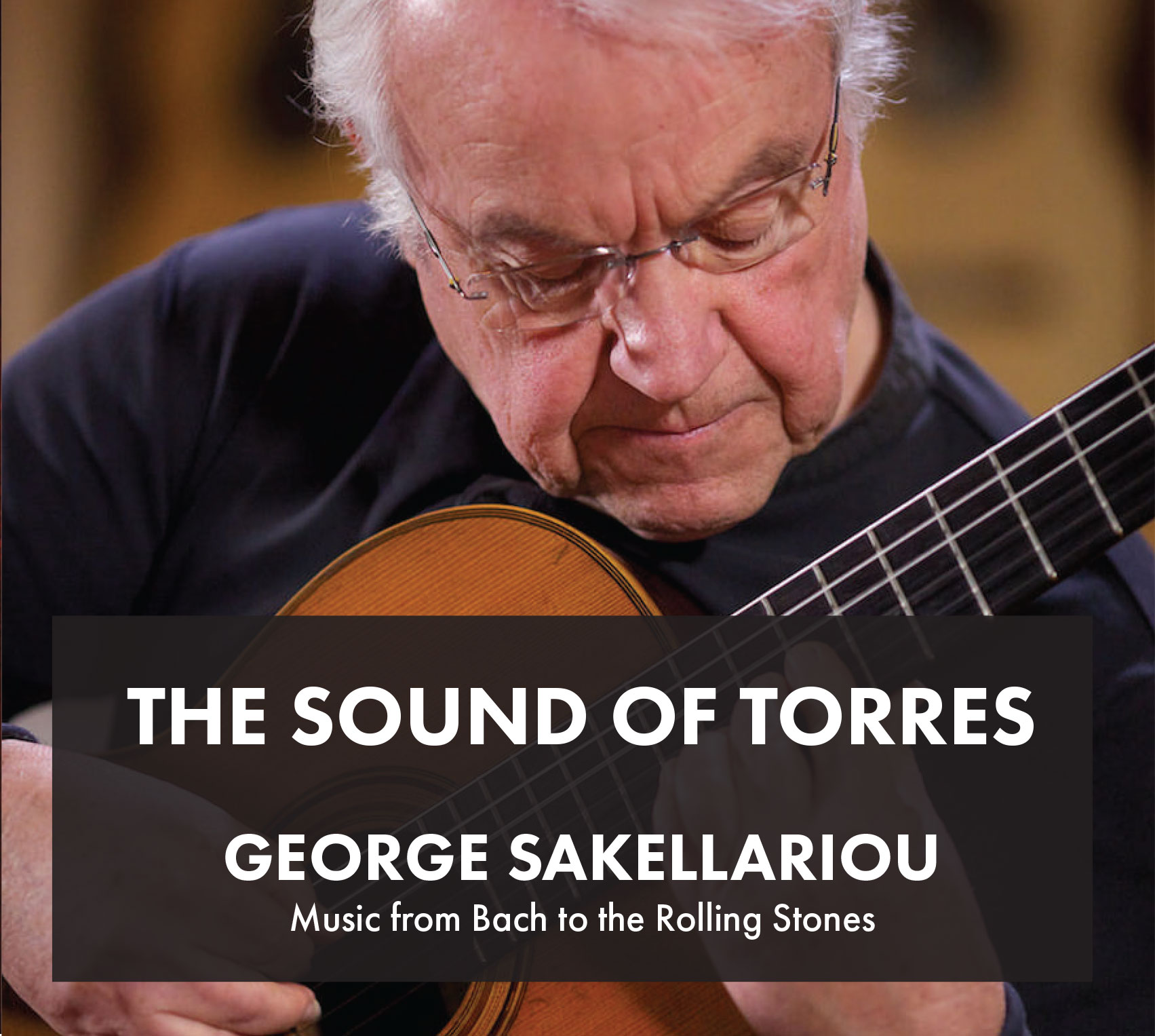 We are so happy to announce that The Sound Of Torres, the new CD we produced with the great guitarist George Sakellariou, is now available! The CD features George playing two different guitars by Antonio de Torres, a First Epoch guitar from 1862 and a Second Epoch one from 1888. It's a pretty amazing chance to hear these amazing instruments played by someone able to bring out all of their beauty and we are very pleased indeed with the result. The repertoire George chose spans from Bach to the Rolling Stones (George's great arrangement of Paint It Black) and also includes works by Sor, Satie, Ponce, Fleury, Piazzolla, Carlevaro, Pujol and Mikis Theodorakis. You can buy the CD here, or you can download or stream the CD at Amazon, Spotify, or just about anywhere you listen to music.
For more information about the guitars themselves check out the liner notes by GSI president David Collett:

For the recording of this album, two amazing guitars by the "Stradivarius of the guitar" Antonio de Torres (1817-1892) were used. For those unfamiliar, Torres' dramatic structural and tonal improvements revolutionized the guitar's design in his own day, and his work laid the foundational basis for modern guitar building. The impact that his legacy has left on successive generations of luthiers is impossible to exaggerate – still to this day, most or nearly all of Torres' improvements are still in use by top contemporary builders. The Torres guitars used for this recording were built in two different phases of Torres' career, over 25 years apart. The first, built in 1862, hails from his so-called "First epoch" when he was working in Seville. The later guitar was built in 1888 after Torres moved back to his native Almeria and is identified as "Segunda Epoca No. 115" by Torres on the label. The current owner has lovingly named the 1862 "La Leyenda" and the 1888 "La Novia."
Built over 150 years ago, "La Leyenda" is one of Torres' more elaborately made instruments with three-piece, birds-eye maple sides and a creative rosette made of bright red and blue colored paper. Curiously this is the same year as his famous guitar built with "paper mache" back and sides – indeed a creative and experimental year for this legendary maker. When it comes to sound, "La Leyenda" possesses a huge palette of tonal colors, which are all available with the slightest change of right hand position. "La Novia," on the other hand, was built in the same year and with almost identical dimensions and materials as Tarrega's favorite Torres guitar (SE 114). Similar to its sibling, "La Novia" was also played by incredible artists, famously owned first by Matilde Cuervas (1888-1956) and after her untimely passing, passed to her husband Emilio Pujol (1886-1980), whose composition "Estudio VIII" is featured on this album and recorded with this very guitar. When evaluating the sound of a guitar like this, it's difficult to tell where the genius of Torres ends and the accumulated years of being played by great artists begins – this instrument having a particularly great history of fine players caressing its strings for over 100 years.
With this album, George Sakellariou demonstrates the magic that is formed when great players perform on incredible instruments. In his own words: "Playing these two wonderful guitars elevates the effect of this music to a whole other level. One special tone in a phrase combined with the unbelievable sound of these instruments drives me with momentum to new heights of interpretation."