Jack Silver: Collector of Rare Recordings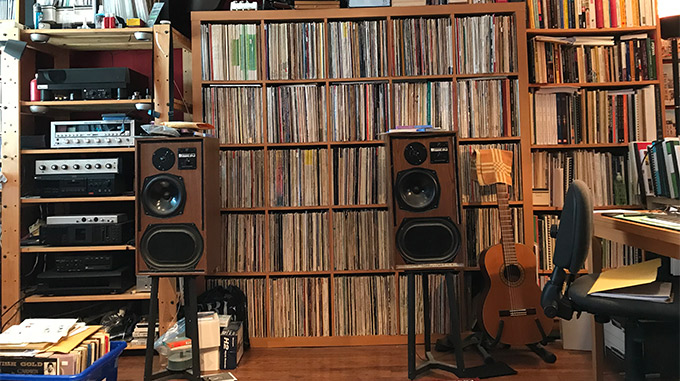 With a wave of Minimalism being so 'in' at the moment, we thought twice about this title and image. And, on that second thought we thought, "In this case COLLECTOR is a good thing!" Just look at that great library of music.
It all belongs to Jack Silver, who has become a friend as of late as he's shared with us his story on how he became a collector of rare recordings; the kinds that record labels dream of having and audiophiles want to discover first. In recent years, Jack released some of his obscure, unknown recordings through DOREMI Records (now distributed by NAXOS), in a series called "Andres Segovia and his Contemporaries". There are currently 12 volumes in this series.
As part of this multi-part GSI Story Series, we give you Pt. 1 of Jack Silver's story (in his own words) on how he got started collecting rare recordings.
EARLY GUITAR RECORDINGS: A Survey of the 78 era
Becoming a Collector
In August 1966, I bought my first classical guitar. It cost me all of five dollars — but the instrument literally had no strings attached. I bought a set and spent a week learning how to attach them, and following that, worked for several weeks learning how to tune the guitar. Then I had to solve the dilemma of my left handedness: I initially strung the guitar to suit my "sinister handicap," but in the end decided to bow to the fact that most guitarists played right-handed.
There were two other major impediments. First, I had actually never seen a classical guitarist play. And second, in Calgary, Alberta in the mid-'60s, there were no classical guitar teachers. So I set out on my own, armed with the experience of six years of piano lessons and a copy of the Aaron Shearer method. I persevered, however, and before long I could play a few simple pieces, like "Se io m'accorgo" from the Chilesotti collection, and could hack my way through "World Famous Solos for Classic Guitar." Eventually I found a teacher, made my way to the Jeunesses Musicales Camp in Quebec and studied for three summers with Alexandre Lagoya, subsequently moving to France where I continued my studies, eventually earning a Premier Prix d'Interpretation.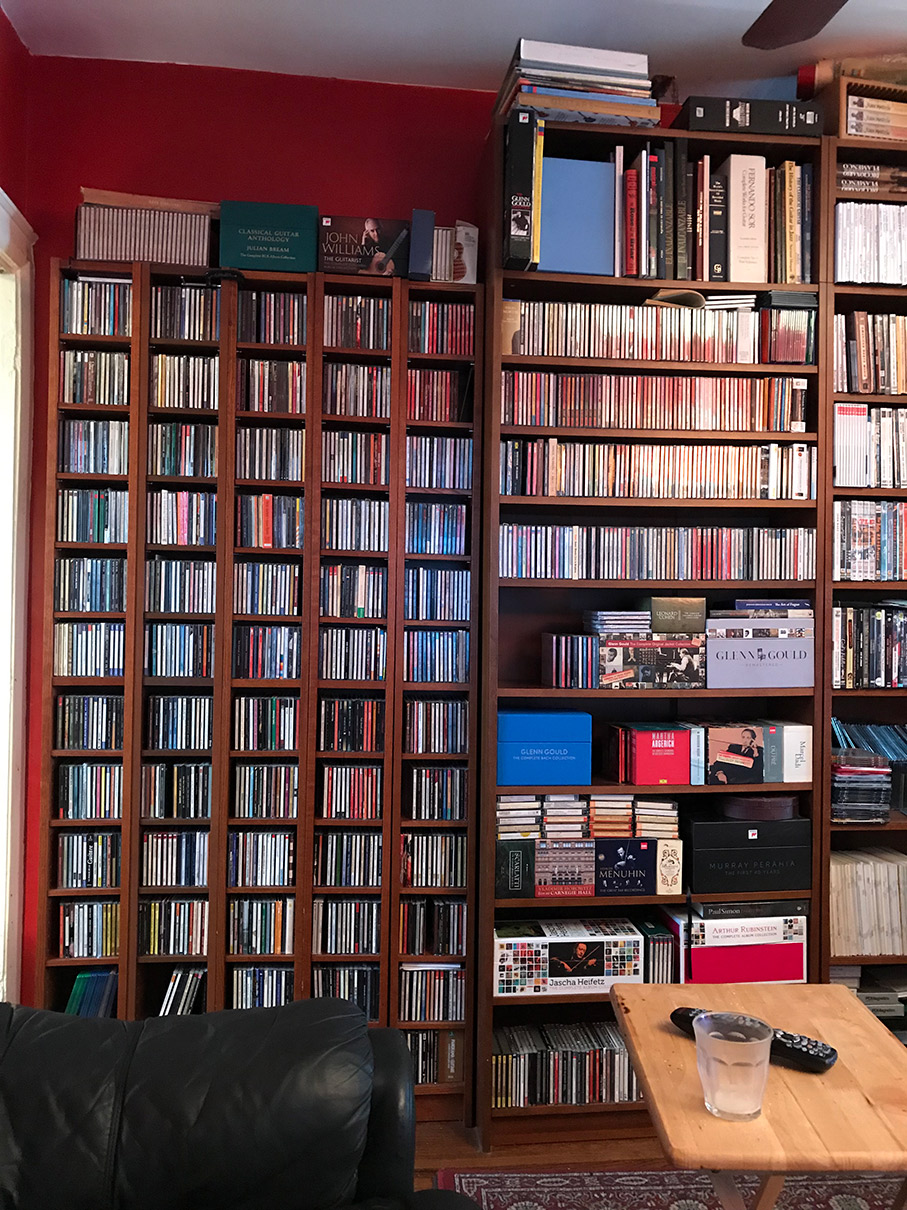 My first exposure to the classical guitar was through the medium of the long-playing record. I was initially enamoured by the sound of the classical guitar accompanying the voice on Harry Belafonte, Malka and Joso, and Theodore Bikel folk music LPs. A chance listening to a radio program featuring a Spanish guitarist whose name I thought was "Andresegovia" (one word) opened up the fact that this instrument could play solo classical music. Armed with this name, I ventured out to my local record store and asked the clerk if they had any records by "Andresegovia." At first he couldn't figure out what I was saying, but eventually he realized I was talking about "Andrés Segovia." I bought "The Art of Andres Segovia," rushed home, and put it on my suitcase style RCA record player. The sound was ravishing—I later discovered that Segovia was playing his legendary Herman Hauser I guitar, and the repertoire a revelation. I couldn't wait to buy another LP—this time, Alirio Diaz's "Four Hundred Years of the Classical Guitar." This recording also blew me away, but the astonishing thing for me was that the sound, while equally beautiful, was radically different from Segovia's. My third acquisition was Manuel Diaz Cano's "recital di musiche spagnole no. 2," consisting of arrangements of flamenco songs, Mudarra, Tarrega, and Sainz de la Maza. Again, the sonorities were very different from either Segovia or Diaz, much earthier and rougher. As time went on, I gradually added to my small store of guitar records. I was especially intrigued by this instrument that could sound so very different in the hands of different artists—the unique personal sonic signature of each performer was endlessly fascinating.
Over the years, I acquired more discs in a desultory fashion, but particularly the epochal recordings of Julian Bream. I certainly did not consider myself a "collector." But one day in 1990, I went into a leading record store in Toronto, "L'Atelier Grigorian," asking if there was a CD of the Presti-Lagoya recording "Baroque Music for Two Guitars." The clerk, Bob Trenholm, turned out to be a fellow guitarist! We bonded over our joint love of the playing and compositions of Luiz Bonfa. I learned from him that one could "collect" old recordings. He invited me to his apartment to show me his collection, which was incredibly diverse, and brought out the catalog of the Brazilian collector Ronoel Simoes. I was hooked on collecting, and began haunting used record stores in Toronto, New York, London, Paris, and Madrid!
Like most guitarists, I had supposed that Segovia was the first and only guitarist to record before the advent of the long-playing record in the early 1950s. After I had known Bob for a few months, he called me to say that a dealer in country-and-western recordings had issued a catalogue listing many 78 rpm classical guitar recordings, acquired from the widow of a farmer in rural Ontario whose husband had been an aficionado. We were able to secure the whole collection between us for a song. The treasure trove opened my eyes and ears to a whole world of classical guitar activity in the 78 era distinct from Segovia. I discovered such names as Julio Martinez Oyanguren, Maria Luisa Anido, Miguel Llobet, Regino Sainz de la Maza. It was a revelation. Over the past thirty years, I have pursued my passion for collecting, and have a collection of over six hundred 78s, not to mention a handful of Edison cylinders.

In 1997, Bob convinced his friend Jacob Harnoy, who had established an historical recordings label, DOREMI, to begin a series "Segovia and His Contemporaries." I was invited to provide some of the source material, research, and write the liner notes. Eventually I became the project leader. Over the past twenty years, we have released twelve volumes, two of them box sets, as well as three individual CDs. I recently was greatly involved with the GuitarCoop release of historic recordings by Olga Praguer Coelho. In the fall of 2002, I wrote an article for "Classic Record Collector" that surveyed the range of artists who had recorded in the 78 era. In the nearly two decades since then, my collection has expanded exponentially. David Collett asked me if I would like to share my discoveries with the readers of the Guitar Salon website, and I told him that I was delighted to.
---
Pt. 2 of Jack Silver's story, in which he talks about some of the earliest recordings he's found, will be released soon.