Jack Silver, Pt. 2: Recorded Treasures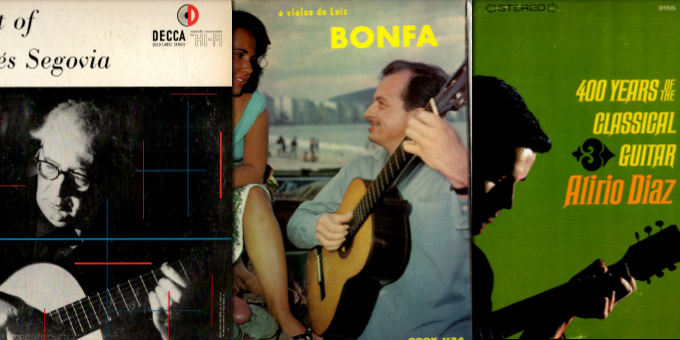 In Pt. 2 of Jack's unique story, through all of his encounters with classical guitar recordings, he is able to very closely trace back to when the first recordings may have been captured, basing it on extensive research and using items in his collection as reference points. Jack notes that the vast bulk of classical guitar recordings were made after the development of electrical recording in 1925; nevertheless, in a sea of mass-produced, dispensable products today, it is nice to learn about these rare treasures that still exist on a rare medium and serve as recordings to admire.
EARLY GUITAR RECORDINGS: A Survey of the 78 era
Earliest Guitar Recordings
In 1877, Thomas Edison developed the phonograph as a recording and playback device, thinking it would be useful for office dictation. He did not consider its application to music, but it was not long before that became its primary use. He used the medium of a cylinder (I have several early cylinder guitar recordings in my collection), but in the 1890s Emile Berliner invented the flat disc, which eventually supplanted Edison's technology. The earliest wax cylinder seems to be a recording of Handel's choral music made in London in 1888.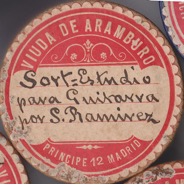 The earliest recordings of the classical guitar are likely to have been a set of non-commercial cylinders recorded on equipment supplied by the "Viuda de Aramburo" laboratories sometime between 1897 and 1901. The first solo, from this set, was probably "Sort: Estudio para guitarra", performed by Simon Ramirez. Although the sound is primitive, we can clearly hear on the cylinder the sounds of the ubiquitous "Romance d'Amour." I released this recording on volume 12 of "Andres Segovia and his Contemporaries: El Círculo Musical".
Possibly contemporaneous is a cylinder recording arguably by Tarrega himself of the gavotte "Maria," an extract of which I included in volume 12 as well. We know that Tarrega visited Granada in 1899 with his student and patron Concepcion Gomez de Jacoby. It was there he composed the first draft of "Recuerdos de la Alhambra." He may also have recorded a cylinder at the firm of A. Casares. A catalogue lists "Maria" as well as a second work, not found, "Danzas Negros." As was the custom on early recordings, a voice announces "Gavota para guitarra por Don Francisco Tárrega." Since Tárrega also visited Granada in June 1908, he may have made the recording at that time.
We cannot know with certainty, but the next recorded appearance of the classical guitar may have been on an Edison cylinder from 1907. The artist was the Mexican guitarist and composer Octaviano Yañez playing his "Anita" (you can hear it below, courtesy of UCSB Cylinder Audio Archive). I have in my collection several cylinders and discs by Yañez, which await release. For more information on this mysterious figure, I would recommend Randall Kohl's "Antología de arreglos y composiciones para guitarra," which, along with his compositions and arrangements, has a fascinating account of what is known about Yañez.

The next pioneer of the recorded classical guitar was likely the Uruguyan Julio J. Otermin, who recorded eighteen solos for Victor in 1912. These may be heard on the CD Golden Era 59 "Julio J. Otermin & Trio de Guitarras de Uruguay 1912", released by Randy Osborne of finefretted.org.
To round off this survey of the very earliest recordings, we turn to the towering figure of Agustín Barrios, who recorded seventeen discs in Montevideo for the label Atlanta/Artigas in 1913/14. Many of these can be heard on the Chanterelle 3 CD set "Agustín Barrios: The Complete Guitar Recordings." I have six of these in my collection, most in mint condition. For more information, I highly recommend Richard Stover's "Six Silver Moonbeams: The Life & Times of Agustín Barrios Mangoré."
The sound quality of all of these early acoustic recordings does not have great fidelity, owing to the limitations of the technology. It would take the development of electrical recording in 1925 using highly sensitive microphones for the true sonorities of the classical guitar to be revealed. It is in the electrical era that most of the historical recordings of the classical guitar were issued, and to which future installments of my survey will be devoted.
---
There's more to Jack Silver's story coming soon! Next time, he'll do a quick survey of electrical recordings of the classical guitar since 1925. For now, check out Felipe Conde's and David Collett's Picks for Top 10 Classical Guitar CDs – some might make it into Jack's article!