Official Photos and Results from the 2019 "3rd Antonio Marin Guitar Making Competition EGF" in Granada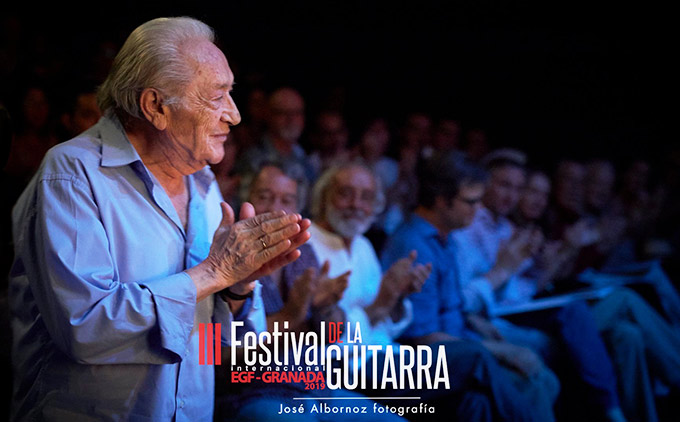 Once again we attended the 2019 "3rd Antonio Marin Guitar Making Competition EGF" (European Guitar Foundation, with Vicente Coves as director) in Granada, Spain. Both GSI's David Collett and Kai Narezo attended the event as they were both selected to be part of juries for the competition. David was on the classical jury, headed by jury president José Marín Plazuelo (Spain) joined by master luthier Edmund Blöchinger (Germany), master luthier/repairman Yuris Zeltins (USA), guitarist and dealer Alberto Cuéllar (Spain/China), and classical guitarist in residence José Luis Morillas (who also did all the performing on the classicals). For the Flamenco Guitar category, in addition to Kai, the jury included jury president and Madrid luthier Manuel Cáceres (Spain), pedagogue Julio Castaños (Spain) and the flamenco guitarist in residence Alberto Lopez, who did all the performing on the flamencos.
23 luthiers from around the world (including the US, China, Japan, Italy, Thailand, France, Russia, Canada, Spain, Switzerland, Australia and England) submitted 1 or 2 guitars each, and over the course of 4 days, every luthier was individually interviewed, their guitars examined in great detail both for their structural/woodworking qualities (including having the interiors inspected with light and mirror), for their aesthetics – both design and execution, and for their sonic qualities – from the players vantage point as well as being heard both in a small room and later in a large concert hall setting.
After 3 rounds of eliminations, the juries gradually selected the winners, the results listed below:
Classical Guitar Category
1st place: Darragh O'Connell (Switzerland)
2nd place: Youri Soroka (Ukraine)
3rd place: Hironori Fukuda (Japan)
Flamenco Guitar Category
1st place: Victor Quintanilla (Spain)
2nd place: Mijail Kharash (Russia)
In attendance was none other than the legendary Granada maker himself, Mr. Antonio Marin (pictured in the image above). He both received honors and gave out the first prizes to each winner. Also in attendance were such guitar personalities as Pepe and Celin Romero as well as many of the local Granada guitar makers.
It was quite a spectacle to see the amount of local people who showed up on a Thursday night to watch the final results of a guitar making competition – as you'll see in the photos below the "Teatro Garcia Lorca" was a full house – a testimony to how "alive and well" the guitar is in this legendary guitar making town. Enjoy the official photos below, taken by photographer José Albornoz, and courtesy of the European Guitar Foundation. And be sure to keep your eyes on our site – part of the "prize" each of the winners receives is to have their instruments represented by GSI. We will be announcing news of each of their arrivals as the guitars are completed and en route to our showroom!
Leave a Comment