Paula Lazzarini and her experience meeting Antonio Marin Montero and Daniel Friederich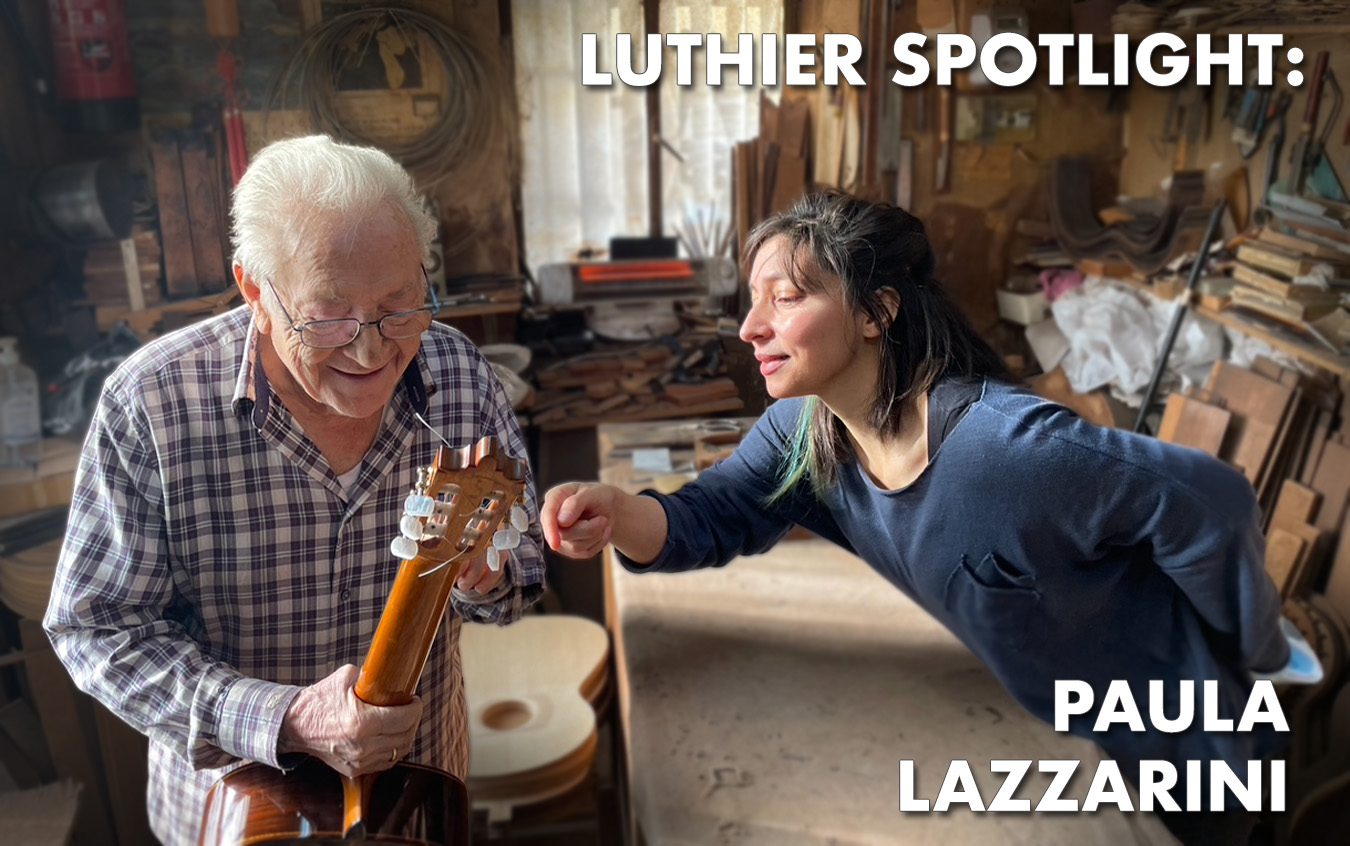 Talented Argentinian guitar maker, Paula Lazzarini, became widely known in the international guitar-building scene when her classical guitar won the first prize at the 4th Antonio Marin Montero Guitar Building Competition in Granada, Spain in 2021. This prize made her the first female luthier to win this prestigious prize.
Paula has been making classical guitars since 2007. She was born in Buenos Aires, Argentina, and in 2016 she moved to Cremona, Italy, where she established her luthier workshop. In the beginning, Paula started with repairs, and then she began making classical guitars under the tutelage of luthier, Ricardo Louzo.
Paula's craftsmanship has been influenced by meetings with several classical guitar virtuosos and guitar-makers from across Europe. For a brief period of time in 2011, she had the privilege of learning from Daniel Friederich who kindly shared his insights with her. Perhaps it's best to hear directly from Paula about her experience of meeting Friederich:
First, I met Francisco Herrera in Geneva. He published four volumes on the Encyclopaedia of Guitar, published by Piles. It includes everything, including composers, musicians, guitar makers, etc. For his last volume, published in a digital format, he asked me for my biography and picture, and the CD was published in 2012. So, it was Francisco Herrera who suggested meeting with Daniel Friederich, so, after a few weeks I called up Daniel. Daniel spoke Spanish and he kindly invited me to meet him in February 2011. As he did not have any references, neither about me nor about my work, he called up Roberto Aussel to ask for references... but I had never even met Roberto! However, Pablo Marquez passed some references on to Daniel Friederich. Coming to Daniel's workshop was impressive, to say the least! It seemed to me like browsing through a specialized guitar magazine or book, as the workshop featured the sort of scenography I had seen only in books or on the internet. I brought with me a guitar so he could give me feedback so I could improve it, change concepts, etc. and he showed me a few practical procedures and steps of the methods he utilizes, particularly regarding the structure and sound. We had several brief meetings as his wife was sick then, and I had to return to Buenos Aires at that time.
Paula also had a chance to get feedback from another guitar-making legend – Antonio Marin Montero, who shared with Paula his insights on guitar-building techniques. See the photos below from the moment when Paula won the 4th Antonio Marin Montero Guitar Building Competition in Granada, from Paula's visits to Antonio Marin Montero's workshop, and an article about Paula from the Ideal magazine (available only in Spanish).
We're very happy to see such young talents as Paula. Her guitar which we currently have in our stock (2022 Paula Lazzarini CD/IN) is excellent and very soon we hope to see more guitars from this incredibly talented luthier. Don't hesitate to reach out to us if you'd like to try Paula's guitar.
Leave a Comment