Product Spotlight: RC Strings - The Voice Of Your Guitar!
"RC Strings" has been manufacturing strings for guitars and related instruments in Valencia for more than 45 years. Its main objective, as "The Voice of Your Guitar", is for RC Strings to be an indispensable ally to transmit your musical sensitivity.
For more than 25 years the words "Anti-Oxidant", "Anti-Corrosion", and more recently, "COATED", have been part of RC Strings' daily vocabulary. RC Strings use these features offering increased durability, better sound, projection, and timbre. All RC Strings are "COATED", from the least expensive set to the most expensive without distinction.
RC Strings are made "for professionals, by professionals". They are available for purchase at GSI and are made with top-quality materials. To all of the aforementioned qualities, RC Strings also offer "Stable Tuning", a characteristic recognized by great concert performers and verified in statements made by them..
The strings, just like guitar, are very personal, so it's very important to search and find your perfect strings which will match your playing style and instrument. In our store, RC Strings offer the following types of sets: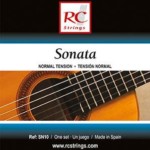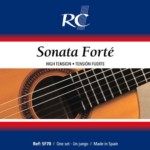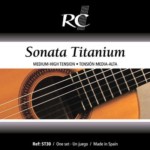 RC Strings "Sonata" (normal tension), "Sonata Forte" (high tension) & Sonata "Titanium"
The popular "Sonata" line of RC strings for classical guitar is designed to allow performers to get a rich sound with great dynamic strength and projection. The strength is especially perceivable in the high tension set of "Sonata Forte".
---
This is a high-quality string set with high tension clear nylon trebles and silver-plated basses. Very rich and responsive. The bridge side of each string has been heated to create a small ball of nylon which helps prevent string slippage.
---
These strings have been designed to satisfy the demands of the new generation of concert guitarists that demand a big, musical string with a modern feel. The medium tension precision formula trebles are the same quality as the RC "Professional" with a slightly thinner gauge and high tension. They also have thinner basses that have a specially calibrated high tension string core, which is also referred to as "comfort wound" for a softer touch. This set achieves a genuinely homogeneous sound.
---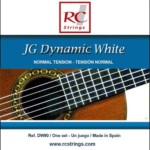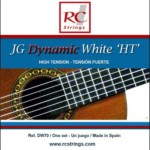 RC Strings "JG Dynamic White" & "JG Dynamic White HT"
These strings provide a pure and delicate sound, faithful to the beauty of the voice of the guitar. JG Dynamic sets provide extreme tuning stability. This makes them especially advantageous for ensemble settings.
---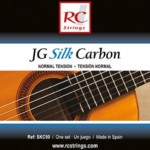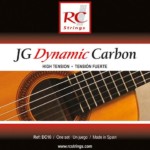 RC Strings "JG Dynamic Carbon" – Silk or Dynamic
For carbon string lovers, RC also offers a special JG set with either dynamic or silk carbon trebles. Certain instruments respond much better to carbon strings, therefore like the responsiveness and feel of carbon strings, JG sets might be perfect for you.
---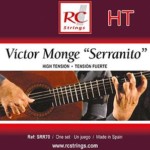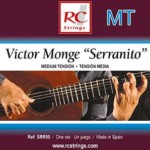 RC Strings "Victor Monge – Serranito" HIGH TENSION and MEDIUM TENSION
A set named after a great flamenco guitarist, Victor Monge "Serranito". This set will give you a beautiful Spanish sound. The E and B treble strings are made of nylon, however the G string is made of carbon for more projection.
---
RC Strings have also been reviewed in two very popular YouTube videos by Paola Hermosín. Check them out below!
Leave a Comment