Recording Artist: Eliot Fisk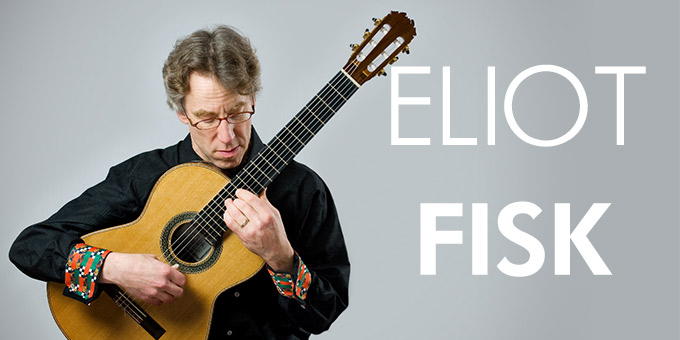 Guitarist Eliot Fisk is known worldwide as a charismatic performer famed for his adventurous and virtuosic repertoire. He is also celebrated for his willingness to take art music into unusual venues (including schools, senior centers, logging camps and prisons). After 45 years before the public he remains, as his mentor Andrés Segovia once wrote, "at the top line of our artistic world."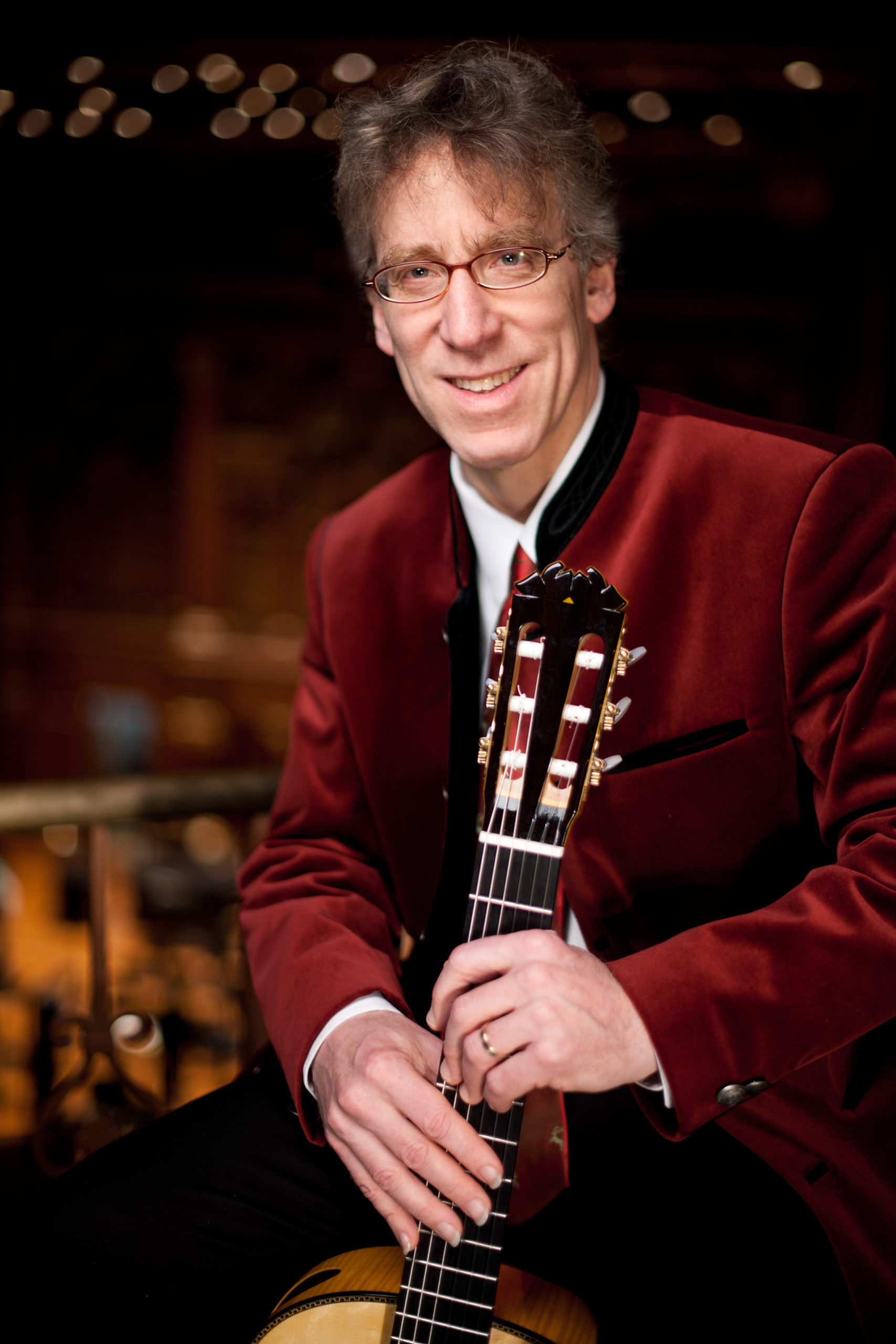 Called "the devil's guitarist" by one critic (for his playing of Paganini), Fisk has performed with orchestras such as the Los Angeles Philharmonic and the Houston Symphony, performing Rodrigo's 'Concierto de Aranjuez'; the Orchestra of St. Lukes, performing and recording Vivaldi, The Stuttgart Chamber Orchestra, premiering a new concerto by Daniel Bernard Roumain and The American Composers Orchestra conducted by Dennis Russell Davies premiering Robert Beaser's Guitar Concerto. Eliot also premiered Luciano Berio's 'Chemin V' for guitar and chamber orchestra with the Orchester der Beethovenhalle conducted by the composer. The 'Chemin V' like the 'Sequenza XI' for solo guitar, on which it is based, was written for Mr. Fisk.
Eliot Fisk has participated in numerous cross over projects with colleagues such as flamenco great Paco Peña; jazz guitarists Joe pass and Bill Frisell, as well as ongoing collaborations with classical artists such as clarinetist Richard Stoltzman, Tenor Nicholas Phan, and cellist Yehuda Hanani and has recorded 2 CDs with his long time chamber music partner, flutist Paula Robison.
Fisk has performed at venues such as Stanford Lively Arts, Spivey Hall, Duke Performances, Newman Center for the Performing Arts, Alice Tully Hall, Zankel Hall, the Metropolitan Museum of Art, and the 92nd Street Y in NYC, for the Da Camera of Houston, Da Camera of Los Angeles, Orange County Performing Arts Center, The Segovia Series in Chicago and the at the Frick Collection in New York both solo and with cellist Yehuda Hanani. He returns regularly to important guitar festivals such as those of Córdoba, Spain; Iserlohn, Bad Aibling, and Hersbrueck Germany, and this summer will make his debut at the Shanghai Festival in China along with his wife, virtuoso guitarist Zaira Meneses and daughter, 13 year old pianist Raquel Fisk.
Eliot Fisk has revolutionized the guitar repertoire with innumerable transcriptions (including works by Bach, Scarlatti, Haydn, Mozart, Paganini, Schubert and Albéniz) and through works dedicated to him by composers as varied as Luciano Berio, Leonardo Balada, Robert Beaser, Nicholas Maw, George Rochberg, Daniel Bernard Roumain and Kurt Schwertsik. The Atlanta Journal noted, "Eliot Fisk proved once more that he is a connoisseur's guitarist. His programming is invariably imaginative, his technique effortless… If you didn't know better, you'd think playing the guitar was easy."
Many of Eliot's recordings have entered the Billboard charts as best sellers. Two solo CDs featuring contemporary works written for and transcribed by Eliot Fisk were released to great acclaim in 2010 by Wildner Records. Upcoming releases include "Amazing Grace" with Richard Stoltzman (clarinet) and 2 additional CDs with Paco Peña (flamenco guitar) and cellist Yehud Hanani.
Within a one month period in 2013 Fisk premiered songs for cello, voice and guitar by Robert Beaser, a new arrangement for 2 guitars and orchestra of William Bolcom's 'Graceful Ghost Rag' by Payton McDonald, and Ralf Gawlick's mammoth tribute to German artist Kaethe Kollwitz, Kollwitz Konnex, for soprano and guitar. Other recent landmark premieres have included Robert Beaser's 'Guitar Concerto' (with Dennis Russell Davies at Zankel Hall in New York City) Eliot's transcription for solo guitar of John Corigliano's 'Red Violin Caprices' and the epic solo suite 'Ein Kleines Requiem' dedicated to him by Austrian composer Kurt Schwertsik.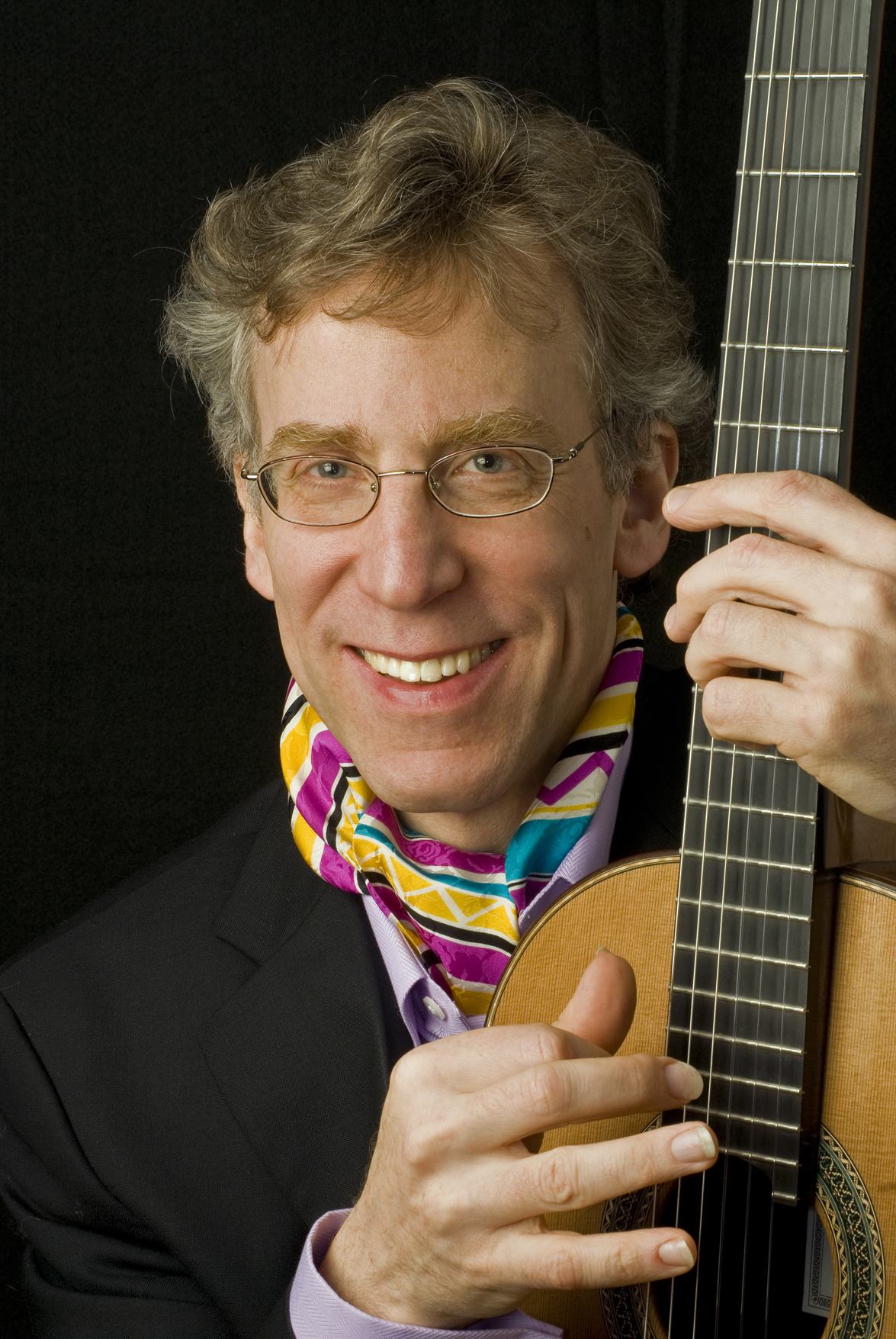 Eliot Fisk was the last direct pupil of Andrés Segovia and also studied interpretation with the legendary harpsichordist Ralph Kirkpatrick at Yale University, from which he graduated "summa cum laude" in 1976. Described by one New York Times headline as a "Fiery Missionary to the Unconverted", Eliot Fisk is Professor at the Universitaet Mozarteum in Salzburg, Austria, where he teaches in 5 languages, and in Boston at the New England Conservatory.
In June 2006, King Juan Carlos of Spain, awarded Eliot the "Cruz de Isabel la Catolica" for his service to the cause of Spanish music. Earlier recipients of this honor included Andrés Segovia and Yehudi Menuhin.
Eliot Fisk is Founder and Artistic Director of Boston GuitarFest an annual cross- disciplinary and cross- cultural extravaganza co-sponsored by the New England Conservatory and Northeastern University and now in its 8th consecutive year.