Youri Soroka and the "Local Wood Challenge"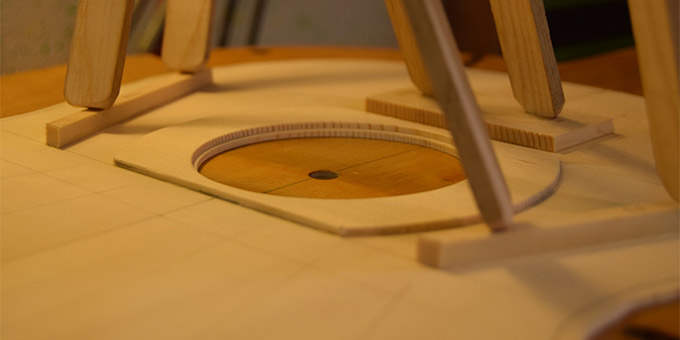 Luthier Youri Soroka just informed us that he will be participating in the "Local Wood Challenge" being sponsored by the European Guitar Builders organization. This will be happening later this month, from 22-24 March in Paris at the "Salon de la Belle Guitare" event, which is one of the largest guitar shows in France.
Like the Leonardo Guitar Research Project (who will also be there) that we've previously reported on (you can see that post here), the idea is to build guitars with sustainable materials – in this case, using only local woods. So, Youri decided to do an experiment: build 2 guitars side by side using the same top wood with identical bracing and construction process – the only difference being the materials used for the neck, back and sides. For the soundboards, he had 2 spruce sets, both excellent quality, acquired from Granada luthier John Ray that both came from the same tree, with adjacent numbers, same density and therefore same acoustic properties. For the "local woods" guitar, he chose figured alder for the back and sides, plain alder for the neck and wild pear for everything else: fingerboard, bridge, bindings etc. For the "normal" guitar, he chose Madagascar rosewood for the back and sides. At the start of the building process, he found the tap tones on the alder to be quite dull, whereas the rosewood was ringing like a bell. It made him think of the Torres "cardboard" guitar from 1862, with its acoustically neutral body. Upon closing the boxes and stringing the guitars up, Youri tried the two guitars side by side, and reports that both sound great and very similar to one another. He will continue to play them both further after the polishing has been completed.
Leave a Comment