German Vazquez Rubio (also known as G.V. Rubio) is one of the most talented and prestigious luthiers in the world today. 2018 marked his 50th anniversary as a luthier, and in the course of his career, he has developed his own signature sound that guitarists have come to love.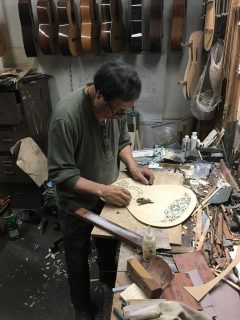 German immigrated to Los Angeles, California in the early 70's from his native home Paracho, Michoacan in Mexico. He began working with Bernatdo Rico at B.C. Rich guitars making their acoustic guitars. He quickly made his presence known in Los Angeles and was approached by Art Valdez from Valdez guitars situated on the back-then "Sunset Guitar Row." While at Valdez, he would make and repair guitars for countless recording artists from all genres of music such as Van Halen, Gene Simmons, John Denver and Benito Palacios.
German would always make his own guitars at home to sell to the public, but in the early 90's, he began selling his guitars full time and hasn't stopped since.
German has a deep understanding of how wood ages and has a very organic, yet unorthodox, approach to selecting materials and construction in general. Having had an opportunity to repair and restore countless high end guitars, he has developed designs that he says should last a lifetime and only improve with age.
Most recently German was chosen by
Córdoba Guitars
and Disney/Pixar to make the real life Coco guitar for the now academy award-winning Pixar film
Coco
.

Disney/Pixar invited German to the Disney lot to see the unfinished Coco movie in partial storyboard format to understand the concept of the movie. After that German received several renderings of the Coco guitar to begin his design.
Pixar came to the Vazquez Shop in Los Angeles to film "The Making of the Real Guitar" found on the special features of the Coco Blu-Ray, also featuring Ernesto Nemesio, one of the Artists that helped design the animated Coco guitar. In 2017, after nine months of investigation and development, German produced Real Coco guitar No. 1.
The Coco guitar is custom made from top to bottom with custom one-of-a-kind colors, abalone shell and 24k gold inlays, as well as woods from German's own esteemed reserve stock. Per request of Córdoba guitars, each Cocoguitar is made to function as a world class concert guitar with the sonic properties you would expect from German Vazquez Rubio's elite concert models.
The real Coco guitars have been exhibited in the Pixar museum as well as museums in Mexico and Conventions like D23 and the 2018 winter NAMM. Esteemed guitarist Federico Ramos performed the Oscar winning song "Recuerdame" with Real Coco guitar No. 3 on the 2018 Academy Awards show with Gael Garcia Bernal. Media outlets from China to South America have conducted numerous interviews with German, and it has helped thrust him into the world spotlight.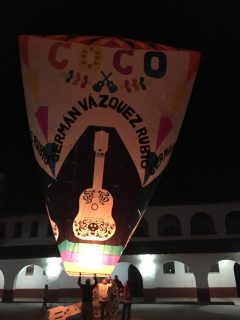 German has received much acclaim for his work with Disney especially in his home town of Paracho, Michoacan, Mexico. On February 2018, the municipality of Paracho held a two day event in German's honor for his contribution to the renewed tourism and increased economic income of the town. The event included a host of activities including a parade, unveiling of a plaque where he first learned his craft, classical guitar recital, cultural performances, museum exhibit, autograph signing sessions, and award ceremony. A traditional hand made hot air balloon called "globo de cantoya" was also made and released in his honor. It was a magnanimous event that left German and his family speechless and very touched.
German was commissioned to make a limited number of twenty "Artist Proof" real Coco guitars, which were all sold before their construction.
G.V. Rubio's biography is borrowed from his website, where you can learn more about his work.