Manuel Reyes Maldonado was born in Jayena, Granada, Spain, but he has long been associated with the beautiful neighboring city of Córdoba, where his famed workshop was established and is now run by Manuel Jr. Reyes was born on July 18, 1934 and just recently passed away on November 10, 2014. We would like to express our admiration for both his life as a lover of music and for his masterful craftsmanship that we were priveledged to experience over many years of playing and selling his passionately-inspired guitars. His instruments, to us, have always been the epitome of the true flamenco sound – one of boldness, snappy attack, great balance, percussive yet creamy qualities (when necessary) – overall, instruments of Spanish character. Manuel Reyes was a first-class luthier, and we feel very fortunate to have known him so well for the last few decades of his life.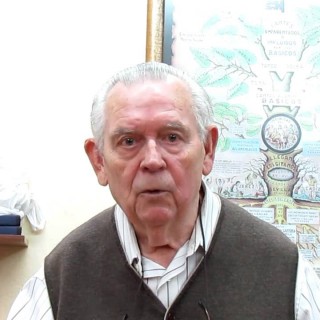 Manuel Reyes started playing the flamenco guitar at a very young age. Once, he was given an old guitar by the flamenco singer known as Carmen Lacquer. He had attempted to restore the guitar after being unsatisfied with its original condition, but after evaluating the guitar even after he had completed work on it, he remained unhappy. So, he decided instead to build one with his bare hands and pure intuition, which, as guitar history has shown, can be a great combination for genius-calibre luthiery! We do not know what became of this first guitar, but we can imagine it was at least a creative starting point for Reyes since he continued to become one of the best guitar-makers the world has seen.
Manuel Reyes met luthier Joaquín Sanchez Galisteo early on in his guitar-making career, and quickly thereafter, Sanchez went on to became Reyes' first teacher. Sanchez taught Reyes the fundamental basics of guitar-making, and after years of training, Reyes started his own, first and only workshop in Córdoba in 1949. At just 15 years of age, Reyes began making instruments in the city where he would build, and later supervise construction, for 65 years. After a few years of experience under Reyes' belt, in 1956, the famed flamenco guitarist Pepe Martínez introduced him to Marcelo Barbero in Madrid, where both makers were able to meet and Reyes especially was able to take in some advice from the great master – tips that influenced him his entire life.
Reyes' reputation is largely that of a master flamenco guitar-maker, although he did build the odd classical as well. Now, he is considered to be among the greatest and most sought-after flamenco makers in history, alongside Marcelo Barbero, Arcangel Fernandez and even Santos Hernandez. Reyes' stature is such that Luis F. Leal Pinar devotes an entire chapter to him in the compilation book Guitarreros de Andalucia (2004) where he reminds us that Reyes instruments are known for their precise craftsmanship and authentic Andalusian flamenco guitar sound – THE Spanish sound. During his lifetime, Reyes' flamenco guitars were in such huge demand that this prevented him from accepting new orders over the years. Perhaps the most notable player to endorse Manuel Reyes guitars was and is Vicente Amigo; however, there have been and are still many other great performers who continue to play his instruments.
Reyes' successor, Manuel Agustín Reyes Flores Jr. (born 1969), is carrying on the family legacy, having built side-by-side with his father for twenty years between 1994 and 2014. Manuel Jr. has defined himself as a builder of flamenco guitars exclusively, and his instruments are based on the same design as his father's works; these guitars are aesthetically, besides the label, indistinguishable from Manuel Sr.'s.
INTERVIEW WITH MANUEL REYES