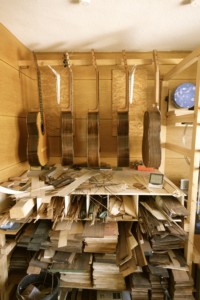 Stefan Nitschke is a German luthier whose passion is the sound of the old masters of guitar building – Romanillos, Hauser, and Hernandez.
Stefan was born in 1982. He started playing the guitar at the age of eleven. After a short period of learning classical guitar, he wanted to play the electric guitar and spent several years playing blues, rock, and jazz. However, eventually, he switched back to the classical guitar when he found his inspiration in the music of Francisco Tarrega and other early 20th-century composers. 
In 2002, Stefan started his studies at the conservatory in Osnabrück where he learned the guitar under the tutelage of Ulrich Müller. Müller not only improved Stefan's guitar skills but also encouraged him to build his first instrument. At first, the resources were limited, so Stefan's first guitar was built in his living room on a carpet in his home. The guitar turned out to be very good for his first instrument, so he decided to build more. Around that time, he got to know Gerhard Oldiges who allowed him to observe his work from time to time to improve Stefan's building skills. In 2004, Stefan continued his education at the Akademie für Tonkunst in Darmstadt with Olaf van Gonnissen and simultaneously worked as a luthier.
Over the years, Stefan closely examined every guitar that he could lay his hands on and searched for inspiration. Soon he realized that his passion is the sound of guitars built by the old masters. Thus, even today he mostly builds models inspired by Romanillos, Hauser, and Hernandez.