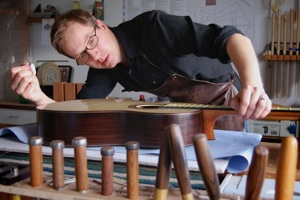 Tobias Berg was born in Helsingborg, Sweden in 1972, and grew up in the fishing village of Viken. After having built his first classical guitar in 1995, he eagerly set out to learn the art and craft of guitar making. His studies took him to Canada, England, and the U.S.A. where he completed several courses and diplomas and spent time with top luthiers including Robert Ruck and Jeff Elliott. In 1998, he settled down in Germany.
Since then he has been working full-time as a guitar maker. First for six years as an employee at "Lakewood Guitars" where the active work on more than 4500 guitars helped to hone his woodworking skills. In 2004, he successfully achieved his goal of becoming a German Master Craftsman after passing the three-day Master examination in Mittenwald. Since 2004 Tobias has run his own shop where builds new instruments as well as occasional repair work on classical guitars if time allows for it.
Tobias is one of the great luthiers building a traditional lightweight, yet full-sized (albeit more "compact" body size) instrument, much like the Spanish guitar makers of the late 19th and early 20th centuries. He has recently (in 2011) incorporated the use of double sides when building his instruments, a practice well-known to several Madrid builders (originating with José Ramírez, but including Paulino Bernabe, Teodoro Perez and others). This process is also found in the guitars of Daniel Friederich, whom Tobias holds in very high esteem. Tobias believes that if the side is not "stiff" or sturdy enough the energy from the soundboard will continue to travel into the sides and be "dampened". He believes that the doubling of the sides can add focus and power to each note; still, however, his prior instruments have historically been very popular favorites with previous clients for having a big, warm, and romantic sound. He has a very subtle and understated but very elegant aesthetic. Overall one of the more charming and impressive makers in the world today. We are proud to host Tobias Berg's works in our showroom and look forward to offering many more of his models.