1988/2016 Jeffrey Elliott SP/CSAR
| | |
| --- | --- |
| Year | 1988/2016 |
| Top | Spruce |
| Back & Sides | CSA Rosewood |
| Scale Length | 650 mm |
| Nut width | 52 mm |
| Finish | French Polish |
| Country | USA |
Description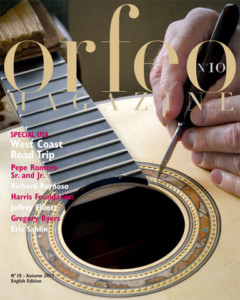 This guitar was originally built in 1988 as an 8-string. In 2016, Jeff was able to re-visit the guitar and decided to convert it to a 6-string since he felt so strongly that the beauty of the sound and the materials of this instrument should be made available to a larger audience, as 8-string players are few and far between. The resulting conversion came out extremely well, and except for the size of the internal heel block you can't tell the conversion had been done at all. Jeff has told us that the European spruce and CSA rosewood on this guitar had been seasoned for a couple of decades. For the conversion, the neck was cut down, a new head was grafted on, the fingerboard was replaced as well as the bridge tieblock, the soundboard was re-thicknessed, and it was refinished in French polish. So in a sense, it's virtually a new guitar made with old materials to Jeff's current taste and style of build.
Jeff has been making non-mosaic rosettes since 1977, often using various natural-state and spalted woods for the central inlay ring, and this rosette is the second time he used spalted sapwood of CSA rosewood. As to his treatment of this material, he told us the following: "When a tree dies, insects attack it, boring small holes into it about the diameter of a guitar string. These holes let in microorganisms that compete for the dead tissue, claiming territory and beginning the process of decay which results in spalting, the sometimes colorful, figured trails left by the fungi and microorganisms. This only occurs in warm, moist conditions, so if the conditions change or the material is removed the process stops, and the spalting is "frozen" in time. If it's at an early enough stage it still has structural integrity, and the colors and trails can be beautiful. So beautiful that I chose to use them even with the insect holes. At first I filled the holes with a black mastic and glue, which looked natural, but its darkness felt somehow foreboding, so I decided to lighten things up by inlaying other materials like silver, brass, abalone, mother-of-pearl, turquoise, etc. instead." The guitar had previously been used with a strap so when Jeff removed the two pins (one at heel and the other at the bottom), he also filled them with circular inlays of the same material, to stay consistent with the instrument's aesthetic. Overall a beautifully executed instrument all around.
The sound of course is lush and full with great clarity in all voices - it has the grandeur of Hauser and the beauty of Torres, yet carries the distinct sound of its builder at the same time. It is no wonder that his clientele include the likes of Julian Bream, Marcelo Kayath, Ralph Towner, Leo Kottke, Jonathan Leathwood, Earl Klugh, and Ekachai Jearakul, just to name a few.
Orfeo Magazine No. 10 - West Coast Luthiers
Videos
Guitars by Jeffrey Elliott