2011 Pepe Romero CD/AR (ex Angel Romero)
| | |
| --- | --- |
| Year | 2011 |
| Top | Cedar |
| Back & Sides | African Rosewood |
| Scale Length | 650 mm |
| Nut width | 53 mm |
| Finish | French Polish |
| Country | USA |
| Luthier | Pepe Romero Jr. |
Description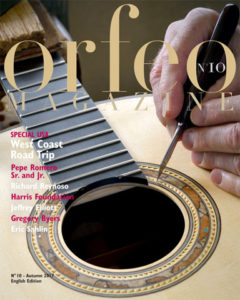 Made by the son of the great guitarist of the same name. It has huge volume and extremely quick response. Although the tone is "classical", the response and playability is much like a southern Spanish flamenco guitar - likely due to its lightweight build, for its size. For many years now, these have been compared in this regard to the great instrument of Miguel Rodriguez. Since his 170th instrument, Pepe has adopted a reverse fan system (fans radiating from the bridge area, rather than from the soundhole) for his standard model after studying an early 1970's Rodriguez with this very system. Pepe feels this opens the instrument up, and gives it a unique distinctive quality of sound that appeals greatly to his sense of style. Playability is very easy with a smooth neck and large, rounded frets.
As the dedication on the label indicates, this instrument was built for his uncle, the great Angel Romero, who hand-selected the woods from Pepe's workshop and asked for some custom features that make this a one-off/unique instrument from this maker. This includes a porthole in the side, which Angel has had done by other makers (including Stephan Connor and Erez Perelman). When Angel tests new guitars, he has developed the habit over the years to place his ear over the soundhole to take in the full sound of the instrument. This port in the side allows him to have virtually the same experience at all times, while maintaining his standard playing position. It also has a true "elevated" fingerboard - this experience inspired Pepe to make an alteration in his neck angle on all guitars built after this one, by adding a thicker fingerboard (8mm) which gives the players left hand more clearance over the body for greater reach in the higher registers. Lastly, Pepe attached a floating thumb rest on the bass side of the strings so that Angel could place his thumb on it and give him the sensation of it not being an elevated fingerboard for the right hand, while retaining the already mentioned benefits to the left hand. Overall a sensational instrument to play and admire.
Videos
Guitars by Pepe Romero Jr.