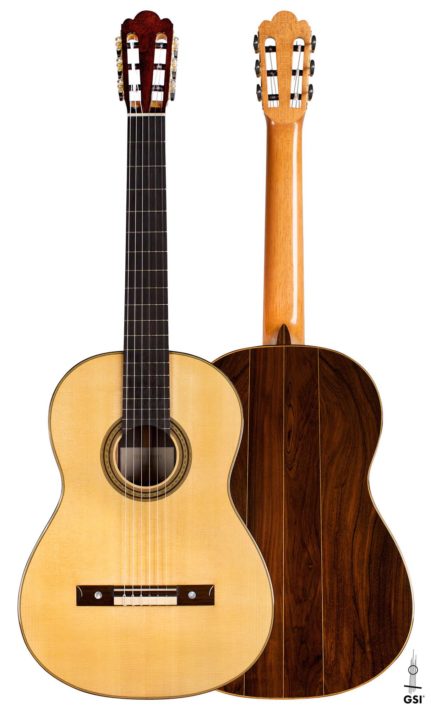 2020 Youri Soroka "Torres" SP/CSAR
Specifications
Year

2020
Top

Spruce
Back & Sides

CSA Rosewood
Scale Length

650 mm
Nut width

52 mm
Finish

French Polish
Country

France
Condition

New
Exchange

ExchangePlus
Luthier
Background
We met French-Ukrainian guitar builder Youri Soroka at the 2nd International "Antonio Marin Montero" Guitar Building Competition in Granada, Spain in 2018 and were immediately impressed with both the person and his work, and indeed ordered our first guitar from him at that time. He returned to Granada again in 2019 where he took second prize in the same competition.
Youri's backstory is almost as beautiful as the look and sound of his instruments. Here he describes how he went from a career in technology to falling in love with the craft of guitar building:
"I was a computer software developer and came to guitar making by accident. Initially, I just wanted to repair my old classical guitar which led me to retable it. Impressed by the resulting sound and having then bought a few tools, I wanted to build one entirely from scratch. I completed my first guitar in less than a month working at night in my garage. Then the second, then third… I was starting to fall in love with the process. At some point, I realized that this was really something I wanted to do for a living as this was the first time in my life – when at work – I was saddened by the fact that it was 6 p.m. and time to go home. I always admired traditional and historical woodworking, and starting from my third build, I tried using hide glue and traditional methods for overall construction. Since then, I've stuck with these methods. Another thing important to me is building guitars in a planet friendly way with the least waste generated possible and no chemicals used – no gluing bindings with scotch, etc. The main ingredients are wood, hide glue and shellac. This also led to my interest in using local woods."
Description
Youri has fallen under the spell of Torres – which is almost unavoidable after having seen his first authentic Torres during a trip to Paris last year where he attended (and exhibited at) the 2019 "Salon de la Belle Guitare" show....
Learn more about the luthier