2nd International "Antonio Marin Montero" Guitar Building Competition in Granada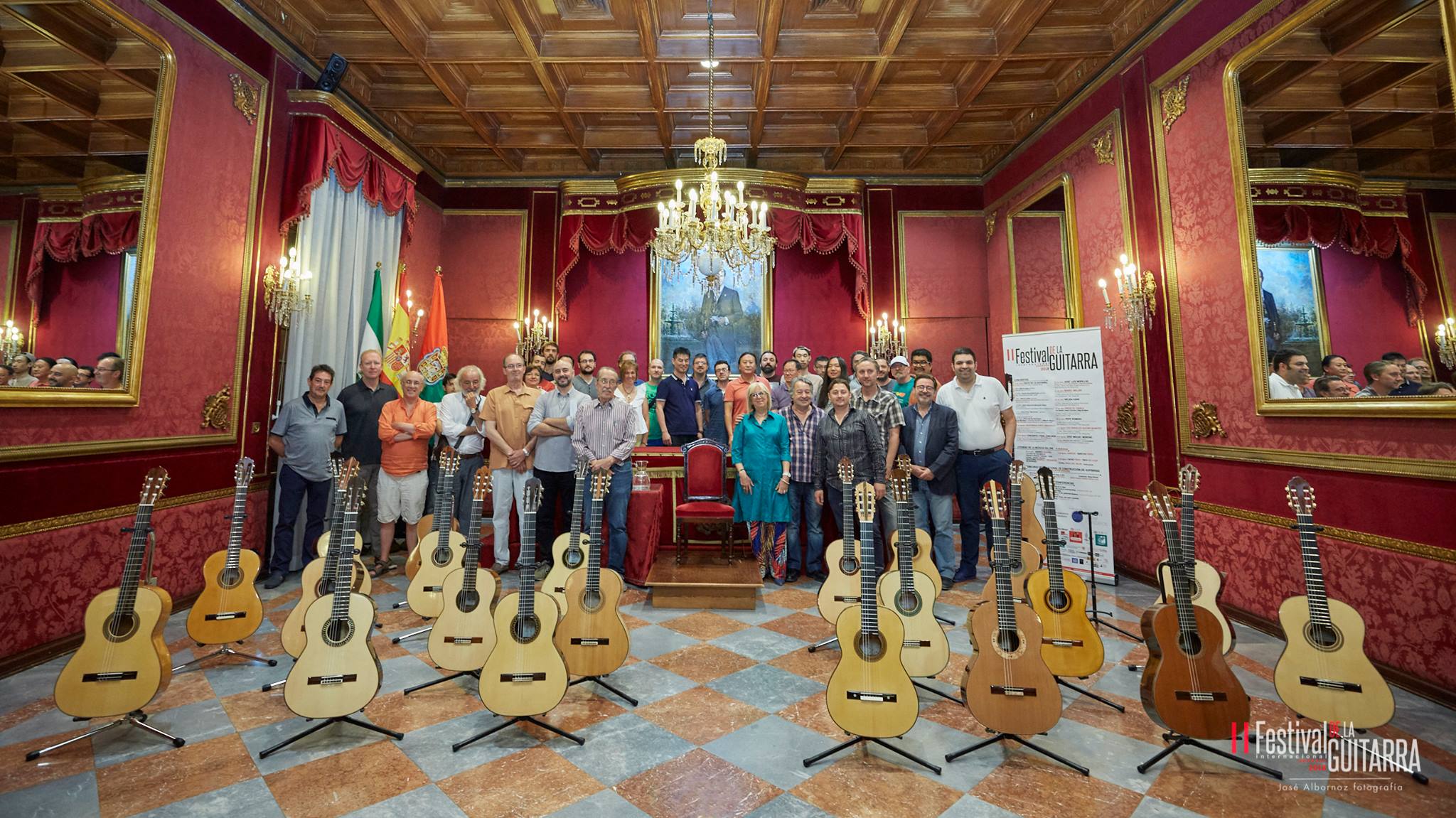 This last week marked the 2nd International "Antonio Marin Montero" Guitar Building Competition hosted by the European Guitar Foundation. Once again, our own David Collett was part of the prestigious panel of judges which consisted of many familiar faces including luthiers Edmund Blochinger, Jose Marin Plazuelo, Yuris Zeltins and guitarist Scott Morris. Other jury members included famous Spanish guitar makers and players Jose Miguel Moreno, Julio Castanos, Manuel Caceres, and Alberto Cuellar.
As can be seen in the pictures below, the preliminary round for this event was held in the stunning office of the Mayor of Granada, the absolute perfect setting for close examination of each luthier's detailed craftsmanship. Here, the jury meticulously listened and inspected all 23 submitted guitars, rating each on their construction as well as their auditory and playing qualities. At the end of the first day, 13 guitars were selected for the semi-final round which took place the next day in the same venue.
After two days of judging, 6 guitars were left for the final round which was held on day three at a new venue – the stage of the Teatro del Centro Cultural Federico Garcia Lorca. In this large concert setting, the projection and clarity of the guitars were tested in an effort to see how they would hold up in a professional performance and a packed house as the public was invited to attend. The performances on each guitar were given by Russian concert artist Alexei Khorev, who currently resides in France.
Once everything was said and done, the jury awarded three prizes: first to Granada luthier Francisco Munoz Alba, second to Chinese luthier Yulong Guo, and third to Dutch luthier Hans van Velzen. Legendary Spanish builder and the competition's namesake Antonio Marin Montero was there to personally award the first prize to Francisco Alba.
As an official partner of the competition, GSI will be receiving guitars built specially for us from all three luthier. We have already been enjoying an instrument built by first prize winner Francisco Alba – a 2008 blanca previously owned by Grisha Goryachev – and are looking forward to getting our hands on the other winning luthier's instruments!
All photos courtesy of Jose Albornoz.
Leave a Comment