Recording Artist: George Sakellariou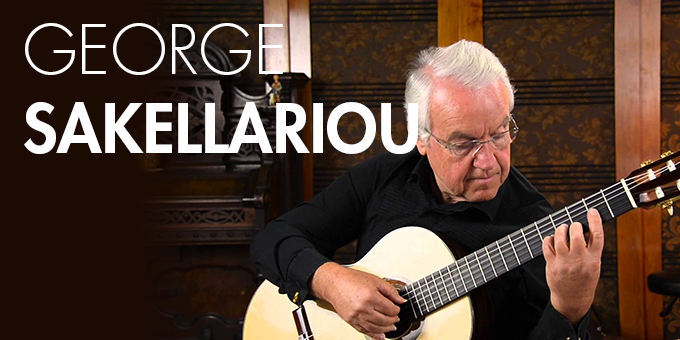 We recently had the pleasure of being visited by George Sakellariou – one of our favorite all-time guitarists here at the GSI office. While he was here playing the various guitars in our collection, it occurred to us that many of you out there, particularly the younger generation, may not be familiar with George and his exquisite playing. Read on to learn more about George, and of course, watch a few clips of him playing during his recent visit.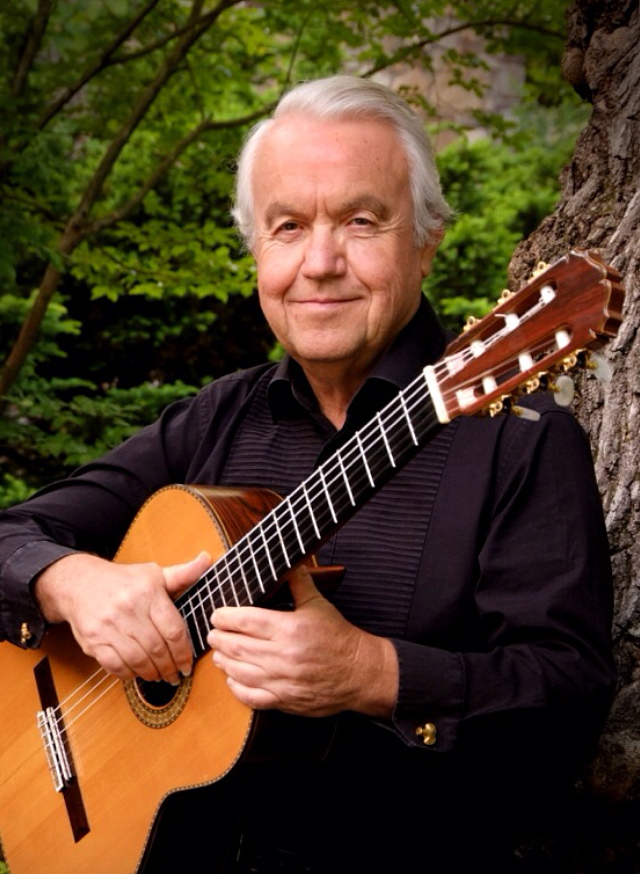 George Sakellariou began playing the guitar at an early age in Athens, Greece, and went on to receive formal training at the esteemed Conservatory of Music in Athens, where he graduated with honors, and ultimately studied with the great master Andrés Segovia. Upon completion of his studies at the age of twenty, George joined the faculty of the San Francisco Conservatory of Music where he became Chairman of the Guitar Department. There, he taught his style of playing with an emphasis on clear tone and smooth lyrical lines, combined with a precise sense of rhythm.
George has performed around the world in concert halls like the Kennedy Center, at a private performance for Steve Jobs of Apple, and numerous other places: Singapore, Hong, Kong, Turkey, Heidelberg, Rio de Janeiro, Bogota, Montevideo, Toronto, Calgary, Taipei, Osaka; and made many radio and television appearances including BBC, PBS, and Radio France. At the Toronto festival, George performed the Leo Brouwer Guitar Concerto for guitar and orchestra, Leo Brouwer conducting. This performance was considered an incredible feat because he replaced guitarist John Williams on short notice. He has made many radio and television appearances including BBC, PBS and Radio France. Several extensive and impressive articles about Mr. Sakellariou have been published in internationally renowned Guitar Player magazine and one quote states: "George Sakellariou is one of the best players in the world."
George currently lives in San Rafael, California.
REVIEWS ABOUT GEORGE SAKELLARIOU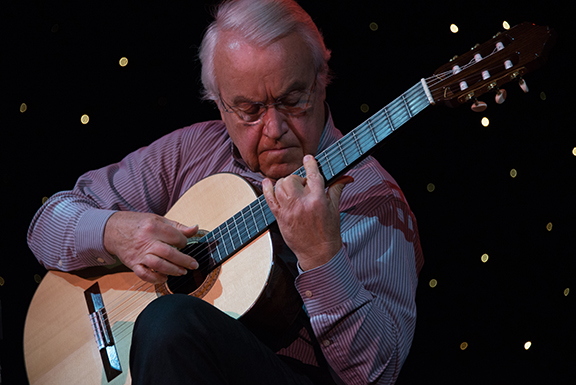 "Etude No. 11 by Heitor Villa-Lobos took on an irresistable grandeur under this manner of playing – a monumental portrait of jungle savagery set off by a prelude and postlude of gentle repose. The central section of the Etude was a riveting display of dazzling finger work in the left hand over a super charged ostinato for the right hand." – Louisville Times
"Mr. Sakellariou is one of the best guitarists I can remember hearing." – Guitar International, England
"First rate virtuoso" – Cumhuriyet, Istanbul, Turkey
"He combined technical prowess with musical expression before an enthusiastic audience. The result was the musical equivalent of dancing on the ceiling." – Arizona Daily Star
"Refined in his phrasing, eloquent in each note, phrase and melodic theme; superb in every harmonic complexity…his guitar is an integral part of his exquisite artistic personality." – El Colombiano, Medellin, Colombia
"Beautiful tone, dazzling technique…" – SoundBoard Magazine
"Truth to say it was Sakellariou who stole the evening with his gentle but firm, and absolutely unpretentious performance of four movements of the Bach Suite No. 1 for unaccompanied cello. His Bach was wonderfully ethereal, loving, beautifully measured." – San Francisco Examiner
"Playing for a sold out Carmel Sunset theatre, George Sakellariou was the versatile artist who once again proved himself to be a musically mature, aware performer with pure, elegant taste and unquestioned technical ability." – Monterey Peninsula Herald
"Enchanting and gem-like tone" – Rein Neckar Zeitung, Heidelberg, Germany
"Testimony to the success of Sakellariou's performance was a standing ovation which did not cease until he had taken six curtain calls and had performed three encores." – Independant Journal, Marin County, California
GEORGE SAKELLARIOU GUITAR DEMOS

(view all)
Leave a Comment