Brendon Grabowski is Back With a New Set of GSI Videos Featuring Music by Bach, Debussy, Scriabin and Martin.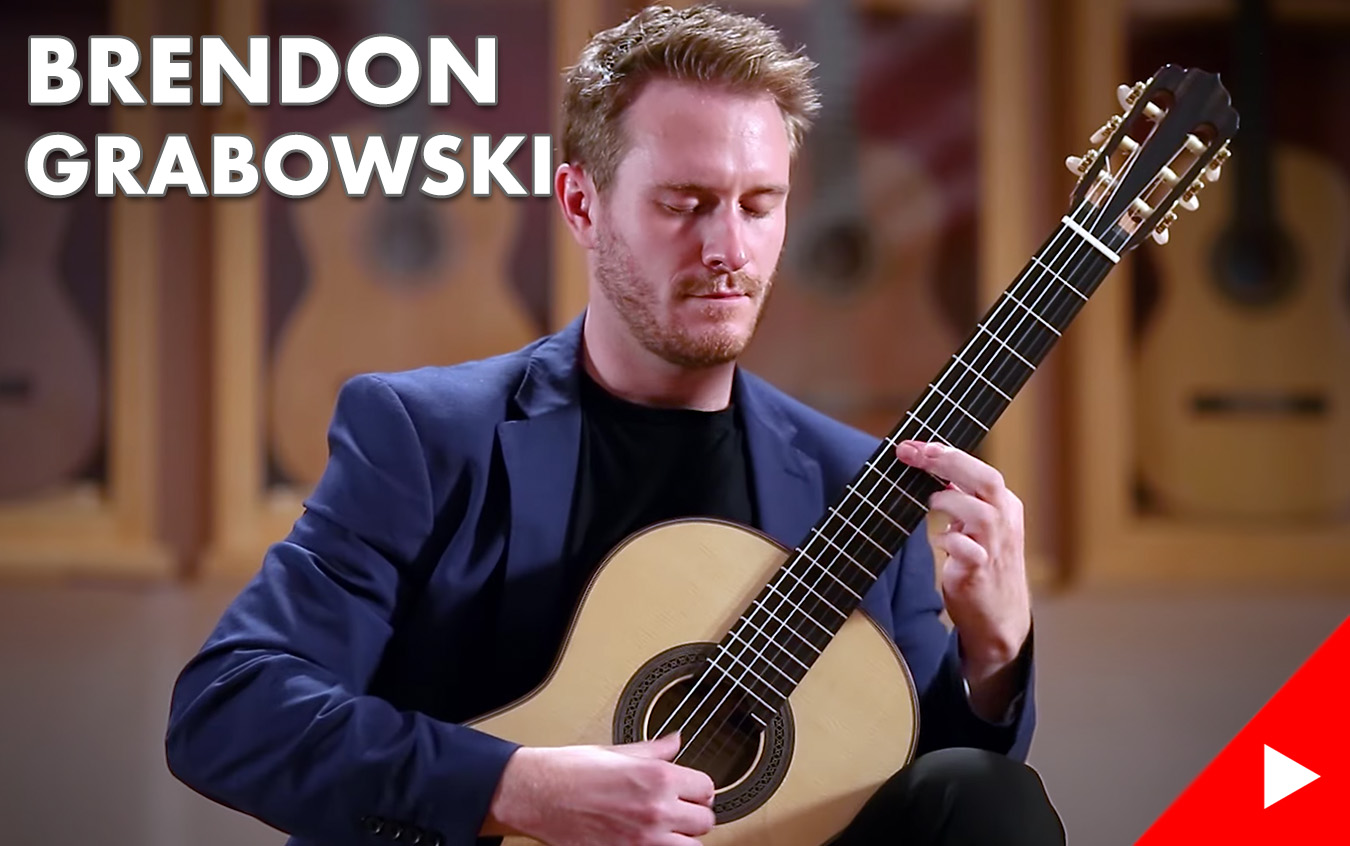 Brendon Grabowski visited GSI for his second recording session in the GSI showroom. Brendon recently graduated from the USC Thornton School of Music where he received his doctorate. While at USC, he studied with Grammy Award-winning artist, Scott Tennant. Before USC, he studied guitar in Austin, Texas in the class of Adam Holzman.
This time, Brendon focused on recording music by Johann Sebastian Bach, Claude Debussy, Alexander Scriabin, and Frank Martin. His recording session started with "Minstrels" from Debussy's Preludes, Book 1 (arranged by Mario Castelnuovo-Tedesco). For this piece, he chose a 2022 Tobias Berg classical guitar made with a spruce top and European walnut back and sides. Its sound is very velvety across all registers, with very sturdy powerful basses, and great response - the notes seem to "pop" out of this guitar with the slightest touch of the right hand.
Next, Brendon recorded two movements from Frank Martin's "Quatre Pièces Brèves" - "I. Prelude" and "II. Air". In the recording of the first movement, you can hear Brendon playing on a 2022 Dominik Wurth CD/IN guitar. For this particular guitar, Wurth has made some adjustments to his earlier design, for example, it has 5 fan braces instead of 7, which he feels helps to produce a darker color in the trebles and lowers the air resonance very close to ''F''. This guitar has improved responsiveness in all registers and has a bigger, more robust sound all around with balance and excellent intonation. For the second movement, Brendon chose a 1962 Miguel Rodriguez SP/IN. As per Rodriguez's reputation, this guitar has a lightning-fast flamenco-like response to the attack of every note, giving it great bounce and instant presence. It is set up for classical playing but has the tone and responsiveness to accommodate both flamenco and classical styles.
For the fourth video, Brendon recorded Alexander Scriabin's "Prelude For Left Hand Alone, Op. 9" by Alexander Scriabin, arranged for guitar by Antoine Fougeray. Brendon decided to play this piece on a 2012 Federico Sheppard "Camino" CD/MH. This guitar looks and sounds fantastic. Even at first glance, one can notice beautiful design elements inspired by "Camino de Santiago" - the 500-mile trail to Santiago de Compestela that pilgrims have been walking since the Middle Ages.
Brendon finished his session at GSI with a recording of the "Gigue" from the "Lute Suite No. 3, BWV 995" by Johann Sebastian Bach. It's worth mentioning that he took many lessons at USC with a harpsichordist and a professor of early music studies, Lucinda Carver, with whom Brendon worked on his interpretations of early music. For his performance of Bach, Brendon chose a 2022 Carlos Juan Busquiel SP/CSAR. The sound of this guitar has a very compelling firmness in each note - the trebles are thick and weighty, as are the basses. Its fullness of sound still leaves ample room for crystalline clarity across all registers.
Check out the videos below!
Leave a Comment