Coming Soon: Jake Fuller's newest "Cherry" wood guitar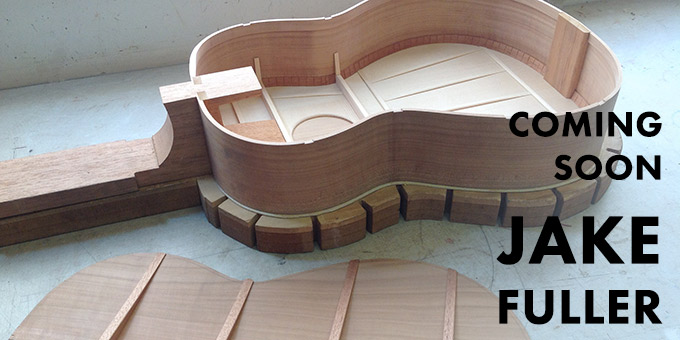 Oftentimes we're reminded of the goodwill and helpful spirit shared amongst the great luthiers we work with. Here's the latest great "collaboration" story – we hope you enjoy it: English luthier Jake Fuller has built us a couple of fantastic "cherry wood" guitars in the past. The first of these, from 2017, inspired Ukranian/French luthier Youri Soroka to build one himself and enter it into the 2018 Granada Guitar Competition where it caught our attention, so of course we bought Youri's guitar as well and have continued to work with him. Youri also placed at the 2019 Granada Competition where he took second-prize.
So back to Jakes' newest guitar on its way to us now – he was given the cherry wood for this instrument by Youri in gratitude for the inspiration! To quote Jake directly: "I think I mentioned on Instagram that I needed some more cherry, and Youri got in touch offering me some. I said that was very kind of him but that he should keep it for himself. Youri said he had quite a bit and was happy for me to have a few sets in return for helping his decision to use cherry. I was touched by Youri's generosity. This is the second guitar I have made with Youri's Cherry. It's lovely wood. Since the wood arrived we have kept in touch, and regularly write to each other, sharing ideas, experiences and advice. It has been really nice to share thoughts with another maker, and to help each other if possible."
We're confident all the goodwill that went into this story will help make it even that much better of a guitar. Jake's instruments are always a knock-out, so we are excited to be receiving this guitar soon. Apart from the Cherry for the back and sides, the other specs are German spruce for the top, walnut for the bindings, head veneer and bridge and Satinwood for the back stripe. The back is strutted with raised longitudinal strut. New fingerboard construction where the ebony is laminated with cedar making it 40% lighter at the same height. Total guitar weight is 1200g with body resonance around D#.