George Sakellariou Records Music By Fernando Sor, Johann Sebastian Bach, Federico Moreno-Torroba, Dilermando Reis, Adolfo Mejía, and Agustin Barrios Mangoré!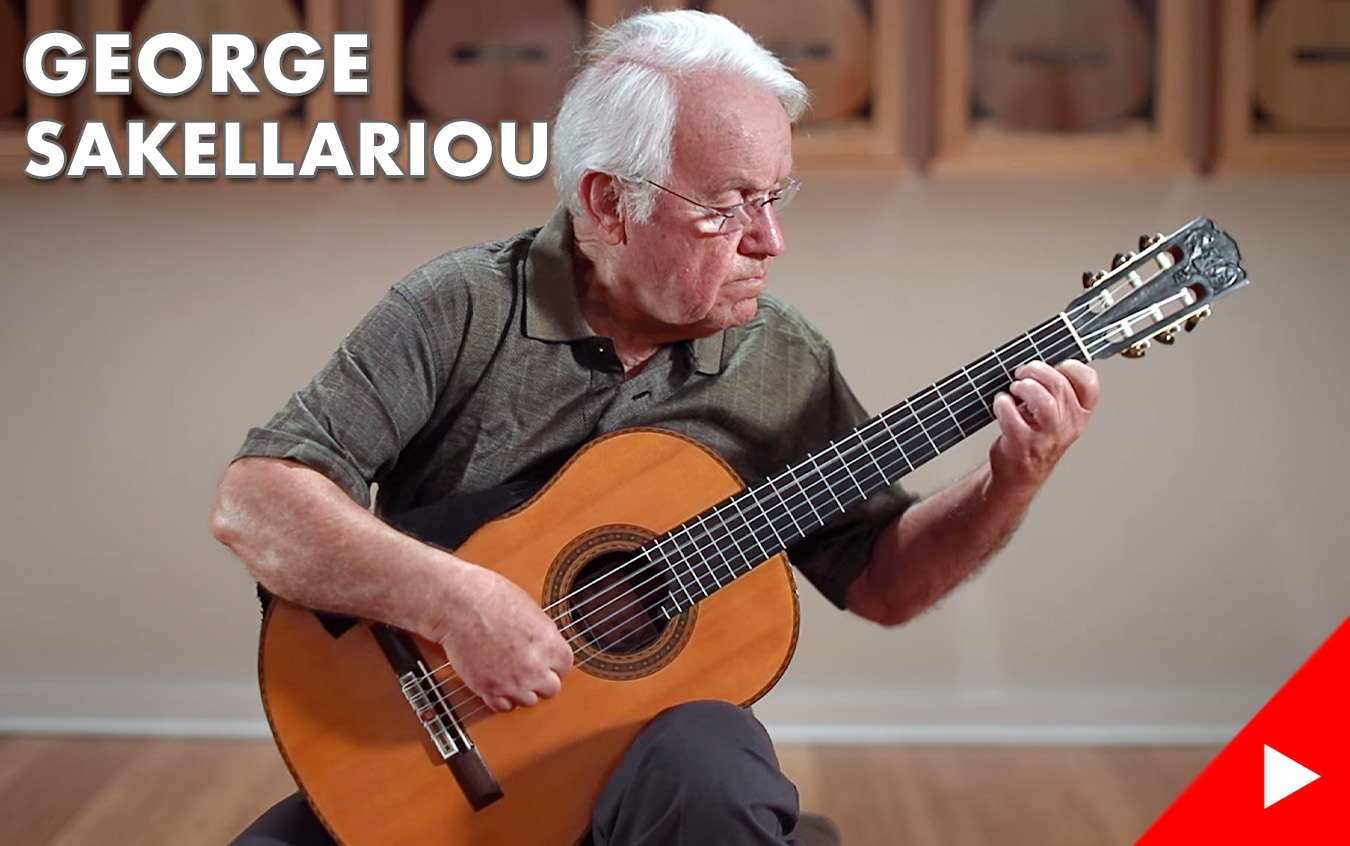 One of our good friends and most active recording artists on our YouTube channel, Maestro George Sakellariou, is back with six new classical guitar videos. This is George's second recording session in our showroom this year, and we're very impressed by his vast repertoire.
This time, George recorded six videos featuring music by Fernando Sor, Johann Sebastian Bach, Federico Moreno-Torroba, Dilermando Reis, Adolfo Mejía, and Agustin Barrios Mangoré.
George started his session with Fernando Sor's two etudes - No. 3 & 14, Op. 60. These are great etudes for both professional guitarists and guitar students. George picked a great guitar for these pieces - 1987 Miguel Rodriguez SP/HR. This guitar has superb playability with a gorgeous sound. It also has a 650 mm scale, which is quite rare for Rodriguez, which makes this guitar even easier to play.
As the second piece, George recorded the "Sarabande" from the Lute Suite in E minor, BWV 996 by Johann Sebastian Bach. In this video, you can hear George playing a very interesting guitar in this particular price range ($4,000) - 2022 Wolfgang Jellinghaus "Espanola 1a" CD/AR. It's Jellinghaus' tribute to Jose Ramirez III, one of the most innovative luthiers of the 20th century. This guitar has the 6-bar asymmetrical fan system (with a diagonal "treble-stiffener" bar) to re-create that haunting, very deep mysterious "Spanish" sound which is usually associated with Ramirez guitars.
In the third video, you can hear George playing Federico Moreno Torroba's "Nocturno" on a 2022 Kenny Hill "Signature Legacy 640 CD/SP" CD/IN classical guitar. This is a double-top guitar made with a Nomex core "sandwiched" between two very thin layers of cedar and spruce. This particular model is Kenny's newest version of the Signature which he calls the "Signature Legacy" which has some very interesting additional features - namely the addition of an enhanced Ergonomics design and the True Temperament fretting system. If you have never held a guitar with this design before, and you're looking for a very comfortable guitar to play on, reach out to us - perhaps this guitar might be a perfect fit for you!
Next, George recorded "Se Ela Perguntar" by Dilermando Reis and he picked one of the best-matching instruments from our stock for this piece - a 1965 Hernandez y Aguado SP/IN. Its sound is extremely lyrical and expressive which can be especially heard in the higher registers of Dilermando Reis' composition.
After that, George played a beautiful Colombian dance, "Bambuco" by Adolfo Mejía. George decided to record it on a 2022 Cordoba Luthier Select Series "Friederich" CD/IN. This "Friederich" model is excellent, especially for this price range. It has many aesthetic and sound qualities which can be found in original Friederich guitars. For example, it features Friederich's seven-fan bracing pattern with delicately hand-carved spruce braces and double sides.
George finished his session at GSI with a performance of "El Sueño de la Muñequita" by Agustín Barrios Mangoré recorded on a guitar previously owned by Czech guitarist, Pavel Steidl - a 2016 Federico Sheppard "Simplicio 1927" SP/CSAR (ex Pavel Steidl). This guitar is based on two original Francisco Simplicio guitars that were built in 1927, #156, and #157. Federico was able to personally inspect and evaluate both guitars, which he claims were nearly identical. #156 had previously been owned by the great Agustín Barrios Mangoré.
Check out George's most recent videos below!
Leave a Comment