Luthier: Pepe Romero Jr.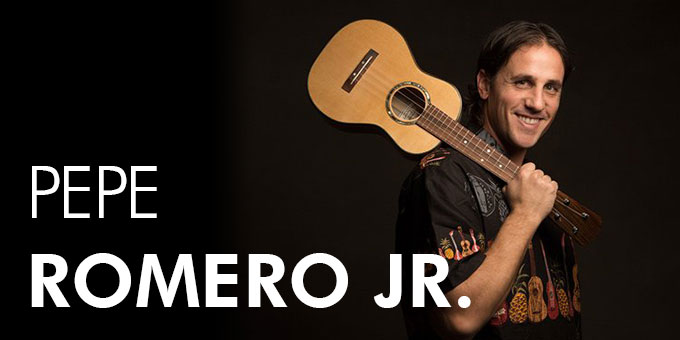 ---
Current Inventory     |     Past Inventory
---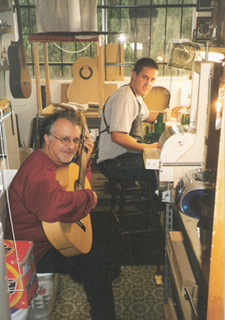 Pepe Romero Jr. was born into a family that lives the Spanish guitar. Since his childhood Pepe loved the guitar. He grew up playing some of the world's greatest guitars from the incredible collection that his father, Pepe Romero Sr., had. Growing up surrounded by guitars made by Torres, Esteso, Santos Hernandez, Hauser, and Miguel Rodriguez set the standard in Pepe's mind for how a guitar should be made.
At 18 years old, Pepe went to Dake Traphagen's workshop to build a guitar. Upon completion of this guitar, Pepe decided to dedicate himself to  the profession of guitar-builder. In 1997, Pepe was lucky enough to spend time in the workshop of Miguel Rodriguez shortly before he passed away. He moved on to study with and receive guidance from J.L. Romanillos, Manuel Contreras II, Yuris Zeltins and Edmund Blöchinger. Pepe and Blochinger have become great friends since and have made 2 guitars together.
Pepe is heavily influenced by the Rodriguez guitars. His style of building is very similar to Rodriguez' style. Pepe is also inspired by the elegant look and beautiful sound of the guitars by Santos Hernandez and Domingo Esteso.
As of September 2011, Pepe has made over 200 guitars. Each one is hand crafted and built in the traditional spanish method. His guitars are in great demand by concert guitarists and collectors worldwide. He has a waiting list of about 4 years for new guitars.
Pepe dedicates all of his guitars to his grandfather, Celedonio Romero.
Leave a Comment