Player Spotlight: Mak Grgic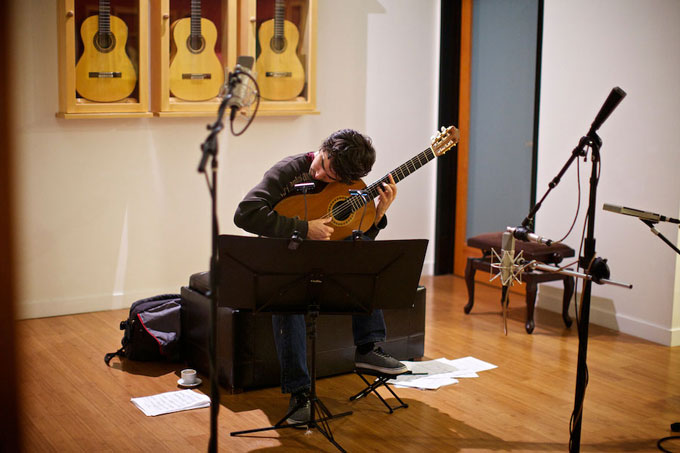 Mak Grgić is a gifted performer and recording artist with an illustrious career thus far. He has collaborated with GSI to record his first album Cinema Verismo, and he is also currently working on his doctorate in Classical Guitar at USC, under the guidance of Tennant, Kanengiser and Head (all friends of GSI). Continue on to find out more about Mak and his promising musical ventures.
(Hear samples of Mak's Cinema Verismo on SoundCloud below, and be sure to watch the album video as well):
'Godfather's Waltz'    |    'Asturias'    |    'The Good, the Bad, and the Ugly'
Born in Ljubljana, Mak Grgić studied in Zagreb with the revered Ante Cagalj at the Elly Basic Conservatory of Music and obtained his Bachelor's Degree with Alvaro Pierri at the Universitaet fuer Musik und darstellende Kunst in Vienna, Austria. At the moment, he is pursuing his Doctoral Degree at the USC Thornton School of Music as a student of William Kanengiser, Scott Tennant of the Los Angeles Guitar Quartet and Brian Head, Assistant Dean at USC Thornton School of Music and Artistic Director of Guitar Foundation of America.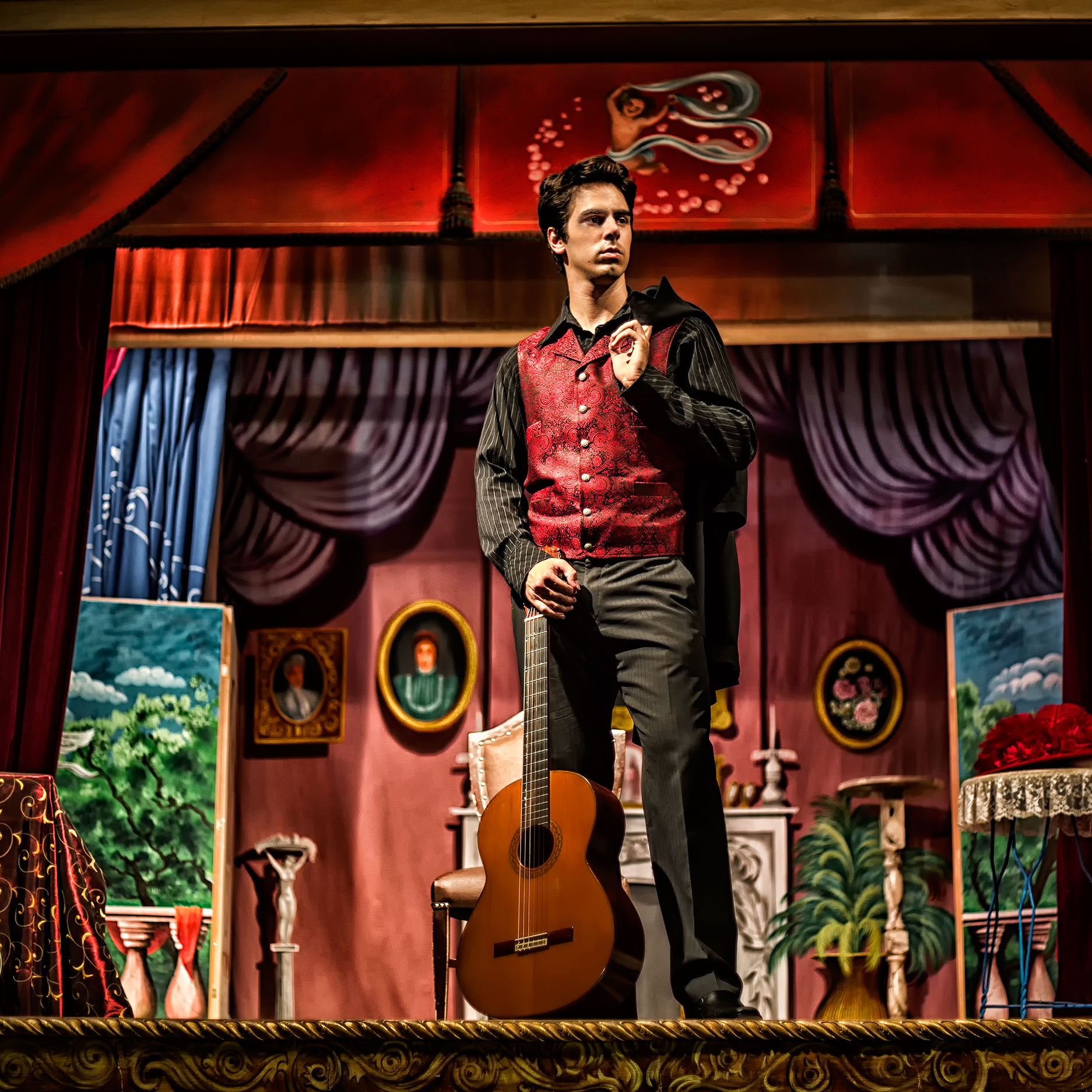 Mak's first solo CD Cinema Verismo on the Marquis Label of Toronto has received some notable mentions by distinguished critics and journals such as The New York Times, who called him a "gifted young guitarist" and labeled his playing as "imaginative and expressive." Classics Today proclaimed, "Mak Grgić's abundant, yet tasteful guitar virtuosity leaves a powerful impression," and that he "brings understated eloquence to a simple and effective arrangement of Bernstein's 'Somewhere' from West Side Story," the review also stated that "Aside from Grgić's own talent for nuance and multi-hued voicings, the coloristic variety also is due to his use of different instruments throughout the recital." It should be mentioned that the different guitars used on this recording owe thanks to Guitar Salon International. The U.K. Newspaper The Independent said of Mak's recording, "Following in the footsteps of fellow Balkan virtuoso Milos, Slovenian guitarist Mak Grgić's talents are showcased on a cleverly compiled selection of classical pieces familiar from the Movies–not just the mandatory Cavatina, but orchestral pieces ingeniously arranged for solo guitar…the poignancy of Moricone's Gabriel's Oboe is deftly sustained by the solitude of solo guitar, Elsewhere, Nino Rota's Godfather's Waltz is even more stately than in the film, while Albeniz's Asturias allows Grgic to indulge the core classical repertoire."
Mak's solo recording made its appearance on hundreds of radio stations in the United States and Canada, including being chosen numerous times as CD of the week.
Other notable critics tell a story of a guitarist whose approach to the guitar is more reminiscent of a lute player, performing music such as that of Sylvius Leopold Weiss, one of the most important and most prolific composers of lute music in history and one of the best-known and most technically accomplished lutenists of his day, born in the late 17th century.
The Washington Post noted that Mak offered "a superb, finely detailed reading that showed Grgic is a guitarist to keep an eye on." "He turned in a beautiful account of Weiss's six-movement 'L'Infidel' suite, exploring its contrasts and fascinating twists and turns — from the deeply personal Sarabande to the slow-gathering power of the Paisanne — with real intelligence. It was a treat to hear the Slovenian guitarist Mak Grgić spotlight two rarely heard works by Weiss in a fine performance of Renaissance and Baroque music on Sunday night at the National Gallery of Art."

Grgić has performed with orchestras such as the Spokane Symphony at The Festival at Sandpoint under Maestro Gary Sheldon, conductor of The Miami City Ballet, as well as the festival orchestra at Lancaster Festival, The RTV Slovenia Symphony Orchestra under Maestro Ivo Lipanovic, the Croatian Chamber Philharmonic with Maestro Mladen Tarbuk, the SNG Maribor Symphony Orchestra under Maestro Simon Krecic and St. Petersburg Symphony with conductor Vladimir Lande, former principal oboe of The St. Petersburg Philharmonic. This season he will Perform the Rodrigo Aranjuez Concerto and Arvo Part's Fratres with the Maribor Symphony Orchestra.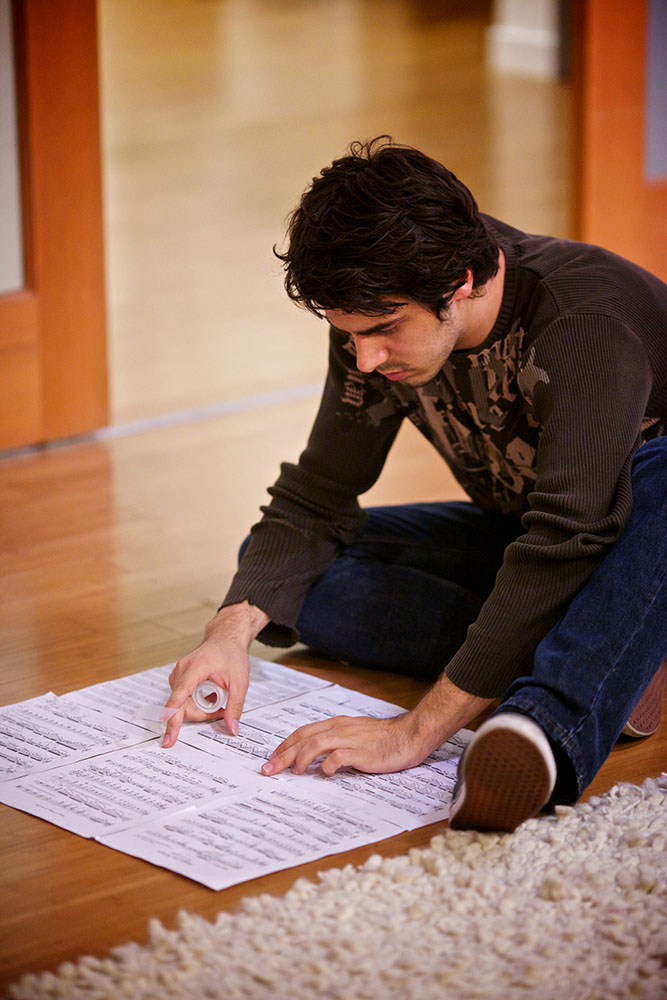 Recent and upcoming recitals include the New York Classical Guitar Society, Music Beyond Festival with Guitarist Daniel Lippel at the Andy Warhol Museum in Pittsburgh, the Out of the Box Festival in Illinois with Daniel Lippel, and performances of chamber music and a solo recital in Korea, the chamber music is a part of (Alive Museum: Live. Move. Experience, National Museum of Korea Marathon Concert, Presented by National Museum of Korea, Ear to Mind Korea, KBS Media, Sponsored by Ministry of culture, Seoul Metropolitan Government, Seoul Foundation for Arts and Culture) the Sarasota Guitar Society, Austin Classical Guitar in recital with Martin Chalifour , the Allegro Guitar Series in Texas, the University of Las Vegas in Nevada, Microfest in Los Angeles, the National Gallery of Art in Washington D.C., the Newman Center for the Performing Arts, Denver, Strathmore Hall in North Bethesda, MD, Pepperdine University as a guest of Christopher Parkening, Portland Classical Guitar, Guitar Festival Mikulov, the Triangle Guitar Society, Piran Music Nights and The Sounds of Six Strings, Cankarjev Dom, Slovenia and the Sarajevo International Guitar Festival, amongst others.
In his numerous collaborations he has helped add to the guitar repertoire numerous times. These collaborations have thus far included work with Martin Chalifour (Concertmaster of The Los Angeles Philharmonic), ICE Ensemble guitarist Danile Lippel, cellists Jay Campbell and Joshua Roman, The Assad Brothers, John Sant'Ambrogio (former principal cello of the St. Louis Symphony Orchestra), flutist Christopher Matthews, and the renowned JACK Quartet. Mak has been a young artist in Residence at The Da Camera Society of Los Angeles and is a co-founder of DC8, Da Camera's contemporary music ensemble, which strives to expand the definition of what a modern music ensemble can be. Of DC8, The LA Times called the players "skilled young musicians." They were cited as an "inspiring addition to the contemporary music landscape in Los Angeles."
Grgić is currently a teaching assistant under the direction of Brian Head. His charitable activities include fundraising for Bosnian children with financial issues, including a recent recital in Zenica, BIH, where he raised funds for a local orphanage. Mak is endorsed by both Savarez and D'Adarrio strings. He currently performs on an Antonius Müller, 2009. He has also been endorsed by Slovenian Luthier Samo Sali.
MAK GRGIC GUITAR DEMOS

(view all)
Leave a Comment