Serbian Classical Guitarist and Composer, Nemanja Bogunovic, Records Eight New Videos at GSI!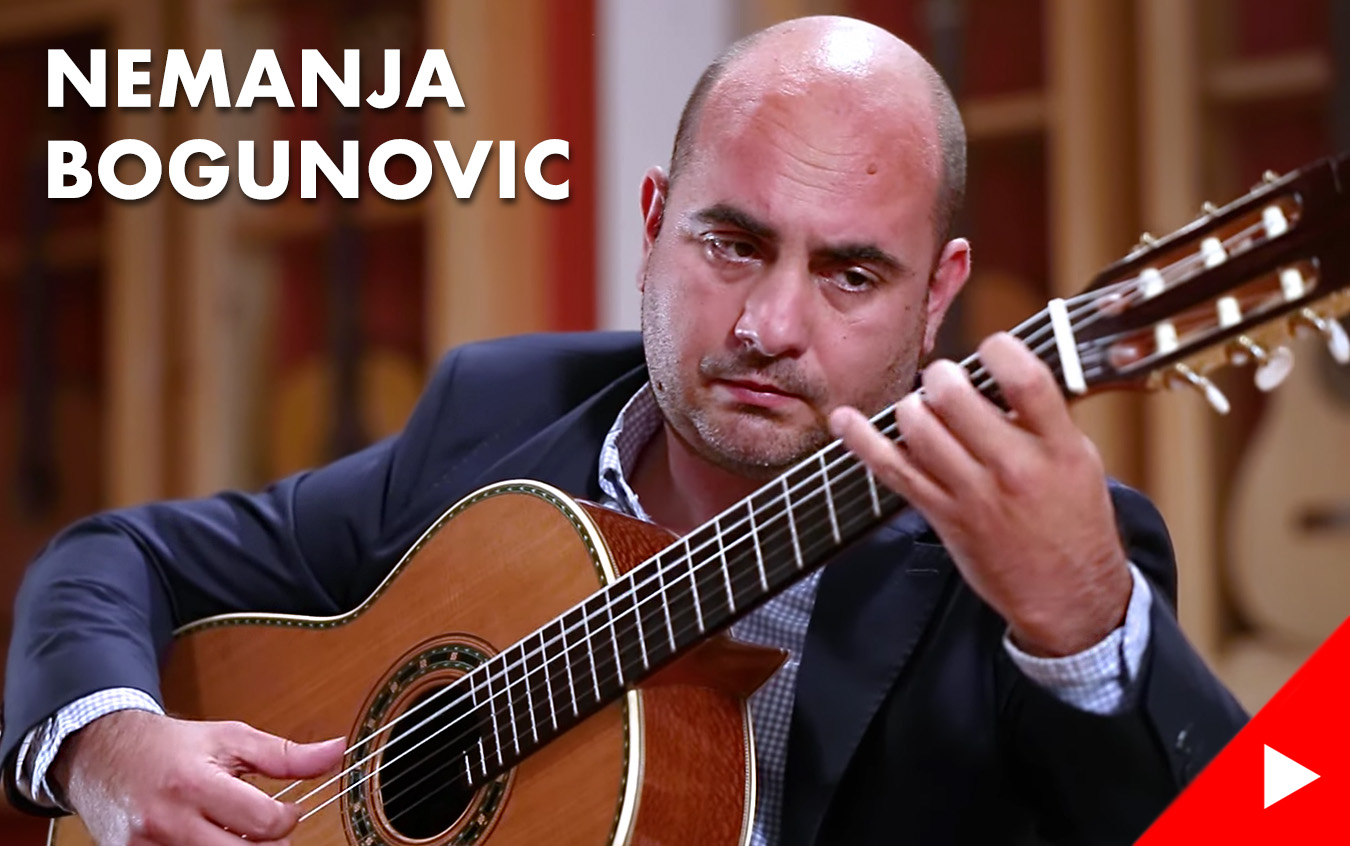 Nemanja Bogunovic has recently visited GSI for his second recording session in our showroom, and this time he recorded eight new videos! Nemanja is a classical guitarist, arranger, and composer from Belgrade, Serbia. Throughout his career, he has performed recitals in the United States, Mexico, and many European countries. He also performed for numerous celebrities and public figures including former US President, Jimmy Carter, Soviet Prime Minister, Mikhail Gorbachev, and celebrities such as Roger Moore, Barbara Streisand, Sean Penn, Kevin Costner, and many others.
Nemanja started his second recording session with four of his original compositions. For the first piece, "Nocturno Adriatico", Nemanja chose a 2022 Stephen Hill "2a" SP/PF. Like Hill's "1a" model, the "2a" model is typical of the 'Granada' style - a lightly built guitar with a big, punchy attack and very lively character of the sound. It has lyrical trebles and plump, juicy basses. After that piece, Nemanja played "Tango Azul" on a 2022 Kenny Hill "Signature SP/CD" SP/IN. This is a "double top" guitar composed of a Nomex core (an ultra-light cell structure), "sandwiched" between two very thin layers of cedar (on the underside) and spruce (on the outside). Next, for his third piece titled "Hagia Sophia" Nemanja chose a 2022 Jake Fuller "Purnell" SP/HR. This instrument was made from a gorgeous set of Honduran rosewood (the favorite wood of Miguel Rodriguez Jr.) with its dark-chocolate color and swirly grain patterns. Nemanja's last piece, "Valse Amoroso", was recorded by him on a gorgeous Spanish guitar - a 2022 Teodoro Perez "Especial" CD/BL. The Brazilian Lacewood back and sides of this guitar are truly beautiful and exotic-looking, with its lava lamp-like 3D texture.
While at GSI, Nemanja also recorded four of his arrangements of works by other composers. In the videos below, you'll find his recording of Antonín Dvořák's "Humoresque, Op. 101, No. 7" performed on a 1996 Tezanos-Perez SP/CSAR - a very distinctly Spanish guitar, with a full, romantic tone and quick attack.
In the next video, we can hear "Melodia Sentimental" from "Floresta Do Amazonas" by Heitor Villa-Lobos recorded on a 2004 Jose Oribe "Suprema" SP/CSAR. This piece has quite an interesting backstory. Even though he didn't specialize in scoring for motion pictures, in 1959 Heitor Villa-Lobos composed music for the Hollywood movie, "Green Mansions". Since this was his first composition for a movie, the score had to undergo a major review by MGM's staff composer, Bronisław Kaper. Some of Villa-Lobos' themes were unused in the movie, but they were reused by Villa-Lobos and appeared in his orchestral suite "Floresta do Amazonas".
"The Harry Lime Theme" is Anton Karas' music theme from a 1949 British film noire titled "The Third Man". Nemanja performed his arrangement of this theme on a 2022 Teodoro Perez "Concierto" SP/IN - this model has a sound quality that is all its own, although still deeply rooted in the powerful Madrid style.
Nemanja finished his session with a recording of "Somewhere My Love (Lara's Theme)" from "Doctor Zhivago" by Maurice Jarre. In this final video, you can hear Nemanja playing on a fantastic vintage guitar - a 1966 Manuel Contreras CD/IN. The sound is characteristic of the Madrid style - It is focused, rich, and quite expressive!
Check out Nemanja's videos below!
Leave a Comment