Xeno Müller II Is Back With Seven New GSI Videos Featuring Works by Sérgio Assad, Francisco Tárrega, Alexandre Tansman, and Horacio Casteglione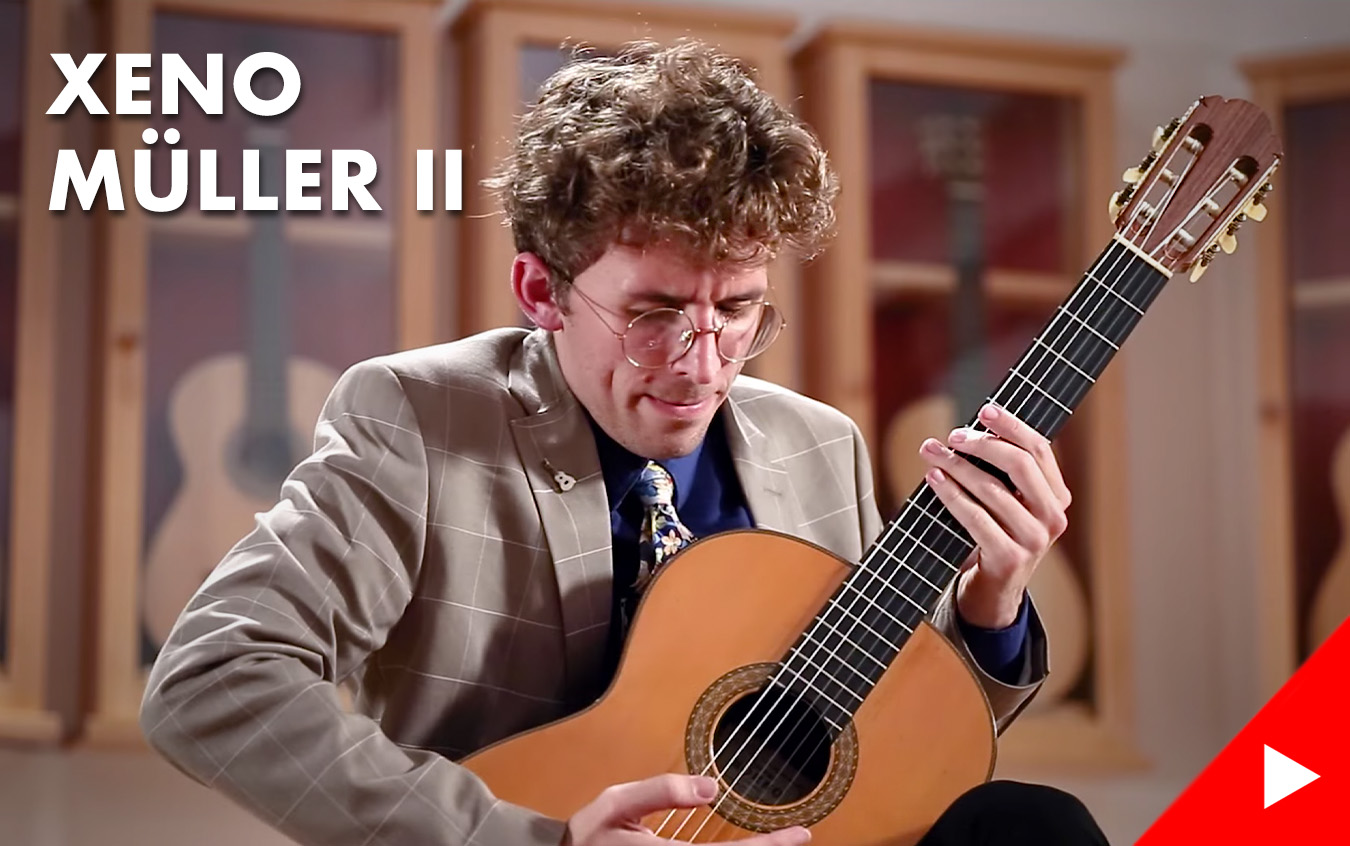 Right before he started his first semester at USC, Xeno Müller II had stopped by our showroom to record seven videos for our YouTube channel. Many of you might remember Xeno either from his first recording session at GSI, or as the cohost of the second season of GFAtv, Guitar Foundation of America's YouTube show dedicated to classical guitar and its community.
Xeno started his session by recording three out of four movements of "Suite Brasileira No. 4" by Sérgio Assad. For the first movement, "Cataretê", Xeno chose a 1982 Masaru Kohno "Concert" SP/IN guitar. Masaru Kohno (1926-1998) is arguably Japan's most important luthier, and of course one of the most played, concertized, and recorded of the 20th century. Top players of Kohno guitars include Julian Bream, Oscar Ghiglia, Sharon Isbin, and Shinichi Fukuda, among others. This guitar has the classic Kohno sound - clear, woody, and even a bit dark for a spruce. In the second video, Xeno plays the third movement from the same suite, "Jongo" which he recorded on a La Cañada "Model 17A" SP/GR. The "A" in "Model 17A" stands for an antique look. This guitar is largely based on an 1864 Antonio de Torres "FE 17" guitar, which we also documented in detail at GSI. In the next video, you'll hear Xeno performing the last movement, "Batuque", from the same suite. For this piece, Xeno chose a 2006 German Vazquez Rubio SP/CY - the playability on this guitar is a dream with very low flamenco action which also assists in giving it the right amount of flamenco growl.
In the fourth video, you can hear Xeno playing Horacio Casteglione's "Milonga Del Gwdihŵ" (Gwdihŵ is a Welsh word for owl) on a guitar previously owned by Pepe Romero - a 2003 Manuel Contreras II "Double Top" CD/CSAR. The Contreras Double-Top is perhaps his best-known and most sought-after design. The name "double-top" is actually a slight misnomer: In Spanish "tapa" means "cover" and actually refers to an additional piece of wood that is "covering" the inside of the back. So in reality, the back (not the top) is doubled-up, with the rosewood exterior and tone-wood interior (this cedar top model has a piece of cedar lining the inside of the back).
The two following videos feature two famous pieces by the father of classical guitar, Francisco Tárrega. The piece, "Endecha" was composed in 1909 - the year of Tárrega's passing. Xeno recorded this piece on a guitar that was built most likely not even a full year after that, on a 1910 Jose Ramirez I SP/MH. The guitar is in amazing, original condition and it gives this performance a true, old-world feel. "Estudio in E minor/major" is the second Tárrega piece performed by Xeno during this recording session. Xeno recorded it on a 1978 Robert Mattingly CD/CSAR - This guitar is like a Miguel Rodriguez in appearance and sound.
Xeno finished his session with a recording of "Barcarole", the fourth movement from Alexandre Tansman's "Cavatina". Barcarole is a traditional Italian song usually performed by Venetian gondoliers. The name comes from the word "Barca" which means "Boat". Xeno played this piece on a 2001 Brian Cohen SP/CSAR. This guitar has a quick response with very good projection, which makes it an excellent instrument for the concert stage.
Leave a Comment