We are very pleased to introduce German luthier Annette Stephany, a young German luthier whom David Collett met in Italy a few years ago and whom we are now proud to be representing in the US. As it turns out, she will be completing her 31st guitar under her own label on her 31st birthday, which also happens to mark her 10th year as a luthier, so it's hard not to see this as a propitious beginning for us all.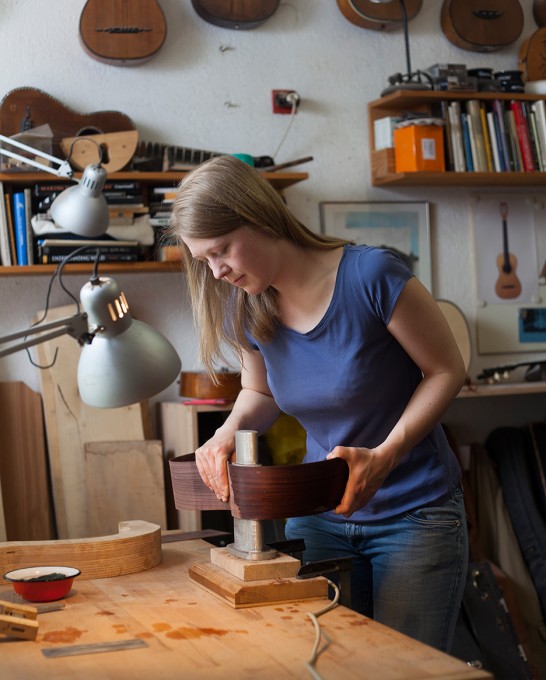 Annette became fascinated with luthierie at the age of 14 when she met a violin maker, and subsequently her father, who was very handy as a woodworker, introduced her to working with wood. At the age of 21, after high school and some travel, Annette enrolled in the Luthier School in Mittenwald (Kathrin Hauser happened to have been there at the same time) and completed her course three years later. While at school she worked for the harp maker Eric Kleinmann, and as soon as she finished school she went to apprentice with Italian luthier Lorenzo Frignani. She had met Frignani at the Frankfurt Music Fair while at school and had immediately fallen in love with his instruments. Annette worked out of Frignani's shop until 2013 (with a one-year interruption, during which she did a restoration course in Bernhard Kresse's workshop at Cologne). This Spring she moved to Cologne where she now shares a shop with Kresse.
The first instrument she sent us was a stunning maple and spruce guitar based on a 1910 Manuel Ramirez which belongs to Frignani (see his 1910 Manuel Ramirez replica here).
We are proud to be working with Annette Stephany and are eager to see more of her top-quality instruments come through our showroom for years to come.