Eric Sahlin was born and raised in Spokane, Washington, not far from where he currently lives and works. His first exposure to the classical guitar was during his teens when his brother first took interest in the instrument and began playing. Eric also had the good fortune of listening to the great guitar recordings from his brother's Musical Heritage Society LPs. Years later, Eric attended college at UC Santa Barbara, which offers a strong classical guitar program where he enjoyed several school sponsored student recitals and concerts.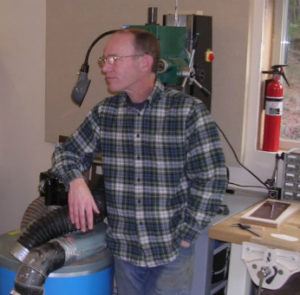 It was in 1975 during this first year at university that he decided to build his first guitar. He also had had a strong interest in handwork and woodworking in particular from a very early age. This, combined with an interest in acoustical physics, made guitar building seem like a wonderful adventure. In preparation, Eric collected and studied books on the subject, and bought his first guitar woods that spring (in 1975), completing his first guitar that summer.
Another soon followed, and by completion of the second guitar, Eric's career choice was decided. He set up shop building custom furniture, and built guitars, honing his skills on the side. By 1978/1979 he was building guitars full-time, due in part to a chance connection with George Dauphinais of the Dauphin (guitar mail-order) Company, who began marketing Eric's 7, 8, and 10 string guitars as a less expensive alternative to the various other multi-string instruments that were on offer.
In the early 1980's, a good lutenist friend of Eric's suggested he build him a lute. This turned out to be a project that Eric thoroughly enjoyed so he studied these instruments in greater depth and built various models of lutes in addition to guitars.
By the end of the 1980's, the guitar market was strengthening and as Eric had by then established a strong reputation in the guitar community, he redirected his efforts exclusively to his first love, the art of classical guitar building, which he continues to focus on to this day. He currently has a nine-year waiting list, and has proven to be one of the great American luthiers to achieve world-class status. His guitars have been used by Scott Tennant, Andrew York, Ottmar Liebert, Carsten Pedersen and other top players worldwide.