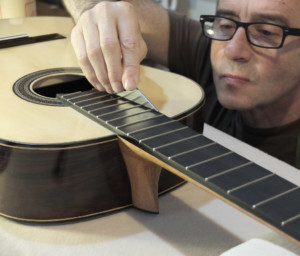 Italian luthier, Giancarlo Nannoni, has dedicated his life to the continuous pursuit and passion of traditional classical guitar making. He's been working as a guitar maker since 1994.
Since his childhood, he's always been interested in music at an amateur level. He played the guitar, as well as other instruments. He became interested in lutherie when he had the opportunity to visit the violin maker Contavalli in Imola, where he saw raw materials, tools, and became fascinated by the remarkable smell of wood that is always present in any professional workshop. To follow his dream of becoming a guitar maker, he studied all topics relevant topics including physics, acoustics, and classical guitar construction. He also visited many museums to learn from observing various guitar collections to deepen his understanding of the great luthiers of the past. Nowadays, Giancarlo's instruments are played in Italy and abroad by many professional guitarists and young concert players participating in international guitar competitions.
Giancarlo's style is strongly inspired by the works of Hermann Hauser I. He often borrows heavily from the Hauser design, but with several small modifications of his own to make his "contemporary" model. His desire is to produce a traditional and beautiful sound.