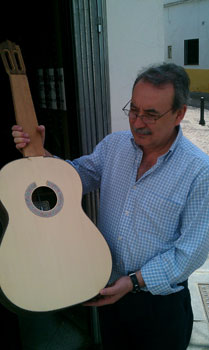 Graciliano Pérez Carrizosa was born in 1955 in Puerto llano, Ciudad Real, although at 9 years old he moved to Córdoba. He began to play the guitar at 11 years old, and that is when he first met the great luthier Miguel Rodríguez Beneyto and established a friendship with the Rodriguez family that would last throughout their lifetimes. Graciliano lived on the same street as the Rodriguez workshop and from an early age fell in love with wood and with the construction of guitars. He also took various classes at the Córdoba Conservatory under the direction of the great guitarist and pedagogue Manuel Cano.
Graciliano Pérez learned from the Rodriguez family directly and studied their guitars in great depth, obsessed with their sound, and made many guitars according to Rodriguez' system in order to make a guitar that would be appreciated for its sonic qualities and find its way into the hands of the best guitarists, including Vicente Amigo (who just recorded four tracks of his new CD with his Perez), Raimundo Amador and Eduardo Trassierra, to name a few.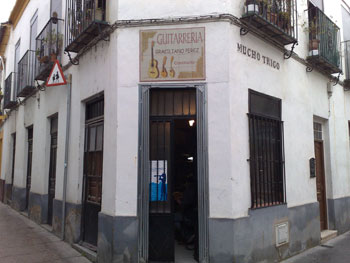 His aesthetic is that of the Córdoba school – his own rosettes that harmoniously combine color and design, a silhouette with an accented curve and a particularly comfortable neck.
Stewardship of his wood has been a priority – curing the woods exactly the right amount and using no woods less than 25 years old. He has also cut cypress trees himself for future use.
His guitars are French polished – the classic method of finishing handmade guitars.
He constructs using the traditional Spanish method, using a Solera rather than moulds, which allows him to vary measurements.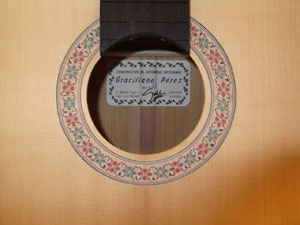 Pérez has taught classes in luthiery and published articles, and he is featured in  'Vihuela de Mano y Guitarra Española', the encyclopedia of guitar makers written by José Luis Romanillos. He participated in the most important exposition of Antonio de Torres' guitars in Córdoba in July of 2007, presenting a replica of a figured maple guitar by Miguel Rodriguez from 1955. Today his guitars are in great demand by guitarists who seek to combine comfort and sonority. His workshop on Calle Mucho Trigo has the charm of the traditional, old world workshops.