MANUEL CONTRERAS I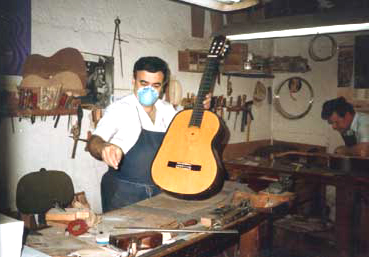 Manuel Contreras Sr. (1928-1994), a native of Madrid, acquired excellent woodworking skills at a very young age that led to a budding career as a furniture maker. His cabinetry skills gained the attention of José Ramírez III, who invited him to apprentice in his workshop in 1959. Within three years he had developed his craft sufficiently to set up as an independent guitar maker in Madrid. So in 1962 Contreras set up on his own at number 80 Calle Mayor, which to this day has remained the location of the famous shop.
Almost from the beginning, Contreras gained the reputation for being one of the more creative and inventive luthiers in Spain. From the 1970's onwards, he experimented endlessly with various unconventional designs and techniques. Of the numerous creations that came out of this period, perhaps the best well-known and played was the "Double Top" model, which Contreras presented in 1974 after a number of experiments seeking to improve the tonal palette and increase the volume. The most notable feature of this model is its use of soundboard material (cedar or spruce) laminated to the interior of the back. Many top players were enthusiastic about this model from the beginning, most notably all members of the Romero quartet. This encouraged Contreras to continue with this innovative way of working.
Other instruments from this period include the curious "Guitar-Harp", and "Alto-Guitar", a smaller instrument with a higher tuning than the conventional guitar. The prestigious Niibori Guitar Orchestra of Japan are perhaps best known for popularizing this model. The most sensational of his output is arguably the "Carlevaro" model which was first introduced in 1983. Built in collaboration with Uruguayan composer, pedagogue and concert artist Abel Carlevaro, it incorporates a number of very unusual elements, the most striking being the missing waist on the bass side and the lack of a soundhole on the soundboard.
Manuel Contreras I passed away in 1994, and thereafter his son Manuel Contreras II (known as "Pablo" Contreras Jr.) continued the work to carry on the family legacy.
MANUEL CONTRERAS II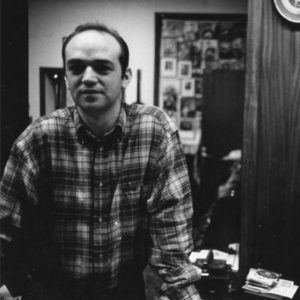 Born in 1957, Manuel Contreras II learned the craft of lutherie by working alongside his father, and he decided definitively to become a professional guitar-maker in 1986. Since then Manuel II carried on the family tradition by continuing to build traditional Contreras workshop models, and continued to demonstrate the same innovative spirit his father had, which allowed for the development of many of Contreras' most popular models, such as the "Double Top" model and the 10º Aniversario(the "10th Anniversary" model), which won the Convocatoria Internacional de Guitarras Joaquín Rodrigo Prize on November 17, 2000. That "10th Anniversary" model has since increased in popularity among both student guitarists and concert performers.
Victoria Velasco joined the Contreras shop in 1989, concurrently taking on the role as superior professor of classical guitar at the Real Conservatorio Superior de Música de Madrid. Victoria's knowledge of music, as well as her fluency in many different languages, allowed her to successfully carry out many of the PR and communications tasks for the Contreras shop that were necessary for the flourishing growth that prototype and completed instruments experienced during Manuel II's era. Victoria continues to influence how the Contreras workshop is represented worldwide as much as she did before the shop was connected to the digital age.
Manuel II (Jr.) passed away in January 2011, leaving behind a thriving shop with fascinating guitars being built under the direction of Victoria Velasco by the same team of luthiers who worked under Pablo. Victoria is the heir to the Contreras tradition and remains very close to Manuel II's sisters as they all collaborate to fulfill the Contreras vision.
Contreras guitars have been critically acclaimed and highly-awarded guitars, which have also been replicated in hommage to Contreras in Spain as well as abroad. Among many others highly-regarded awards, Contreras has received awards from la Cámara de Comercio de Madrid a la Exportación, Establecimiento Tradicional y Artesano Tradicional Madrileño, la Escuela Española de la Guitarra (named Contreras an honarary member), Patronato de Turismo (named Contreras a friend of Madrid), Maestro Mayor del Gremio de Artesanos de Madrid, and medals from the Salón de Provenza y de la ciudad de Digne en Francia. Without a doubt, the Contreras shop considers its best and most fulfilling award to be the support that numerous players and concert professionals show every time they play a Contreras guitar in stages across the world.