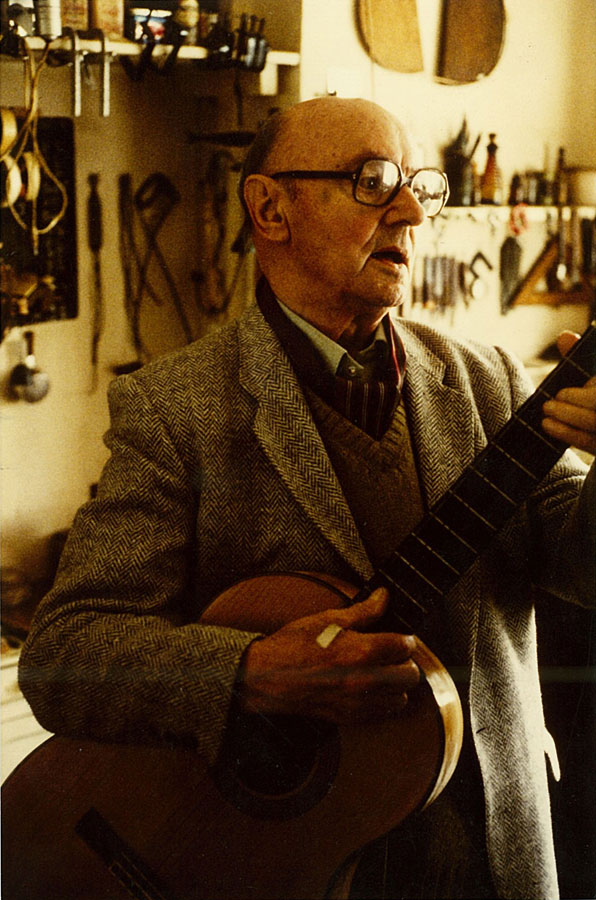 Robert Bouchet was one of the greatest makers of the twentieth century and the founding father of what is called today as the "French school of guitar making". His career was quite unique, because he built his first instrument at the age of 48. It didn't stop him from establishing a reputation of one of the most influential makers of the twentieth century. Before becoming a luthier, Bouchet was a painter and an artist. He changed his career path, when he decided to built a new guitar for himself. His old guitar was stolen during World War II and this motivated him to try to built his own instrument. Therefore, shortly after the war, in 1946, he built himself a guitar which remained his personal instrument throughout his life.
Jose Romanillos interviewed Bouchet in Paris in April of 1986 and Bouchet said: "I had played the instrument since 1932. In that year, I returned to Paris, I couldn't bring my piano with me but I was introduced to the guitar and was captivated at once. Then I was lucky, I became a friend of a guitar maker called Julian Gomez Ramirez who was Spanish but lived in Paris. He made good instruments and he made one for me. I often used to visit him in his workshop so that when I came to make one myself, I knew what to do. Actually it was because I lost that nice guitar that I decided to make one. I showed it around and people said that it was quite good. A friend of mine, Corbani, who was a string maker ordered one and so became my first customer!".
Bouchet's reputation as a maker attracted some of the greatest players to his workshop. Among them were: Ida Presti and Alexander Lagoya, Emilio Pujol, Oscar Ghiglia, Turibio Santos, Manuel Lopez Ramos and Julian Bream. Even though Robert Bouchet built only 154 instruments, his legacy is remarkable. Bouchet built outstanding fine guitars in Paris and established the foundations of the "French school of guitar making".