Stephen Hill was born in London in 1967. He started classical guitar studies at the age of 8 and later reignited a love affair with Flamenco music after rediscovering the art. It was at 18 that Stephen realized that his parents had played him flamenco music (specifically "cante jondo") as well as Mexican and Greek music since he was a baby – moments that established his deep musical roots. Read on to find out more about Stephen and why GSI is proud to represent his work.
Leaving school at the young age of 16, Stephen found work the next day as a cabinet maker, quickly developing this into his own self-made business. With new inspiration for wood-working, Stephen took up the classical guitar again, and he had the revelation that guitars were not just meant to be made in factories but there existed a strong, deep culture in guitar-making by individual luthiers around the world – especially in Spain.
Stephen made his first instrument in 1985. By 1988, he was traveling to Spain, learning flamenco and visiting guitar workshops that would let him in to give him a few of their secrets, intoxicating smells and sounds. Manuel Reyes, Antonio Marin Montero and Jonathan Hinves had a strong influence on Stephen during these initial months of travel.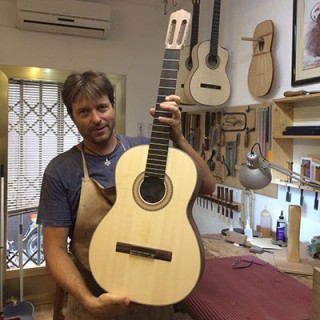 Since then Stephen has worked for many years developing his art, based initially in Lewes, in the UK, where he also taught very many budding luthiers to build their own guitars and some to start their own careers as luthiers. Moving to La Herradura, in the province of Granada, Spain, in 2004, he was finally able to proudly include 'Granada, España' on the label of his concert and flamenco guitars.
Stephen's guitars are characterized by their powerful and responsive yet refined sound, coupled with good playability, making them the preferred choice for players like Gary Ryan, Artyom Dervoed, Manus Noble, and others. He uses both a fairly traditional Granada style of building with some modifications, as well as his own interpretation of the lattice-brace style of building (but with little influence of Smallman-type guitars). His flamenco guitars have soul, power and a lyricism found often in the guitars of Manuel Reyes. Above all, Stephen builds in his own style, avoiding slavishly copying other makers, past or present, yet deeply acknowledging the masters before him.
Stephen is the Founder and Director of the European Institute of Guitar-Making based in Andalucia, which gives intensive month-long master classes in guitar building to students from all over the world. These students are given a unique opportunity to learn from a master guitar-maker in a true Spanish environment.
Stephen is a Patron of the "Alexander International Guitar Festival and Competition" held in Moscow, Russia, where the 1st prize winner earns a Stephen Hill Concert Guitar.
"The Guitar Maker" by Nevill Films (featuring Stephen Hill)