2021 Jean-Noel Rohe SP/CSAR
| | |
| --- | --- |
| Year | 2021 |
| Top | Spruce |
| Back & Sides | CSA Rosewood |
| Scale Length | 650 mm |
| Nut width | 52 mm |
| Finish | French Polish |
| Country | France |
| Luthier | Jean-Noel Rohe |
This guitar is no longer available in our inventory. If it interests you, click the "notify me when available button" to be notified in the event that we re-acquire this guitar for re-sale.
Description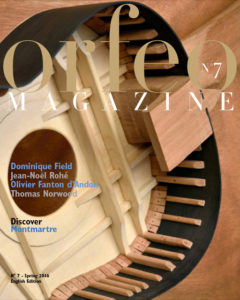 This is an incredibly refined instrument in all ways. The craftsmanship is second to none, not only is it extremely tasteful but it is perfectly executed to the minutest of details. Sound is uniquely Rohé's but there are some influences that can be detected, such as the Friederich-like use of double-sides. Rohé normally has used cypress for the side reinforcements but for this guitar, he's used red cedar. For Rohé, this system of stiffening the sides re-enforces the box, providing a cathedral-like acoustic environment from which the sound proceeds. The bracing pattern is an asymmetrical 8 fan system - with two off-center short braces instead of a central fan running under the center seam flanked by 3 full length fans on the treble side and 3 shorter ones on the bass side. To us this seems like a variation on the treble-stiffener approach combined with the Garcia/Simplicio asymmetrical 8-fan system that seeks to normalize or balance out the lower voices with the upper. The resulting sound is that of perfect balance and a relaxed, warm quality of sound without losing firmness to the core of each note for definition. This unique sound has great style, all who hear and play are won over by its charm. Although this guitar was previously owned, it is in brand-new condition, looking virtually unplayed.
Rohé likes to compare the making of a guitar to wine-making, in that the vintner's personality is present in the final product in much the same way as the luthier's does. Grape varieties and scents blend in the similar fashion as do wooden framework and sound structure. One can appreciate the tonal qualities of the note as one can appreciate the complex taste of a particular wine. For the connoisseur of fine guitars, this maker's work does for the ears what the finest wines do the palates of the most discriminating wine aficionados.
Several fine players of Rohe guitars include Pablo Marquez, Vojin Kocic, David Jaggs, Adam Woch, Philippe Mouratoglou and Baptiste Ramond among others.
Photos of this guitar taken during construction
Orfeo Magazine #7 - French School Luthiery
Videos
Guitars by Jean-Noel Rohe